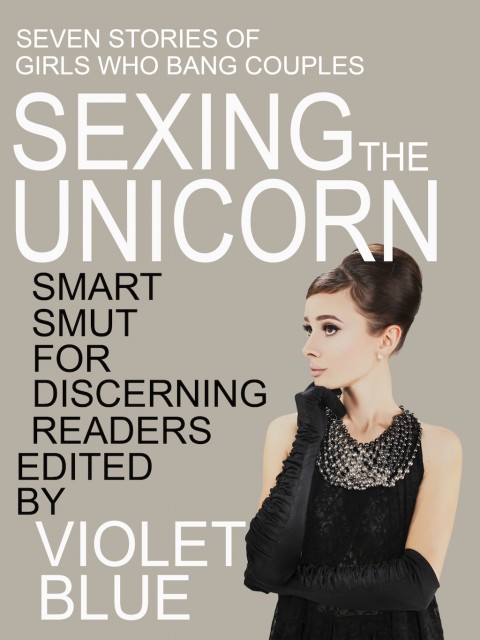 The next erotic anthology from Digita Publications — Sexing the Unicorn — will go on pre-sale next week. The book is in its final production stages, but we're missing one thing: A very special cocktail to be called The Little Black Dress. I want you, dear reader and smarty-pants of the highest order, to invent it.
Here's the entry form: Cocktail contest: The Little Black Dress
The creator of the perfect Little Black Dress will win copies of all five books in this explicit erotic series. Three runners-up will get free ebook copies of Sexing the Unicorn prior to its official release.
Each book in the series revolves around a theme; each title contains seven short erotic stories, three themed sex tips ("Good Housekeeping"), and three in-theme cocktail recipes ("Kinking the Classics"). As you can tell by the cover above, this new book revolves around the theme of "unicorns" — sexual slang for a female third sought after by couples. As you'd expect, this collection turns that notion on its head, with stories that feature strong female protagonists hunting hot couples to make their single-girl fantasies come true.
Here's how the cocktail will be presented in Sexing the Unicorn:
KINKING THE CLASSICS
THE LITTLE BLACK DRESS

Dreamed into the world by Coco Chanel as emblematic of Parisian chic, the iconic little black dress (or LBD for short) entered our permanent arsenals as Audrey Hepburn's fabulous frock in the 1961 film "Breakfast at Tiffany's."

The LBD, like a diamond or fingertip vibe, is the modern girl's best friend. When you find the perfect LBD, you know it, and it doesn't just compliment you — it elevates you. A drink by the same name should do exactly that.
Submit your entry using this Google doc form. Deadline for submissions is Saturday January 23, midnight PST. The winning recipe will be shared in a Tiny Nibbles blog post announcing the results on Sunday, January 24.
First place gets free copies of the following DRM-free .pdf and .epub books (and credit, with links, if you so desire): Filthy Housewives, Bisexual Husbands, Holiday Kink, Sexing the Unicorn, and the soon-to-be-released fifth title, The Cuckold Who Loved Me.