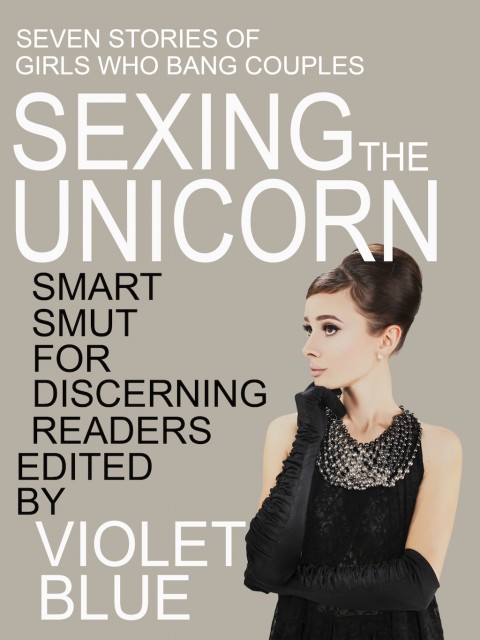 Sexing the Unicorn: Girls who bang couples is here! It's on Kindle, and you can also get DRM-free copies in .pdf and .epub (plus cover art) on Digita Publications — all for only $3.49! We've been working on this book for a year, and we're soooo happy with the stories, the cover, the sex tips, and … the drop-dead gorgeous cocktails! Especially The Little Black Dress, created just for the book by the amazing Lesley Solmonson of the cocktail blog, 12Bottlebar.com (@12BottleBar; Nominated for Saveur's Best Cocktail Blog 2012 and 2013).
To celebrate the book's release, enjoy the first chapter below, the book's introduction.
Introduction: Unicornicopia
By Violet Blue
The first time I heard the term "unicorn" as sexual slang was when a couple I knew was trying to find out everything I knew about the straight (ish) parts of San Francisco's sex party scene. I'm not a frequent guest to our city's many flavors of sexy soirees, but I'm a pretty good source of information because I ask my pervy friends about things like this every chance I get. And if I have their consent, I write about their responses.
"We're looking for parties with unicorns," they explained. With what? I asked, hoping it wasn't an offensive term of some kind, for this was about ten years ago. They explained that they'd heard the term for single girls cruising for couples was unicorn, and I immediately knew what—and who—they were looking for.
History has a hard-on for multiples. While I'd been spending my time trying to unravel the whys and the hows of poly's past, my own libido had been left lacking. Penning posthumous postulates on long-dead players had percolated my own passion. Until the concept had consumed my brain.
Lisa and Sam wouldn't know what hit them.

I only needed the duo to say yes. I lugged my books to the library and spent the day footnoting. Each time I took a breather, I thought of what I really wanted to be doing. Sam looked like he'd be a watcher. I could imagine him sitting at the foot of the bed, staring as I dined on his girlfriend. Tugging his cock while he soaked in our succulent Sapphic samba. When we'd had our fill, we'd turn our attention to him. He would not go unrequited.
Passage after passage amped my determination. My studies might be dry, but I was ungodly wet. I employed every ounce of willpower not to quit my research early. I was only hopeful that Lisa would be able to convince Sam, to explain exactly what I was offering.

—Alison Tyler, "A Very Progressive Party"
Of course, unicorn has meant other things in sexual slag terminology, but once I asked other friends about the term I felt uncool because I'd clearly been out of the loop. This wasn't a new name for girls who bang couples, and I should know these things—especially because, I realized, some of my close friends are unicorns.
I was also completely intrigued. I'd always wanted to be a unicorn, but I've never had the guts to actually try it. But hey, now I at least knew what to call this glamorous sex kitten role, one that I simultaneously envied and lusted after.
For me, unicorns came to inhabit a realm of futuristic, cyber-sexual coolness. My unicorn friends lived sex lives I'd only fantasized about, or read about in erotica collections. Their adventures were dirty, filthy, and incredibly cosmopolitan, and I couldn't believe the adventures they described to me were real—but they were.
Then Ward started a new tactic. "Maybe we'll find a unicorn," he insisted.

"Or a fairy," I responded. "A wood sprite. A nymph. A phoenix. A leprechaun." I opened my eyes wide at him. I was being snarky. Ward didn't seem to mind.

"You don't even know what a unicorn is," he said, smiling in that way that hinted he was about to share something good.

"White fur," I described to him. "Long twisted horn of gold. Accidentally left off the ark?"

Ward started undressing me. "A unicorn," he began, "is a bisexual woman who goes to sex parties in search of couples to fuck."

"And why would a girl like that be called a unicorn?"

"Because those types of women are rare. And precious."

He had my dress off, and he was tugging my panties down. Talking about sex is fierce foreplay to Ward. If we couldn't go to a sex party, at least we could discuss one. He flipped the clasp of my bra like a pro. One more tug, and I was entirely naked.

"Why would we want a unicorn?"

"Because I know the thought of fucking another woman makes you come like nothing else. And, yes, because I'd love to see you do it."

—Emilie Paris, "I Don't Believe in Unicorns"
Two of my unicorn friends liked to pair up to cruise and hunt together. They had outrageous sexual escapades that would otherwise be too dangerous for one girl to go at alone, in high-rise hotel rooms and parking lots alike. Though most often they preferred hunting in San Francisco's hipper sex parties, prowling for tech professionals and artists, so they could hook up with young, stylish, and open-minded couples.
The more I dropped the term "unicorn" around my friends, the more I found out a surprising number of my single friends were unicorns, hooking up with straight couples anytime they wanted. I found I knew unicorns of different genders. Their stories showed me that San Francisco really does have straight couples that are eagerly open-minded—and who are definitely not as hetero-centric as couples in the traditional "swingers" scenes.
Because I've been going at it five minutes or more—more aroused than ever, because I know my ordeal is close to its "end," if you'll forgive me—when I hear the door click-squeak open, and I pull back, instinctively moving to cover myself with my hands. The vibe comes away from Trina's clit as my fingers leave her pussy and my tongue leaves her ass.

But Trina moves faster than I do, and faster than Emily—which is who it is, I see as she comes through the door with her mouth open wide, pretending (or maybe—just maybe—not pretending) to be shocked. Is she really surprised to discover Trina and me in flagrante delicto? Was there some sort of misunderstanding in the "Keep the others out" gesture Trina gave her? Or—far more likely—has Emily decided to invite herself to a threesome… and she's just shocked to see how dirty we fuck?

"Sorry," says Emily, but her voice has a quality that tells me she's not sorry at all. "I thought—"

I never get to hear what she thought—or claims she thought.

—N.T. Morley, "Tahoe Tease"
Unlike the mythical creatures of daydreams and legend, my unicorn friends are flesh-and-blood real. But to see them, you'd think they stepped out of the pages of this fantasy collection of sexy fiction. They're strong, confident women that I'm lucky to have in my life. They're also incredibly hot, making their existence in my life seem even more unreal (and awesome).
One friend I discovered was (and still is) a unicorn is a raven-haired, Gothic, pale beauty—who is also an accomplished singer and symphony musician. Tattooed, she dresses in vintage outfits, right down to retro lingerie, and she likes to pair up with unicorn buddies and go hang out at sex parties in San Francisco's SOMA district. None of these stories are about her, or authored by her… But they could be.
This absolutely isn't happening, I told myself. It couldn't be. What would the kinky couple from the infamous Secret Fire blog want with a boring little fangirl like me? Free beer? They paid. To get shown around San Francisco? Survey says nuh-uh. I live in Oakland, and I've only been here for a year and a half myself. I don't get out much. I haven't done much.

And now Andre wanted to know exactly what I had done… while his wife kissed my neck and he gently stroked my arm. It was helping my carpal tunnel, all right—which I don't even have.

—Meadow Parker, "Bondage Blogging"
Where do these amazing women lurk? Aside from sex parties, my unicorn friends tell me that they also cruise dating and hookup sites where couples can make profiles (like OkCupid, AdultFriendFinder) or websites that advertise so-called "infidelity" dating. Once, my raven-haired friend told me a wild story of picking up a couple from Craigslist, whom she met at a downtown hotel for a wild night of trying things she'd seen in porn.
Before becoming so bold, she said she'd been first encouraged to try unicorning (there's no other word for it) by a mutual friend of ours, who is also her main hunting pal. They've both told me they love virgin couples, most especially when the woman in the couple hasn't been with a woman before.
That particular unicorn friend is a bombshell blonde. She's the kind of friend who simultaneously relishes that fact that she's like sexual kryptonite to certain kinds of people, but prizes connection and friendship above all (in fact, she's one of my closest friends). She loves bragging to me about her crazy exploits; I soak them up like a sponge. And they're numerous, because she has long blonde hair, tan lines, big breasts a tiny waist, and loves looking like a porn performer (she is one).
She's also transgender, which isn't really an important detail other than the fact that it's never been a negative data point for any of the straight couples she hooks up with. This unicorn tends to end up in long-term relationships with couples—but she never lets it get in the way of going out on the unicorn hunt if there's a good party to go to.
This bit of personal sharing about the girls in my life who bang couples is my way of explaining to you about how I came to believe that unicorns really exist. They're definitely not the kind of unicorns I hoped were real when I was a little girl. Instead, they're a more fitting kind of magical creature for the grown-up I've become.
In between the stories here, you'll find bite-sized tidbits of sex information pertaining to unicorns, and unicorn-themed cocktail recipes. One in particular, the "Little Black Dress," was invented by Lesley Solmonson of 12Bottlebar.com (@12BottleBar)—who won first place in a contest to create this book's signature iconic drink.
There were more entries in the contest than I expected, and so many of them were sensual, elegant, and downright delicious… too good to leave out. If you're interested in seeing those recipes, plus all the cocktail recipes from all of my books, look for my upcoming (and free!) mini-ebook on DigitaPub.com, Crazy Sexy Cool Cocktails.
This book is a tribute to unicorns and the couples who make them happy—and vice-versa. It's a file packed with yearning, joy and sex-positive adventures. Here's to hoping all of our fantasies, with or without mythical creatures, come true.
Violet Blue
San Francisco