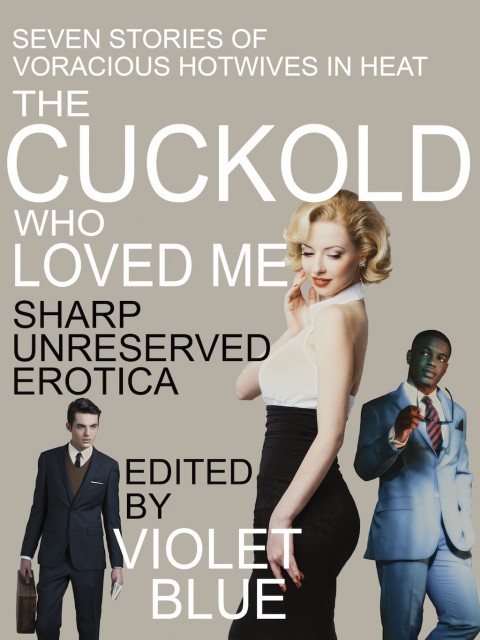 You're looking at the cover of The Cuckold Who Loved Me, the next erotic anthology from Digita Publicaitons, and curated by me. This saucy collection of explicit erotica is available for pre-order right now, and it will be delivered to you on February 14th — it comes out on Valentine's Day.
It's a smoking-hot theme with a killer lineup of writers. I scored an excerpt from legendary author Alison Tyler's upcoming cuckold novel The Happy Housewife. There's also a superb story from Bram Stoker award finalist Thomas S. Roche. Josie Blackwell and Heather McKinney are such prolific fetish authors, I'm honored to be part of their catalog. I can't wait until it comes out to see what you think of it.
The introduction was something I'd been wanting to write for a long time, too; a non-fiction essay exploring the theme, fantasy, history and practice of cuckold. It's fascinating, and erotic, and I'm grateful to have had help with research and the people who answered my questions and showed me what people find so hot about it. Much thanks goes to people who guided me through forums and communities such as cuckoldsforum.com, cuckoldplace.com, Our Hotwives, as well as r/cuckold and r/CuckoldCommunity.
Here's the book's description:
When a hotwife needs satisfaction, a cuckold husband must meet her shocking demands. Seven hardcore stories from skilled authors follow couples whose cuckold adventures go from mild to wild, ranging from first-time wives-who-wander, to experienced women who dominate, manipulate, tease, deny, and thrill husbands with the extremes of cuckoldry.
The wives in these stories are gleefully rapacious, lusty, and try things they've only dreamed of. Sometimes the men get to watch, listen, help hands-on, do the cleanup… or wear a chastity cage. Between each story, charming themed cocktail recipes give readers something to sip and enjoy, and chapters are peppered with sex and relationship tips for those who'd like to try cuckold fantasies safely in real life.
Table of Contents
Introduction: To Have and To Cuckold by Violet Blue
The Happy Housewife by Alison Tyler
Kinking the Classics: The Voyeur's Vesper
Pearl Necklace by Jolie Joss
Good Housekeeping: How to Bring It Up
Takes All Comers by Ainsleigh Foster
Kinking the Classics: The Peeping Tom Collins
Shipping and Fulfillment by Josie Blackwell
Good Housekeeping: A Mobile Toy Kit
Mistress Mirage by Heather McKinney
Kinking the Classics: Milk of the Bull
The Stud by Ken Jarry
Good Housekeeping: Boundaries Template
Kind of a Bitch by Thomas S. Roche
Kinking the Classics: The After Sex Mint
About the Authors, About the Editor
This book contains consensual adult situations, including backdoor play, erotic dominance and submission, chastity play, and explicit scenes. The book also depicts non-monogamous relationships and sexual activity (and penetration) involving more than two individuals. Heterosexual focus.
The Cuckold Who Loved Me ($3.89) is available for pre-order on Amazon and it comes out on Valentine's Day (DRM-free .epub and .pdf versions will be released on Digita Publications for $3.49). FYI: You can give Kindle books as a gift to anyone with an email address.