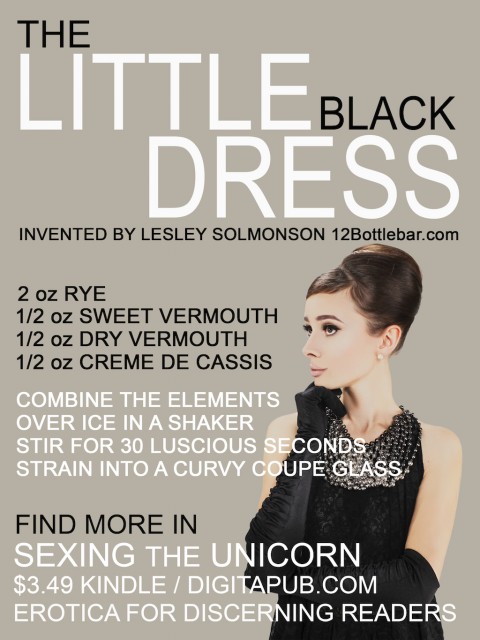 The legendary "little black dress" is the weapon of choice for unicorns — single girls who hunt couples for sex, and the topic of my next erotic collection (Sexing the Unicorn). Last weekend I held a cocktail contest to determine which drink would be the book's perfect "Little Black Dress" elixir. The contest got more entires than I expected, and the submissions were all incredible. Thank you to everyone for taking the time and making the effort to create such beauty, warmth, boozy magic, and happiness. Your prizes will be sent out on Tuesday!
Seriously, the entries were crazy-good. Each and every one is beautiful, delicious, thoughtful, and a wonderful sensual commentary on what we think of the seductress in the perfect little black dress. Below you'll find the winner, the runners-up, and the best of the rest as honorable mentions. I made and tested all of these with hackers who shall not be named, over the course of two days, but I thank them. I can publicly thank my dear friend and top-tier drinking companion Jamie for helping me narrow down pre-selections.
And now, the winner. That drink is a sublime combination of flavors in a deep lipstick-matching color, it now comprises the book's second chapter, and was invented by the amazing Lesley Solmonson of the cocktail blog, 12Bottlebar.com (@12BottleBar; Nominated for Saveur's Best Cocktail Blog 2012 and 2013). The original suggestion was to serve it in a martini glass, but once I put it in a coupe I couldn't look back.
The Little Black Dress
Dreamed into the world by Coco Chanel as emblematic of Parisian chic, the iconic little black dress (or LBD for short) entered our permanent arsenals as Audrey Hepburn's fabulous frock in the 1961 film "Breakfast at Tiffany's."
The LBD, like diamonds and fingertip vibes, is the modern girl's best friend. When you find the perfect LBD, you know it, and it doesn't just compliment you—it elevates you. A drink by the same name does exactly that, thanks to the mixology magic of the drink's creator, 12BottleBar.com.
Ingredients
2 oz. Rye whiskey
1/2 oz. Sweet Vermouth
1/2 oz. Dry Vermouth
1/2 oz. Crème de Cassis
Instructions
To create this perfect accessory, select a sublime rye, like Bulleit, and combine these elements elements over ice in a shaker—but don't shake it. Stir this beauty smoothly for 30 seconds, then strain into a curvy little Coupe glass.
In case you're wondering why there are cocktails in this erotica collection… Each book in Sexing the Unicorn's series revolves around a theme; each volume contains seven short erotic stories, three themed sex tips ("Good Housekeeping"), and three in-theme cocktail recipes ("Kinking the Classics"). This new collection is on the theme of "unicorns" — sexual slang for a female third sought after by couples. This collection turns that idea on its head with stories featuring strong female protagonists hunting hot couples to make their single-girl fantasies come true.
Link: Reserve your copy on pre-order at Amazon ($3.49).
Also winners: The runners-up
I appended nicknames they got during testing to the title, it helped to distinguish them. These are in order of incredibleness:
The LBD Vanille
Ingredients: 45 ml high proof rye, 15 ml Licor 43, 15 ml fernet (Letherbee preferred), 3 dashes Angostura bitters
Method: Stirred for 30 seconds and strained
Glass: A curvy little coupe
Garnish: Twist of orange, oils expressed over the surface of the drink
PROS: easy to make, looks nice
CONS: tough to find Licor 43
IRL: Incredible flavor, everyone loved this. We were amazed the Fernet sat in the background and blended beautifully. SO GOOD. Like the winner, this one is going into my personal regular rotation.
CREDIT: Jens Knutson
The LBD Rouge
Ingredients: LBD Pomegranate martini (the new Cosmo) vodka, juice for a perfectly tart red cocktail (beautiful with matching lipstick)
Method: Pour 2 ounces of citron vodka, 0.5 ounces of Cointreau, 2 ounces of pomegranate juice and 0.5 of lemon juice into a cocktail shaker over ice. Shake until outside is frosted and strain into a chilled Martini glass, repeat and enjoy her.
Glass: Martini glass chilled (with background music and flowers)
Garnish: Ladies choice: pomegranate fruit or lemon or orange
PROS: simple, straightforward, surprisingly not too sweet or tart
CONS: none
IRL: This was a crowd favorite, and the guys wanted to get "girl drink drunk" on it. Pretty, too, like the manly men hackers who fought over it in my kitchen.
CREDIT: "two spicy gingers"
The LBD Violette
Ingredients: 2 oz dry gin, .5 oz creme de violette, dash simple syrup, dash activated charcoal, champagne float, dahlia garnish
Method: Add gin, creme de violette, simple syrup, and charcoal to a shaker. Add ice. Stir. Strain into a coupe cocktail glass. Add champagne float. Garnish with a miniature black dahlia or, if unavailable, red or black dahlia petals.
Glass: A coupe cocktail glass
Garnish: A miniature black dahlia or, if unavailable, red or black dahlia petals.
PROS: gorgeous, yummy
CONS: balance of flavors is tenuous, took a few times to get the champagne right
IRL: Love it. Delicious, even better with substitutions of Grey Goose and rose simple syrup. We omitted the charcoal for health reasons (medication interference, etc.) and it looked gorgeous anyway.
CREDIT: Red Letterday
The LBD Noir
Ingredients: One generous shot of melted bittersweet chocolate ganache, one generous shot of coffee liqueur (Firelit if you're a hardcore coffee drinker, Kahlua or Tia Maria if you like it sweet), Russian Imperial Stout (I prefer Old Rasputin)
Method: Mix ganache and coffee liqueur in bottom of the glass. Pour stout over slowly, stopping just short of the rim of the glass. Stir gently to combine, so you don't disturb the stout's foam too much.
Glass: large snifter
Garnish: dusting of cocoa powder on top of the stout foam
PROS: Fucking delicious
CONS: Onerous to make at home, cleanup is a pain
IRL: So good, but you have to like stout; tried it with both Firelit and Kahlua. Guinness was suggested for smoothness.
CREDIT: Trix
Honorable mentions, and well worth making — kept anonymous for privacy, unless the creators tell me otherwise:
#
Ingredients: potato vodka and chambord
Method: chill the vodka all the way, pour, then sink just enough chambord in the bottom to create a red line
Glass: Any glass that is clear and shows off the separation of colors
Garnish: none – it's pretty enough
PROS: simple, looks pretty
CONS: separation is tricky
IRL: not cold enough, harsh to sip at first
#
Ingredients: 2oz botanical gin, 1 sugar cube soaked in cherry bitters, 1/2oz strained blood orange juice, champagne
Method: stir the gin and the orange juice, add sugar cube to glass, top with champagne to taste
Glass: champagne flute
Garnish: flamed blood orange rind
PROS: bold, adjustable
CONS: sugar cube is tricky
IRL: can easily become bitter
#
Ingredients: 1 oz Hamilton Black Jamaican Rum, 1 oz Campari, 0.5 oz Luxardo
Method: Stirred with ice. Served up
Glass: Coupe
Garnish: Dark Morello cherry
PROS: looks like you'd expect for the name; gorgeous
CONS: very intense
IRL: very intense, pretty, great if you like Campari (I do)
#
Ingredients: One measure Kraken black spiced rum. Two measures Pepsi (though Coke is acceptable). Two measures cranberry-pomegranate juice.
Method: Remove the cola and juice from the fridge. Pour juice, then cola. Add room-temperature Kraken.
Glass: Shot glasses or beer steins, depending on whether or not you like the flavor. If drinking more than 100mL, halve the Kraken.
Garnish: By drinking it.
PROS: easy to make, looks the part
CONS: rum and coke jokes
IRL: drinkable but really sweet
#
Ingredients: Equal parts Sambuca, Chambord, Black blood of the earth (Cold press coffee)
Method: blended with ice
Glass: Highball glass
Garnish: cinnamon straw
PROS: easy to make, easy on the eyes
CONS: none, though garnish is tough to find
IRL: an acquired taste. some liked it, some didn't
#
Ingredients: 1 ½ oz bourbon, ¾ oz Triple Sec, ¼ oz simple syrup (1:1 water & sugar), 1 dash Peychaud's bitters, 2 oz pink sparkling wine
Method: Stir first 4 ingredients with ice, strain into glass, float 2 oz pink sparkling wine
Glass: Large coupe or champagne flute
Garnish: n/a
PROS: easy to make
CONS: not visually striking
IRL: very good
#
Ingredients: Champagne, and Whiskey
Method: Champagne poured gently over the whiskey base
Glass: Champagne poured gently over the whiskey base
Garnish: Lemon twist, and a smile because you have the LBD of drinks: good any time of day, can be dressed up or down, simple, elegant, and makes everyone look good
PROS: easy to make and adjust, good base
CONS: not visually striking, only good if elements are the drinker's favorite
IRL: underwhelming, but could be amazing
#
Ingredients: Absinthe, cointreau, sparkling apple cider
Method: Served cold
Glass: Champagne glass
Garnish: Sliver of Orange peel
PROS: unusual combination is a conversation starter
CONS: balance was hard with this one (we guessed measures)
IRL: really odd, some were like no thanks
#
Ingredients: Kahlua, Creme de Cacao, Chambord
Method: Shaken with ice, strained
Glass: Cocktail (martini) glass
Garnish: cream floated on top.
PROS: easy to make, looks lovely
CONS: floating the cream isn't easy (we guessed measures)
IRL: good, very sweet, a dessert drink