Discovered via favorite site Twitch Film: NSFW Trailer For BELLADONNA OF SADNESS Is An Erotic, Candy-Colored Fever Dream. Contributing Writer Charlie Hobbs writes, "Rather than gender equality, Belladonna shows a world of overwhelming oppression of women and the ends to which they'll go to overcome. It's a remarkable piece of feminist fantasy horror that must be seen to be believed."
He adds,
Cinelicious Pics have gone out of their way to properly restore and market the film, and this beautiful trailer is only the beginning. In addition to the theatrical release, they've partnered with Hat & Beard Press to put together a limited edition 220 page book commemorating the film and the astonishing art within. Believe me, once you see the film, you'll want to know more. I cannot say enough good things about Belladonna of Sadness and the miraculous 4k restoration; you're going to lose your mind when you see it.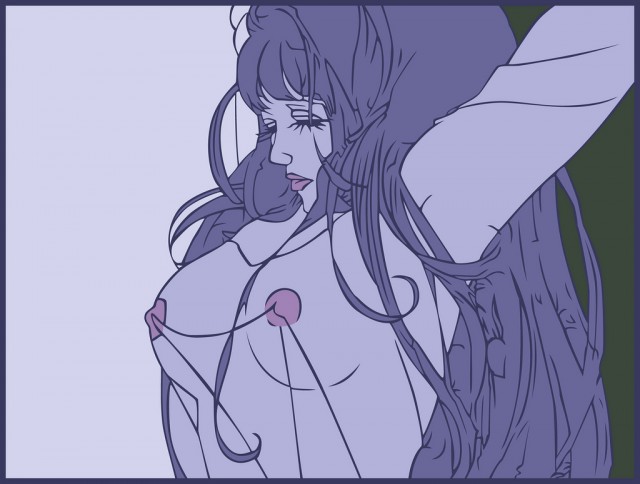 Wow, I'm sold — and as a fellow appreciator of Giallo, Hobbs hasn't steered me wrong yet. The trailer description explains,
BELLADONNA OF SADNESS (KANASHIMI NO BELLADONNA) – Animation, 1973, Cinelicious Pics, 89 min., Japan. One of the great lost masterpieces of Japanese animation, never before officially released in the U.S., BELLADONNA OF SADNESS is a mad, swirling, psychedelic light-show of medieval tarot-card imagery with horned demons, haunted forests and La Belle Dame Sans Merci, equal parts J.R.R. Tolkien and gorgeous, explicit Gustav Klimt-influenced eroticism. (…)

Extremely transgressive and not for the easily offended, BELLADONNA is fueled by a mindblowing Japanese psych rock soundtrack by noted avant-garde jazz composer Masahiko Satoh. The film has been newly restored by Cinelicious Pics using the original 35mm camera negative and sound elements – and including over 8 minutes of surreal and explicit footage cut from the negative. On par with Rene Laloux's FANTASTIC PLANET and Ralph Bakshi's WIZARDS as an LSD-stoked 1970s head trip, BELLADONNA marks a major rediscovery for animation fans.
That description is especially compelling to me because what emerged as the single-most pivotal and favorite films from my childhood (seen against my mother's wishes, at one of her friend's houses she'd unceremoniously dumped me at for a weekend) was Ralph Bakshi's Wizards. I'm still deeply and personally moved by it, so I look forward to seeing Belladonna, for sure. I'll add this caution for some of my dear readers: It sounds like Belladonna isn't going to be a film for some survivors of sexual assault and trauma, so do proceed accordingly.