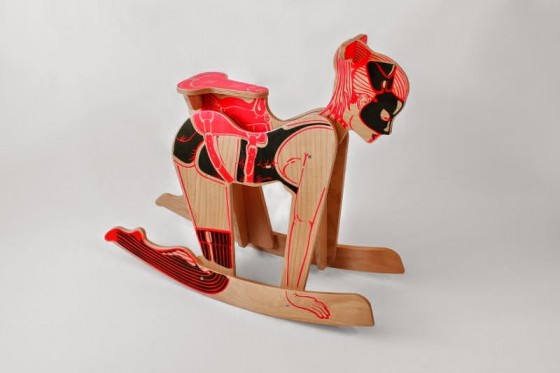 Slovakian designer Peter Jakubik brings a dark spark to home accessory design with his pornographic, kinky pieces. From his bio:
He won the attention of many by transferring porno and BDSM motives and aesthetics into design. Provoking situations, objects such as fetishes, woman as a designer-erotic object are typical for his designs of furniture and furniture accessories,toys for adults, clothing accessories and gifts. They have a bit of irony and provocative spirit in them. Peter uncovers forbidden hobbies and hidden preferences without shame and in objects that are supposed to be used as real furniture.
Above: IKEA-style Flat Pack Ponygirl Rocker (Prototype). Below: Naughty star penstands.
See also: Jakubik's Upskirt Wall Hanger, Libertine Mirror (want!), Make Me Wet Pasta Sieve, Go-Go Music Box and Little Devil Butt Plug (among others).