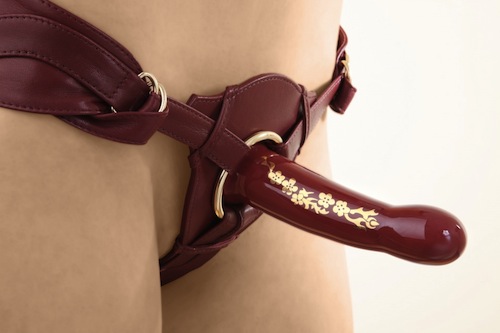 There is so much to discover and explore in the SHOW Studio Selling Sex exhibition (and you'll remember I loved the Selling Sex: Atsuko Kudo: Dressing for Pleasure video). The next items I wanted to show you are items from the Selling Sex shop: the outrageous pieces by Betony Vernon and Shiri Zinn – which some of you will recognize as featured designers from upscale sex boutique Coco de Mer.
Above is conceptual sex toy designer Shiri Zinn's Red Ceramic and Gold Dildo with Red Burlesque Strap (£200). It is red Nappa leather with an ornate Chinese satin back, and the dildo is ceramic with a 9-carat gold flower design. Also in the exhibition is Zinn's crazy Diamond Set Flail Whip, set with 500 diamonds (price upon request). SHOW Studio tells us, "Shiri Zinn centres her work on modern day perceptions of eroticism and empowerment. Her work represents a dynamic fusion of art, jewellery, fashion accessory and product design." Celebrity owners of Shiri Zinn products include Madonna, Kate Moss and Victoria Beckham.
From the Selling Sex show (and shown below) is the sterling silver Urn Anal Dilation Diletto Kit (£6,950) by American-born, Paris-based jewellery designer Betony Vernon. It's part of Vernon's Sado Chic line, which is celebrating its 20th anniversary in the show. Vernon's work is legendary, and is a naughty darling for many celebrities including Christina Aguilera and Gwyneth Paltrow. It's amazing and super cool to think that she's been designing and selling such edgy and gorgeous high-end kinkyware for at least two decades.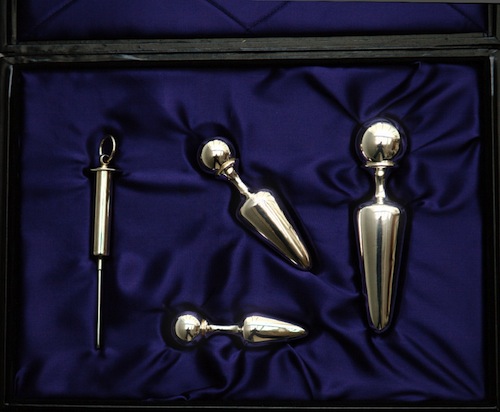 Here's a fascinating interview with the remarkable Betony Vernon: