Update: the new version is now on Kindle!
It was about time: The Ultimate Guide to Fellatio is now officially re-released in its second edition! Before it hit the "bookshelves" Examiner National's Sarah Estrella got her hands on the new version and reviewed it with major praise next to her copy of the original — thank you! Today, Glamour pulls a pretty excellent tip from the new book to give their readers an edge for their bf's next bj (yay, I didn't know Glamour even had a new copy!) And in the brand new book trailer (above) I tell you why I wrote it and what's new: revisions, STD/STI updates, new resources, and I'm absolutely honored to have a hilarious, nerdy short intro story by one of my writing heroes, Mary Roach.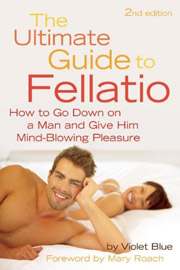 If you already have a copy, you don't need to buy the second edition — but you might want to. Also, even though the PR is heterosexually focused I wrote the book for all genders and sexual orientations (refreshing: plus it has tips from gay men).
In prep for this exciting announcement, I have a few more things to get you in the mood. Camille Crimson wrote one of the best blowjob advice articles I've ever read for She Loves Sex: check out How to Give a GREAT Blowjob. I also completely revised the Fellatio Facts page on this website with more information, erotica, articles and resources.
I'm just an author with an independent press: I don't have the resources or money of houses like Harper or other majors who make budgeted, staffed, corporate-quality studio book trailers. It's just me and my MacBook and a Canon point-and-shoot. This Ultimate Guide to Fellatio video (and all my book trailer videos) would not have been possible without the contributions and support of other indies. This trailer is full of images from Camille Crimson (follow her on Twitter) and UrbanPhotography — and with thanks to Eon McKai (he is on the Twitter, too).
Now for the dirty part. The video is sweet, yet I'll admit it's tame. Let me untame you. Check out Camille's tube socks video. Here's a very hot POV gallery of alt girl Acacia. And if you want really exquisite, explicit, tasteful videos — here is a collection from my favorite French porn site.
Update: This announcement is timely! I'm reminded as we're in the middle of American Library Association's Banned Books Week (Celebrating the Freedom to Read) that my book The Ultimate Guide to Fellatio was a target of attempted banning in 2004. Thanks to the efforts of librarians, teachers, booksellers, and members of the American library community, my book was retained in American library collections.