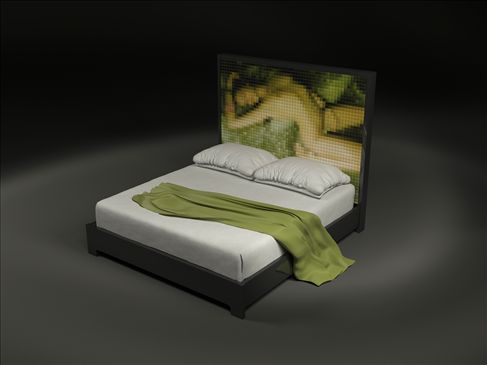 No one enjoys seeing Brits being scandalized and spilling their tea to shriek "but that would be indecent!" more than me. But with this one, I'm actually having to squint to see what's indecent. Today the British InDecent Bed launched to the tune of £50,000; perhaps it's truly indecent to our refined UK friends — especially as compared to the Folsom Bed and Dungeon Beds scandalous designs. Um, where are the hidden indecencies? Anyway you know how much I love blogging sex luxury items, no matter how outrageous… I could totally see Victoria Beckham owning something like this.
(…) The name "InDecent" most probably comes from the fact that they hand-stitch an image of the owners making love onto the bed's headboard. The image looks like a patterned mosaic when viewed from close, but when you take a look from a distance, you can clearly see the raunchy affair. The custom made bed costs a whopping £50,000 (approx. $77,150) and for the price, they offer a custom photoshoot in Los Angeles with a top glamour photographer – Sante D'Orazio, Guido Argentina or Warwick Saint*. After the photoshoot, they airbrush the image and stitch it into the headboard in a range of individual colored panels. This tedious process takes more than three months to complete. (…read more, bornrich.org)
* Ed note: hot pics.