Dirty Stories for Thoughtfully Dirty Minds
Searching for erotic Kindle books is a nightmare of poorly written (auto generated? plagiarized?) free books, most exploiting dated (and often offensive) stereotypes that are all a huge turn-off. But, they all rank high on Amazon's search, page after page -– making it impossible to find quality erotic titles. Trying to find great erotic writers outside of online booksellers is no better. Sex-phobic search engines relegate NSFW sites and blogs to the pits of despair when it comes to indexing them, unless like media giants Apple and Facebook, the companies endeavor to make the world's talented and hardworking erotica writers... invisible.
And there are so many talented, exquisitely gifted erotic writers out there to enjoy, in genres that span from alien worlds and zombie apocalypse scenarios to bodice-ripping romance and crime noir lust. After fifteen years of curating online magazines and blogs, as well as ten years' experience as the editor of the world's number-one, best-selling erotica series for women, I hope that this resource helps you to hack a path through the rip-offs and Kindle spammers, to discover new authors (and characters, collections and stories) you grow to love.
Explicit Erotica by Top Erotic Authors
Enjoy this curated collection of explicit literate erotica.
If you like my taste in the genre's offerings and you're a Kindle user, check out my Kink Your Kindle posts, where I handpick the best and latest explicit digital erotica collections, novels, and sex guides.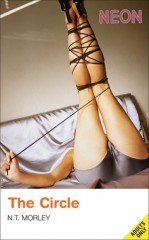 * Taking Dictation by N.T. Morley is one of the hottest office sex encounters I've read in a long time, and serves as great inspiration for "Secretary" role play. Delicious.
* Working Girl by Simon Torrio took me by surprise; it's a white-knuckle, gritty sexual fantasy for couples, where a rich man cruises for a cheap sex worker on the corner and they both engage in a high-risk encounter where both of them are pushed to their limits. Hot. It's nearly a do-it-yourself role-play scenario, except for the really risky part.
* A Recent Favorite by... me! This story is a very explicit fictionalized fantasy written as a series of emails between two women: one dominant, and one very bratty. Suzanne Ramsey writes her mistress Natasha a fantasy detailing their first meeting, full of willful disobedience, hair-pulling, a harsh spanking on more than one sensitive body part, forced oral sex and a near-catfight in the final consummation of their relationship. Audio version: download the MP3 :: listen now.
* In MEMORANDUM, a hilarious and very inspiring corporate memo by widely-published dominance and submission author N.T. Morley, a young woman learns that her behavior and dress in the office has been repeatedly unacceptable -- and what her penalties are.
* The Boys in the Band by... me. When a punk rock marching band invades her house as a crash pad on a friend's favor, a wealthy Alamo Square Park Victorian owner gets in the middle of a trumpet player and a hot flag girl, complete with a hot bit of restraint. Audio version: download the MP3 :: listen now.
* More hot office sex, courtesy of N.T. Morley: in Bare Ambition a sexually dominant woman shows exactly what it takes to get the job done in corporate warfare in a great rendition of a turnabout-is-fair-play job interview.
* Sit and Spin is N.T. Morley's humorous and extremely explicit story about a very unusual spinning class, complete with modified stationary bicycles, a well-hung instructor and an intense deep throat finale.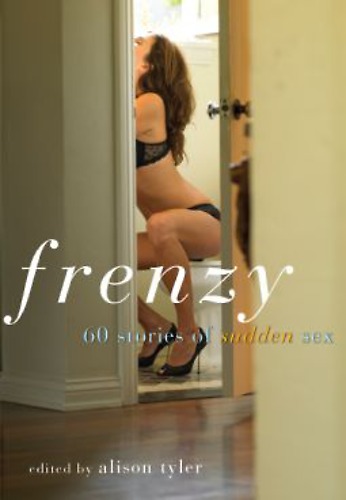 * Best-selling author Alison Tyler is a shy girl with a dirty mind. And lucky for us, she wrote a very special short story that explicitly details the red-hot fantasy of giving head to a total stranger in Yeah.
* Try This At Home by Ayre Riley is an unusual piece where a woman gives girl-to-girl advice on being a dominating cocksucker -- from how to dress to when to let him think he's in control.
* Here, In the Middle of Everything by John Flores is a man's re-telling of a very hot, very dirty oral tradition that him and his girlfriend enjoy -- right out in the open.
* Creatures of the Night by Thomas S. Roche. An ordinary guy out for a little fun on Halloween dresses up as a police officer and winds up "arresting" a "prostitute" with a hot little mouth. A dirty little slice of fantasy play.
* Restraining Order by Alison Tyler. Critically acclaimed author Tyler gives us a juicy exerpt from her book, Bondage on a Budget, where a man finds more than an equal in his quest for a submissive, kinky partner. Full of romantic longing and centered around a truly riveting fellatio scene.
* Two Guys and a Girl by Thomas S. Roche. A woman decides to try going to an adult movie theater for the first time, and the outcome is a scene with a twist -- and a fellatio encounter that left my mouse all nervous and sweaty.

* The New Fiancee part 1 and part 2 by N.T. Morley tells the story of a female submissive who has to meet her male master's ex-wife and pass a test: one including a first-time lesbian encounter and lots of juicy cunnilingus.
* He's a gay man. But he can't stop thinking about trying a big taboo -- cunnilingus. What does that make him? He really doesn't care, and neither will you when you read In Town For Business by Zach Addams. This is a gripping tale of first-time male on female cunnilingus, where a straight couple picks up a gay man.
* In Jack and Ginger by Thomas Roche, a man's girlfriend drives him crazy when they're out clubbing -- she's just too damn sexy to resist. But to his surprise, he can't resist her at all, and what ensues is a dirty game of "how far will they go."
* Amore by Lucy Artell. In these dreamy, lyrical moments between two lesbian lovers, a woman completes her Italian vacation with many trips between the thighs of a gorgeous Italian waitress.
* Slamdance by Thomas Roche. A night in a punk club turns into an unforgettable, heated tryst in a bathroom stall for two punk girls that discover lust at first sight.
* All Day Sucker by Jacqueline Pinchot. She loves to eat candy, she looks like a treat, and she even smells yummy, but how does Emma taste? Find out when this sweet little morsel meets her match in the new gal at the office.
* Bella's Secret Garden by Antonia Paris. Staying in a hotel will never be the same when you see what happens between a restless lesbian and room service.
* Door to Door by Jessica Dondershein. A roving cosmetics saleswoman wanders into a wealthy neighborhood and gets something better than a sale when she encounters a randy maid.
* Number One Fan by Gabriella Wise. Ever want to make your fantasy sexual encounter with a celebrity come true? This butch lesbian tries, and with surprising results.

* The Sun Don't Shine by Elizabeth Colvin shines a light on one girl's early morning desire to kiss her boyfriend all over.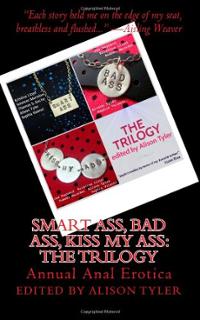 * Anything I Want by Thomas Roche is about what happens when a woman makes her ass 'off limits' and then in a moment of wanton weakness tells her new boyfriend he can have anything *he* wants... Audio version: download the MP3 :: listen now.
* A woman picks up a cute drunk boy, but can't get her obsession of plundering his virgin ass out of her mind -- so she devises a very oral compromise. Anal play is the name of the game in Elizabeth Colvin's One Way Street.
* Explicit fiction on rimming from author Julia Moore -- in her story Rim Shot, a girl falls for a sexy LA rock band drummer who gets her home only to spread her cheeks wide and show her the importance of -- you guessed it, a "rim shot."
* In Off the Rim Ayre Riley dishes up a sweet and dirty short story about a gal who just can't wait to get her guy off the basketball court for some orally-fixated backdoor love.
* Tanya is a very naughty girl, whose oral fixation verges on the frightening -- not that her boyfriend's complaining, mind you. But when she surprises him and takes complete control of his body, Tanya's Tongue, he gets a (literal) tongue-lashing that makes him see stars. This unpublished piece by Thomas Roche is a great story for couples, and would've been in Sweet Life 2 if I didn't already have a great Roche story in it...
* Unable to watch his girlfriend hike in her tiny, tiny hiking shorts for another minute, her very horny boyfriend "makes" her go down on all fours so he can bury his face where the sun don't shine -- while we get a glimpse of a woman who loves to come from rimming. With Second Breakfast Xavier Acton turns in a hot story with a couple who doesn't need to be squeaky clean to enjoy analingus, and another "I could've published it in Sweet Life 2" piece of erotica.
* French Tickler by Alison Tyler This delicious excerpt from Bondage on a Budget gives us a guy determined to please his girlfriend, who demands... a feather duster? Kinky and cute, she gets what she deserves in the end.
* "I Do" by Erica Caldwell. The best man at a wedding can't wait for the wedding to be over -- until he makes eye contact with a beautiful girl, and suddenly he's wondering just what she'll say "I do" to...
* Whose Panties by Alison Tyler. In another exerpt from Tyler's popular Bondage on a Budget anthology, a woman gets to bed a sexy rock band front man, and much to her delight, he's into kink. A hunky guy in panties, a spanking, and some girl-on-guy rimming round out this selection.
* Insomniac by Serina Jurgens. In a timeless moment on a balcony in Los Angeles, a woman experiences some otherworldly sex with another woman. Slightly haunting, with a nice rimming encounter.
My erotica collections + multimedia/audio freebees: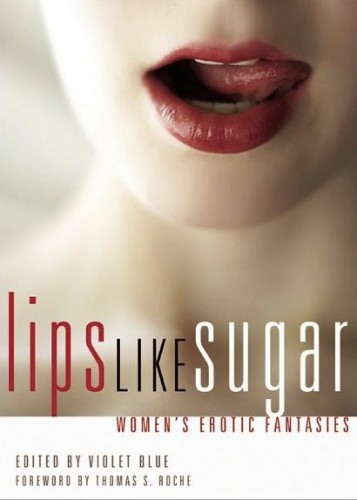 The women's erotic fantasy genre got a very explicit, highly literary update in my collection, Lips Like Sugar: Women's Erotic Fantasies. The chances these women take, the impulses they act on, and the forbidden taboos they explore on their own terms are experiences you won't find in any other erotica collection.
* "When I Make You Say No" by Julia Price is a terrific example of the book: it's one long, hot, tense blowjob where the female narrator gets off by pushing her macho boyfriend to his limits. Audio: download the MP3 :: listen now.
* In the story "The First Stroke" by Erica Dumas a woman tries out her new strap-on and takes control with her boyfriend for the very first time. Audio: download the MP3 :: listen now.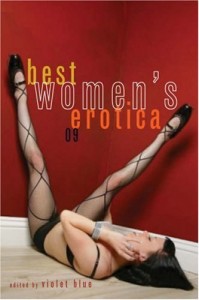 Free, from Best Women's Erotica 2009:
* The book's introduction, my erotic retelling of the Persephone myth -- audio: download the MP3 :: listen now.
* Listen to one of my favorite stories from the collection, Valerie Alexander's "Fly." You'll never look at Neverland, Peter, Wendy and Tiger Lily the same way again, and I think it's one of the hottest stories I've ever read. Audio: download the MP3 :: listen now.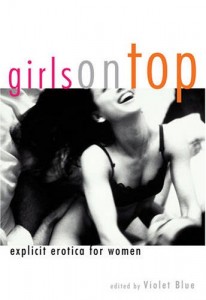 Free, from Girls On Top:
* Listen to this wicked story from the collection, "Central Registry" by Remittance Girl. In it, a pierced party girl decides that enough is enough when it comes to the Jehovah's Witnesses that keep interrupting her Saturday hangovers and she plots to "save" them both -- at the same time. Audio: download the MP3 :: listen now.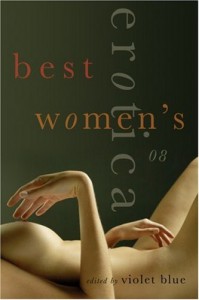 I'm not exactly sure why, but my publisher just can't keep up with the sales demand for Best Women's Erotica 2008 -- not that we're complaining! Free, from Best Women's Erotica '08:
* Hot and flirty sample story: "Rear Window" by Scarlett French. In it, a woman moves into her new apartment and discovers quite a view -- and it's the first Open Source Sex podcast to feature man-on-man action. Audio: download the MP3 :: listen now.
* "Lost At Sea" by Peony is a very intense erotica reading of a sample from BWE '08. Audio: download the MP3 :: listen now.
* Listen to the first story in my award-winning collection Best Women's Erotica 2006: Cate Robertson's Just Watch Me, Rodin (audio podcast, libsyn.com) a riveting story about an edgy modern girl's compelling power-exchange relationship with a male painter. Audio: download the MP3 :: listen now.
* Want even more? Read the book's introduction here.
* * * * * * *
If you are looking for someone to send your submissions to, or any advice or resources for writing, getting published or doing books in the world of erotica, visit my favorite resource: the Erotica Readers & Writers Association makes being an erotic writer and editor -- and publisher -- great. Community, resources, advice, information, calls for submissions and much much more. If you write or edit, check it out.