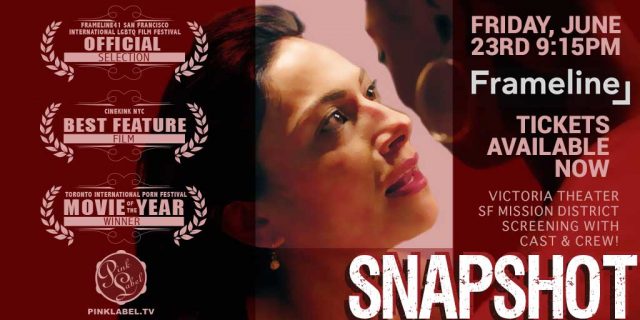 With tonight's showing of SNAPSHOT for the 2017 Frameline Film Festival, the film is officially released to the public! This post is an explicit collection of stills from the film, provided by my friends at the film's superb studio: Pink & White Productions. I'm deeply grateful for the exclusive, and especially for the opportunity to celebrate queer sex, culture, and hot queer bodies on Pride weekend — especially during the times we're in.
Here's the plot:
A freelance photographer and woman about town, Charlie has her sights set on Danny, an older butch in search of adventure and romance. Just as things are about to click, Charlie accidentally snaps a photo of a murder. and becomes his new target. With a killer hot on her trail — and a new relationship developing — will Charlie find love… or her own demise?

Written and directed by Shine Louise Houston (The Crash Pad, Champion: Love Hurts), SNAPSHOT draws inspiration from film classics such as Hitchcock's Rear Window and Antonioni's Blow Up, featuring a diverse cast and intimate portrayals of queer sex in Houston's signature cinematic style.
You can watch the film on demand now at Pink Label TV.