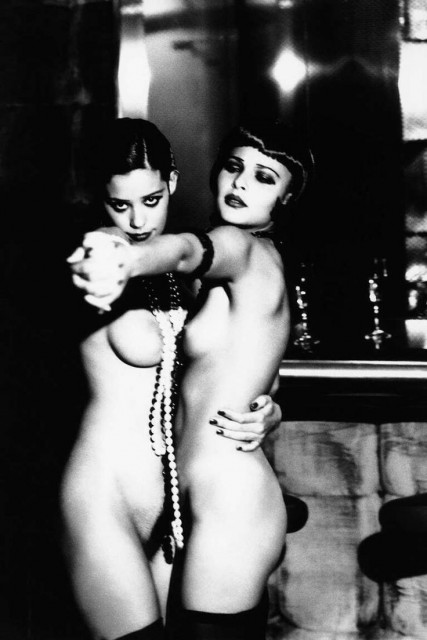 Above: Photo by Ellen Von Unwerth, Fahey/Klein Gallery.
The Fahey/Klein Gallery is a legendary, global cornerstone in the world of of 20th Century and Contemporary Fine Art Photography (established 1975 — before art galleries specialized in photography). Its program has included erotic art nude, fine art, and countercultural legends such as Helmut Newton, Man Ray, Herb Ritts, Ellen Von Unwerth, Allen Ginsberg, Annie Leibovitz, Bruce Weber, Robert Mapplethorpe, Irving Penn, Henri Cartier-Bresson, Jan Saudek, Mary Ellen Mark, Ansel Adams, Joel-Peter Witkin, William Klein, and many, many more. I find it intersting to think that none of these important historical figures (many of whom are heroes to me) would be allowed to exhibit their work on Facebook, in Apple's iTunes, or similar places.
Here's Sigourney Weaver by Helmut Newton in 1983, in the Fahey/Klein Gallery collection:
Online art nude and culture magazine Treats! snagged a lucky interview with the founder, David Fahey — by his son, Nick Fahey. It's a really interesting interview, and it was cool to find out which photographers are his favorites for nudes, as well as this cool gem:
Nick Fahey: How has the approach of nude photography changed in the past 50 years?

David Fahey: The "nude" has always been somewhat controversial from the beginning. Eroticism played an important part in early photography. Today, nudity in photography continues to be erotic, but also can be a social comment on our current times. Nudity became more accepted in the 1960's, and today it is less of a big deal. We can now enjoy a nude photograph for the sheer beauty of light on the body, as well as appreciate new perspectives in presenting the human form.
Link: David Fahey by Nick Fahey (Treats! Magazine)
More glorious Helmut Newton, from the Fahey/Klein Gallery collection: