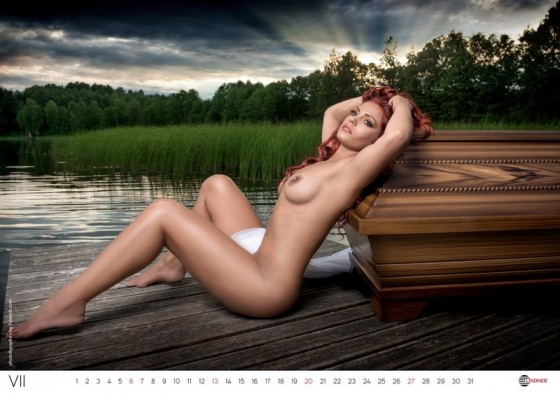 Yearly calendars exist for me in this weird twilight, somewhere between analog nostalgia and cool things I never buy. That's not to suggest you shouldn't buy a 2014 calendar, especially one that is for a good cause. It's just that ever since I co-ran Fleshbot with Jonno back in 2005, I've found all kinds of sexy (and sometimes even erotic) yearly calendars that are great for making blog posts but somehow never ended up being things I would buy. (Except the giant, gorgeous Helmut Newton calendar that still hangs in my kitchen.)
The only time this became regretful was when I started to kick myself for not collecting the Lindner coffin calendar – especially the earlier issues, which were thematically edgy and noir. The new 2014 edition from the Polish coffin maker is decidedly pretty and more like a shoot we'd see from Met-Art (Lindner would be the legs-closed version), but it's still pretty cool.
(Lindner is not to be confused with Italian coffin maker Cofanifunebri, who has been producing adult-themed coffin calendars since 2004.)
Lindner's 2014 Coffin Wall Calendar is 30 Polish Zloty ($9.86) with US shipping at 129 Polish Zloty ($42.44). Those of us who miss the riskier past shoots can check out the full collections on Lindner's website accordingly: 2010 – 2011 (my favorite!) – 2012 – 2013– 2014.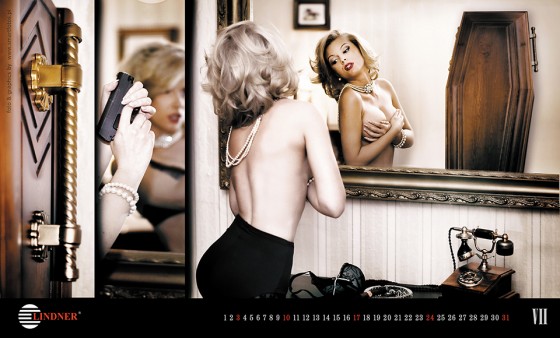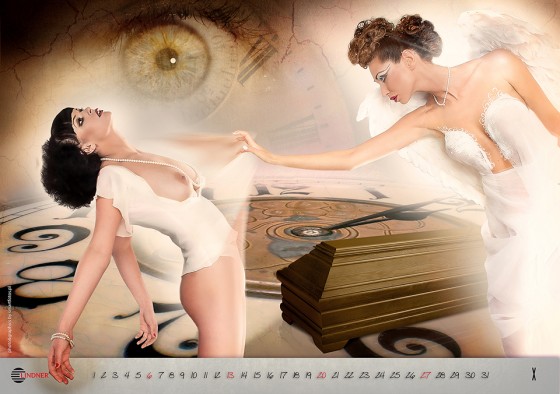 I discovered the Wikilicious calendar recently on Radio AnonOps, the Anonymous radio show run by charming host Lorax. I've been on this show a few times, and even though Anonymous scares me I enjoy going on the show. I think that no matter where you sit in the political debates around Anonymous, Wikileaks, surveillance and related topics, it's a brainy show that explores topics that aren't being touched by major press outlets, it doesn't preach at you, and it provides plenty to think about.
Anyway, it looks like AnonOps had a fun show last week with model and activist Dr Roslyn Fuller (who specializes in international law). She made a 2014 'Wikilicious' calendar for those whose politics align with Wikileaks, Freedom of the Press, and others, and who don't mind combining cheesecake with politics. Ms. Fuller decided to merge her work as a pinup with her drive to raise awareness about whistleblowers and put together four different racy 2014 calendars, whose proceeds go to various charities that support missions aligning with Wikileaks.
The four versions of her calendar are EUR 16.99 (+3.99 shipping).