People seem to really be liking my newest erotic anthology, Voracious. I think the hot cover helps a lot (thanks Cleis Press!) but the true shine comes from within: the many extremely talented authors I got to work with when putting this dirty sexy beauty together.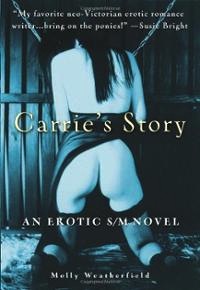 The foreword is by someone I'm a huge fan of – if you ever got into the Carrie's Story/Safe Word books (holy yum, they are the thinking girl's 50 Shades), then you'll know who Molly Weatherfield (aka Pam Rosenthal) is. I was blown away when I found out she was writing a piece for the start of Voracious, and even more so when I read what she wrote… Here's a snip from Alison Tyler's contribution, "Worth It":
"I want you to hold me down and fuck me hard. Don't treat me like myself, or like a woman at all—treat me like an animal," I told him, the last such pronouncement I would make. Aidan was the kind of guy who always made me feel depraved, and he had a special knack for making my pussy tighten so fiercely I worried that it would stay that way permanently, the way parents warn their kids their eyebrows will stay furrowed if they keep on frowning. I'd been lusting after him for almost a year, but had finally broken through my own fear and told him what I wanted from him, only to find he felt the same way.

I'd never asked anyone anything of the sort – a little spanking, a few minutes of bondage, a few dirty words thrown my way, but that was about it. This was different. This was real, raw. That's how much I wanted him. At first, I wasn't sure if he got what I was saying—I didn't want him to hold back, at all. I could tell that he had been holding back, just enough to make me long for more, to make me feel slightly put off, as if he thought I was too fragile to take what he could really give me.
Speaking of 'what she wrote' – I wanted to tell you one more thing about Voracious. It got a great 5-star review by Erzabet Bishop. Never heard of her? If you read erotica, you should get to know her – she's a rabid, non-stop erotica reviewer. And her reviews are tightly-spun tours of any one book's tale (or tales), and she manages to do it with zero spoilers. All I have to say is that as a former copywriter for book and video sales – it's no small thing to be a great review writer. And much to my relief and happiness, she really sunk her teeth into Voracious:
(…) Voracious comes across my desk and I am hopelessly enthralled. Or I guess the right term is voraciously enthralled. The title really does say it all.

The foreword by Molly Weatherfield (Carrie, Safe Word) sets the stage for a festival of wanting, needing each and every story within the cover of this book. Nineteen tales of unbridled lust and some very original points of view make this anthology one that will have you looking at things in a whole new light. Sting is king here, make no mistake about it.

(…) "Becky" by Kay Jaybee is an job you will never forget. We all know about performance plans and developmental discipline. What happens when Becky spills the coffee and the whole office gets to watch her very public shaming? An epic story of impact play and control, "Becky" made me long for a really good caning and had me squirming in my seat. Yes, this tale is a multifaceted festival of lights. Voyeurism, impact play, f/f, m/f and some pretty strict working conditions made this one scorcher of a read.

(…) "Worth It" by Alison Tyler has to be one of the most erotic anal sex stories I have ever read. Wanting and longing for the touch of a lover that just isn't interested pushes our girl to new heights of suggestion and creativity. Alison Tyler never disappoints. Ever.

(…) Voracious is just what the title suggests. Each of the nineteen stories in this collection meets editor Violet Blue's exquisite standards of taste and sheer kink. These are not your run of the mill girl meets flogger stories. Oh no. This is the stuff that new fetishes are born from. These stories will haunt your daydreams (…)