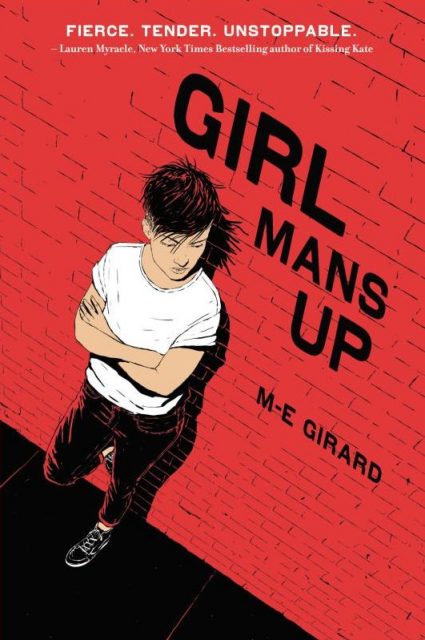 Some great sex books have come out this year. In fact, some very important books have come out, more relevant to what we're going through than ever, and some of them happen to be about sex. Books that titillate, inform, inspire, and take you away — like any good book should. Below you'll find my picks for the best sex books of 2016. Special thanks to Cecilia Tan for helping me compile this list.
My handpicked selections here follow strict standards. All fiction must have explicit, realistic sex within rich storylines that are framed by excellent storytelling, as well as complex and compelling characters. Sex acts can range from sweetly romantic to thoughtfully quick and dirty. All nonfiction must be accurate, nonjudgemental, and sex-positive, preferring an all-gender, all-orientation approach.
I hope that through Kink Your Kindle you discover new authors you grow to love. And please consider supporting this site on Patreon.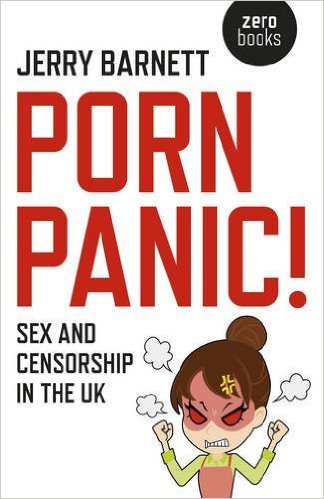 Porn Panic!: Sex and Censorship in the UK ($9.99/£5.62) Jerry Barnett
"Over and over again through 'Porn Panic', Barnet cites examples of his attempts to engage those seeking to impose a censorious agenda to debate and explain their position … A parallel case–cited in 'Porn Panic'–was Brooke Magnanti's 'Sex Myth', which professionally exposed grossly overinflated statistical assumptions about trafficking and incidence of sex attacks in the vicinity of adult entertainment establishments but which led not to a reassessment of these figures by anti-porn campaigners but rather their attempt to suppress her book. The point being that many have built academic careers and political power bases on sensationalist claims and weak/flawed scholarship and have too much to lose by engaging honestly with critics like Barnett and Magnanti. Barnett is most convincing when he points out the campaign against porn is a Trojan horse for a broader, almost wholly unaccountable armamentum of state censorship. We seriously need to ask 'who regulates the regulators?' because at the moment, it's looking like no-one is."
Girl Mans Up ($7.99) M-E Girard
"Girl Mans Up is currently the most satisfying read of the year for me. I was happy with the depiction of Pen, a girl who doesn't really feel like a girl, but doesn't want to be a boy either. She digs girls, but doesn't feel comfortable with the labels gay, lesbian, or queer. The thing about Pen is that she isn't interested in putting other peoples' questions about her gender or sexual preference to rest. She just wants to be allowed to be herself, without being treated like she's a freak. … At the heart of it, this book is about acceptance: Acceptance of one self and of others, even if the only acceptance you can give others means accepting that they are toxic."
Review: M-E Girard's Novel "Girl Mans Up" Powerfully Explores Minefields of Gender (Autostraddle)
Ethical Porn for Dicks: A Man's Guide to Responsible Viewing Pleasure ($9.99) Dr. David J. Ley
"Our media is filled with confusing, polarizing messages about the dangers of porn, while at the same time sexually explicit images are pronounced in advertising and entertainment. Using a natural question/answer format for people feeling fear and shame about porn use, this accessible, funny, and well-informed book is the first one to offer men a nonjudgmental way to discover how to view and use pornography responsibly."
The Heart of Dominance: a guide to practicing consensual dominance ($9.95) Anton Fulmen
"THIS is what you should be reading to learn how to be a dominant, not 50 Shades. … Rather than being yet another book on how to flog or basic body position protocol, this book goes into the heart and soul of how to build a HEALTHY D/s interaction. It is written for dominants, but I think it's a really good book for submissives to read as well- it can really highlight what is a good, positive, respectful D/s relationship, and what should really be a red flag. Or 20. It is the opposite of a "one twoo way" type of book, but it also makes a lot of really good points about insecure, narcissistic behavior that one sometimes sees in dominants who are arrogantly projecting what they fear they are not, rather than confidently allowing themselves to be the person they know they are, because they have proven it to themselves."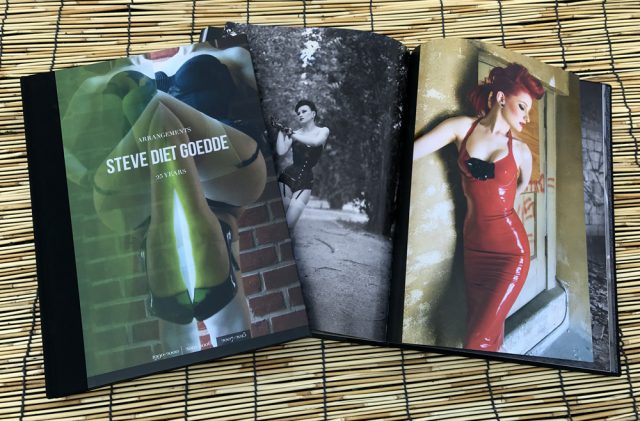 ARRANGEMENTS Vol. III ($60, hardcover only) Steve Diet Goedde; Edited by Eric Kroll
"This is the definitive retrospective of the images of Steve Diet Goedde, carefully edited by Eric Kroll. This book features iconic images from the Steve Diet Goedde archive and never before seen images from these now-legendary photo sessions featuring a legion of celebrated models."
Dirty Girl Collection ($38.87, hardcover only) Ellen Stagg
"The unique, daring selection includes images of over 40 top models, from famous adult actress Justine Joli, whom Stagg first began working with in 2005, to model sensation Charlotte Stockely. Page for page, Stagg takes the viewer on a sexy provocative journey, testing the boundaries of art and nudity. From provocative snapshots to hot girl-on-girl action, Stagg's photography pushes the envelope and takes the viewer on an exciting journey through her world of artistic nudes. Nothing is off-limits in this steaming hot collection of uncensored girls."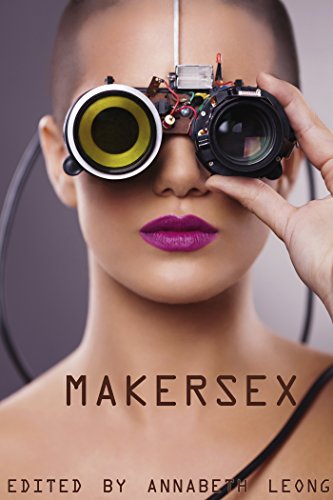 MakerSex: Erotic Stories of Geeks, Hackers, and DIY Culture ($3.99) Editor: Annabeth Leong
"The punks and rebels of Maker culture have arrived to take sex apart and rewire it into thrilling new forms. They know that skill is sexy. They know the heady power of taking things apart just to see the insides. They know how to get what they want. Whether building makeshift spacecrafts to fly into unknown astronomical phenomena or staying closer to home and breaking orgasm into programmable parts, these characters tamper when they're not supposed to, kiss plastic, and involve soldering irons in their foreplay. In the process, they fight corruption, choose who and how to love, and create erotic possibilities both playful and profound."
Figment ($4.49) Alison Tyler
"A writer sits in an empty room and waits for the next story. Her prompts are given to her every day. Sometimes multiple times a day. Sometimes in the middle of the night. She must respond by performing tantalizing typographic tricks for her Master, by intellectually entertaining him. If she fails, he punishes her. If she succeeds, she wins the most breathtaking rewards. She never knows what's going to happen in her life. Only in her stories. A succulent work of surrealistic metafiction from Alison Tyler."
The Gazillionaire and the Virgin ($4.99) Lisabet Sarai
"The Gazillionaire and the Virgin is a fun, sweet and sexy spin on the usual billionaire romance stories. Instead of a rich, dominant male and a naive, submissive female this books stars a reclusive 29 year old male virgin with a dominant side and a rich, successful and submissive businesswoman. The writing is slick, the dialogue is smart and the characters are totally loveable. The sex and BDSM scenes are really well written and they are panty meltingly hot. I'll definitely be looking out for more books by this author as I absolutely loved this one."
Muse ($3.99) Sommer Marsden
"Life as a nude model wasn't what Dani Young expected. It was all Chris's idea. His art class was minus one model and her life needed a change—a big one. An emotional shake up, he said. Something to make her feel wild and brave and free. She's learning a lot about herself — her wants, her desires, her unexpected fantasies. But her biggest lesson may be that she deserves so much more than she's always settled for in the past. Something like a courageous, blazing shot at real love."
The Viscountess Interrogates: A Dominion Erotic Mystery ($6.99) Cameron Quintain
"Elegant sleuth The Viscountess and her perceptive slave and crime-solving partner Severin are back to solve another mystery in the world of fetish and kink Dominions. They inhabit a magical and kinky world of pocket universes that reflect every fetish fantasy humans can dream of. To solve the mystery of a missing object and a disappearance they will travel through territories both familiar and new: Victoria, the pornographic London that never was, The Wasteland, a post-apocalyptic Dominion of anarchy in scarcity, and the ultimate unreal setting of fantasy and unrepressed libido: Las Vegas. Severin falls into the hands of a lesbian biker gang, and The Viscountess goes undercover in an all-girls boarding school."
Silence is Golden: Contemporary Kink-Inspired Erotica ($3.99) Editor: Anna Sky
"The kink-inspired stories in Silence is Golden are sexy and bold. You'll meet strong, diverse characters across the spectrum of sexuality who revel in their desires. From silent Doms and Deaf lovers to submissives who can't be silenced and those who seek out the quiet. This sizzling collection brings together the finest erotic stories from Annabeth Leong, Dale Cameron Lowry, Sienna Saint-Cyr, Leandra Vane, Anna Sky and Janine Ashbless."
Monster Whisperer ($5.99) Nobilis Reed
"If there's something wrong with your tentacle monster, who are you going to call? Dale Clearwater: Monster Whisperer. With her own ship and a menagerie of tentacle monsters, she travels from world to world, rehabilitating monsters and training the people who love them. From the amorphous, fluid Kritzoan to the stone-like Nalcheka, Dale embraces the monsters and records her encounters for a reality show that broadcasts to countless worlds. One might think there's nothing she couldn't, or wouldn't, do. Still, when she gets a call from her old colleague (and old flame), Dale nearly turns him down. Nearly. Joining him to capture a particularly dangerous monster is part of an adventure that has the potential to change their universe – or lose Dale her monsters, her ship, her show, and everything that she holds dear."
The Circlet Treasury of Erotic Wonderland: Erotic Tales of Alice and Beyond ($6.99) J. Blackmore
"In this Circlet Treasury of Erotic Alice in Wonderland stories, you'll find ten unique tales of erotic imagination based on the classic journey created by Lewis Carroll. Join us for a wild erotic ride through rabbit holes and chess boards, mirrors, and royal courts, as well as secrets in your own backyards. The stories brought together by editor J. Blackmore, the twisted mind behind several volumes of erotic steampunk, sexy Jane Austen, and steamy Sherlock Holmes, include these ten twists on Alice and Wonderland."
The Pleasure Principle – The Amaryllis Book of Erotic Stories ($5.50) Editor: G. Sampath
"Modern Indians have a curious relation with erotica, despite being from a civilization that celebrated it and elevated it into an art form, if not inventing it outright. They may enjoy it, but surreptitiously and be embarrassed to admit it. This may be because of its intimate connection with sex, which has no shortages of taboos, and a perception that considers it just an account of sexual intercourse. They couldn't be more wrong. And this anthology offers some convincing proof."
Review: Giving erotica its due (New Kerala)
Tonight, She's Yours: Cuckold Fantasies ($7.99) Rose Caraway
"If you enjoy a good Cuckold story, Look no further. This collection is full of them. From being in chastity forced to watch a superior male satisfy her better than you could ever hope to. Watching as she services a group.. Or just hearing everything he did to her. All of the stories in this collection are well written and sexy as fuck."
Raw Silk ($6.75) Lisabet Sarai
"There's no doubt in my mind that RAW SILK is one of the hottest novels I've read in the past several years. Though it was written by a woman for a predominantly female audience, I found myself aroused in ways that surprised even me. There's definitely something for everyone in this novel: straight sex, bi-sex, male domination, female domination, threesomes, and the list goes on and on. But more than that, this book is exquisitely written. Ms. Sarai is a poet who knows the magic of words and how to make them come alive for the reader. She's able to capture the sheer beauty of Bangkok as well as its crowded streets, strange scents, constant noise, and the open friendliness and hospitality of its people toward outsiders. I felt at home there and experienced strong memories returning of when I lived in Bangkok during the late sixties. I also found all of the main characters in the book to be fully developed and rather intriguing, and even the information about computer software programming managed to capture my attention."
Want more great sex book recommendations? Browse the Kink Your Kindle archives. Update: I have to add an unsolicited, from-the-heart shout-out to Kinky Literature for being there, and being amazing.