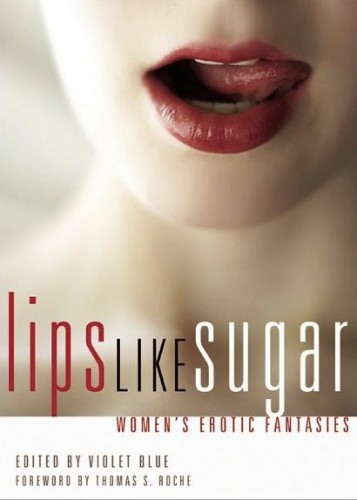 Don't despair unsexy holidays: a new Kink Your Kindle post is here. Let's get right to the hottest new lit-smut, and the season's must-have sex books.
Previously:
In this batch, expect kinky predicaments and very explicit sex, compelling stories, great writing, and exciting characters. Look for well-crafted narratives, erotic power play and no dull climaxes. I've had Captive in the Dark recommended to me and I've downloaded it but not yet read it; could be amazing or terrible considering the very controversial content. I'll let you know…
Stocking Stuffers: Kinky Holiday Erotica for Couples ($3.69) by Sarah Stein and seven other authors
Along with dirty Christmas gifts and a New Year's public sex outing that goes off amid fireworks, there's an erotic retelling of the classic Hanukkah legend of Judith beheading Holofernes — only this time, he's the hot and cocky regional manager of a paper firm. Contains BDSM, threesomes, voyeurism, exhibitionism, public sex and other fun stuff.
Open: Five Filthy Bisexual Erotic Stories ($3.49) by Saskia Walker, Alison Tyler, Sommer Marsden, Sophia Valenti, Tenille Brown
Five terrific authors deliver explicit stories about bisexual women and salacious bisex adventures. Excellent work.
Too Fast For Love: Opportunist Encounters ($1.99) by Rachel Krame Bussel and nine others
Much like my collection last year (One Night Only), this anthology of ten well-written stories feature encounters and predicaments where the protagonists have one chance to act on a one-time, filthy opportunity… and so they do. The names in this collection alone should be enough to tell you it's two dollars you'll consider well spent :)
A Queer and Pleasant Danger ($12.99) by Kate Bornstein
Fantastic. A stunningly original memoir of a nice Jewish boy who joined the Church of Scientology and left twelve years later, ultimately transitioning to a woman. A few years later, she stopped calling herself a woman and became famous as a gender outlaw.
Best Bondage Erotica 2013 ($10.68) edited by Rachel Kramer Bussel and foreword by the wonderful Graydancer
Great stories in this year's edition, highly recommended… Editrix Rachel Kramer Bussel and her writers put it all out on the page in stories using everything from silk ties rope to shiny cuffs, blindfolds, wires and everything you can imagine and MORE. Best Bondage Erotica 2013 offers erotic insight for newbies and experienced players alike.
The Ultimate Guide to Prostate Pleasure: Erotic Exploration for Men and Their Partners (pre-order, $11.48) by Dr. Charlie Glickman and Dr. Carol Queen
Just as G-spot exploration forever transformed women's experience of orgasm, The Ultimate Guide to Prostate Pleasure: Erotic Exploration for Men and Their Partners offers men erotic pleasure beyond what they imagined possible. Men who may not feel confident exploring anal play will be empowered to claim the prostate as an erogenous zone ripe for exploration.
All You Can Eat ($7.99) by Emma Holly
Sex, lies and murder. Frankie Smith is having a bad day: her boyfriend has just dumped her and she's just found a dead body behind her cafe. Still, things look up when sexy local detective, Jack West, turns up to investigate. And when a stranger turns up at the diner looking for work, Frankie soon finds herself juggling two men and an increasingly kinky sex life.
Transitions of the Heart ($9.99) edited by Rachel Pepper
Sharing stories of love, struggle, and acceptance, this collection of mother's voices, representing a diversity of backgrounds and sexual orientations, affirms the experience of those who have raised and are currently raising transgender and gender variant children between the ages of 5-50. This is the first collection to ever invite mothers of transgender and gender variant children of all ages to tell their own stories about their child's gender transition.
See also: The Transgender Child, a truly *great* book.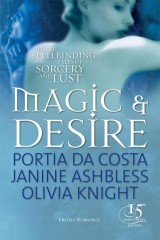 Magic & Desire ($9.99) by Janine Ashbless, Portia de Costa and Olivia Knight
This exquisitely crafted three-story book is quite fantastic (and I don't usually go for fantasy fiction). "Met by Moonlight" asks the questions Can it be possible that a handsome stranger met by moonlight is a mischievous fairy out to sample a taste of human love and passion? In "The House of Dust" the king is dead, but the queen cannot grieve until she's had vengeance. She must descend into and brave the Underworld in order to bring her lover back from the dead. Lastly, "The Dragon Lord" takes place in the misty marshlands of Navarone, where the princess is about to be married. Her parents desperately hope this will cure her of the problem that they have fought to keep secret for years—her tendency to play with fire.
New stuff from me, which I haven't really mentioned as much as I should have this year, yet where I've gotten to work with and feature incredible sex writers – they blend fine lit and hardcore sex like one one else:
Lips Like Sugar 2nd Edition ($9.99) edited by Violet Blue
The stories in this volume, written by both veterans and new voices, feature women on top, bottom, and everyplace in between. Running the gamut from sweet to scintillating to downright raw, they cover just about every conceivable sexual scenario. Debra Hyde's "Accidental Exhibitionist" explores the thoughts of corseted slavegirl Cara as she models her new fetish gear and services her master in public. Teresa Lamai's "Idyll" finds poetry and passion in a scorching three-way set in Croatia. And Carolina John's "The 9:30 to Edinburgh" shows just how accommodating a British train compartment can be to a group of sexually charged strangers.
Best Women's Erotica 2013 ($10.68) by Violet Blue
The best stories I could find: eighteen tales of hot sex. The shy, redheaded heroine of Valerie Alexander's "Night School" explores her very kinky desires with an unlikely submissive while working at a small-town hotel. In Krissy Kneen's "Susanna," a virgin enjoys her first taste of lust and learns that the true language of love has very little to do with words. A burly mechanic rescues the Assistant D.A. and her broken-down car but makes her ear the favor in Jenny Lyn's "The Tow Job."
The Smart Girl's Guide to the G-Spot 2nd Edition ($11.09 – no Kindle version yet, wtf) by Violet Blue
Beginning with an anatomical guide and incorporating suggestions for couple-play, positions, toys, and safer sex, The Smart Girl's Guide to the G-Spot will lead to thrilling new sensations and earth-shaking, bed-breaking, gale force climaxes. Introduction by fabulous author and Scientific American writer, Jesse Bering.