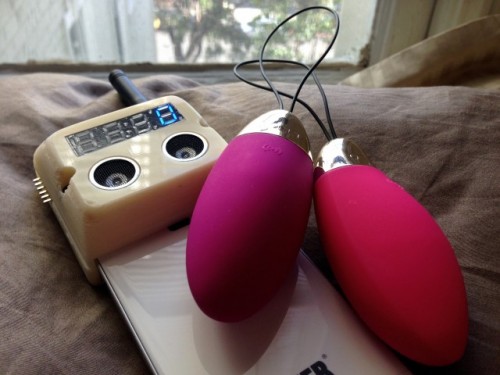 There is a great – and technically detailed – post over at scanlime right now called Hacking My Vagina. In it, Bay Area based Beth (M. Elizabeth Scott) hardware hacks a Lelo remote-controlled vibrator to try and make a sex toy that would facilitate a heightened feedback loop between herself and her vaginal orgasms. Basically, she wanted to mess with the remote and see if there were better ways the vibe might receive its information from the controller, and therefore execute different vibratory behaviors.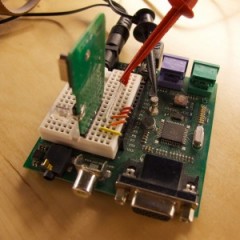 She uses a Lelo Lyla, which is from Lelo's ingenious Sense Motion line (I reviewed the Sense Motion in October, 2011). It's important to note that out of the box, Lelo's vibe can be operated manually or by using the remote as a gesture-driven controller, like with a video game. It's a haptic feedback-driven wonder. By turning, shaking and doing various hand gestures with the disk, the vibrator increases, decreases and can go through a range of pulses and programs ranging from steady buzz to a gradual roller coaster, to a thump-thump in varying degrees.
Beth wanted to improve the vibe's input and hacked the Lyla's remote. And hack the remote she did, reprogramming it with off-the-shelf Arduino, incorporating a sonar sensor and LED display. Beth also made her own plastic parts for the remote casing with a 3D printer and modeled her designs with Blender, resulting in an entirely open source project (her Arduino sketch is in the project's GitHub repository). YAY! She writes,
My early prototype used a simple knob attached to a variable resistor, and that already seemed like a big improvement over the original LELO remote. I wanted to build a simple proof-of-concept remote that would just demonstrate the improved radio range and responsiveness, without doing anything particularly fancy. After that, I planned to dabble in more esoteric input devices. Audio spectra, conductive fabric, capacitive sensors embedded in lingerie, and so on. The Arduino library I ended up writing for this project offers some great opportunities for further tinkering.
Here's a video of the resulting prototype:
But how was it? Unfortunately we don't find out much about how it works in regard to orgasm, or if Beth actually "hacked her vagina" into becoming more of a customizable, or improved erotic feedback loop. Still, Beth writes,
For different kinds of play, it may make sense to have different scaling algorithms for converting distance to intensity. I'm interested in making the firmware more versatile, but not at the expense of reducing its intuitive quality. The "Lock" mode is already way too unintuitive for my tastes. Perhaps an additional flavor of user interface, via an accelerometer or SoftPot would help.

But honestly, the thing I'm most excited about improving isn't even technical. In some ways, this kind of toy feels like a musical instrument. It is a simple machine with very few inputs, but it interacts with your body in such a way that it opens up a broad array of techniques that can each be mastered. I'm looking forward to spending more time with it and learning how to play.
* Yes, "hacking my vagina" sounds painful to me, too. I think it's also important to note here that the vibe used in this hardware hack provides no clitoral stimulation. The vibrator is for vaginal orgasms (it's insertable), which are not easy orgasms for a number of women to have. It's a "one size fits some" scenario in terms of getting off. Hold the vibe on your clit and that's a different story, but then the vibe is no longer "hands-free." And NO – this vibrator is absolutely NOT safe for anal insertion.