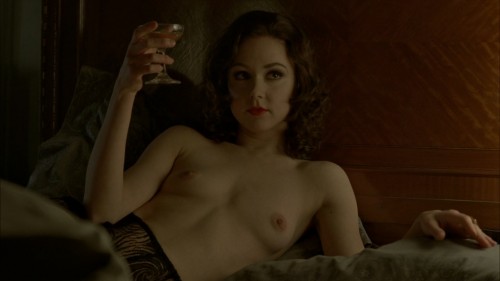 HBO's Boardwalk Empire returned this past Sunday in a hail of bullets, betrayal, bitterness and sex – thank the gods. As you can see by the above image of gorgeous Meg Chambers Steedle (Nucky Thompson's new mistress), we're off to a great start.
There is so much to love about Boardwalk Empire's inspiring 1920s sex. From vintage dominatrixes to hot MILF Gretchen Mol and everything in between (like some of painfully truly gorgeous men), it's impossible not to eroticize this brilliantly conceived and executed series. I'm (obviously) a huge fan.
There is a big gallery after the jump, all via Upcoming Nude Scenes.
One character – and actor – I'm sad to see no longer with us is Jimmy Darmody (the gifted Michael Pitt). To commemorate the sad lack of one of the hottest guys alive on one of the best shows going, I found some Michael Pitt eye candy to sweeten the loss.