That video above: it's all you need to know about what it was like. Well, maybe not all.
Last Saturday night was the last Extra Action Marching Band show. Skip this post if you're here for porn or sex ed; click the jump to see past EAMB debaucheries; read on for a moment of stillness in motion – the rare personal post.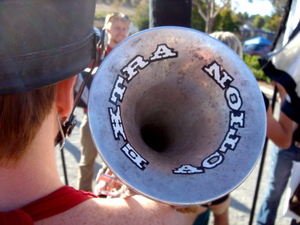 According to its own self-disclosed thready pulse, Extra Action had to go. I've known the band, and all manner of ancillary characters for ten years, and it makes sense. This incarnation of the music, the mayhem, the joy, blood, glitter, come, spit and sweat and the glorious shiny trainwreck of ideologies, personality clashes and creative fire isn't going to happen again – not like this anyway. The people in EAMB never stop creating, so we may see something rise from the ashes. But there was a sense of bittersweet relief throughout the last evening, which was played as sloppily as a drunk fuck but sounded like old school passion with all the heart poured in.
The Extra Action Marching Band has had many transformations. There is a lot of history about the band online which you can go read for yourself. But rather than cover it like an article, I'll tell you my story.
When I showed up as a lost girl at SRL, I was adopted by the community there. I apprenticed under many artists for a decade, and the communities who overlapped us at SRL were legendary. This included a few outlying people who had been in a phenomenon called Crash Worship. One of the poeple I met through SRL was my dear friend (now sadly deceased) Tim North, former Crash Worship member.


I was hanging out at Tim's house with his wife and daughter one night as he was cleaning out his garage. Tim gave me the old Crash Worship house telephone while he explained that they – Crash Worship drummers – would go to Middle Eastern restaurants in the Mission where the girls would dance and the drummers would play, and then after they would take the show out onto Valencia street and keep going. That, he said, was part of the start of Extra Action.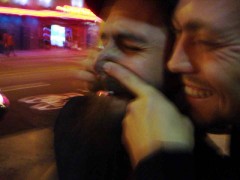 I met the band through my time at SRL. One of the guys who came around the shop needed a ride to a gig in the mountains, and I had just got a car, and I'm always up to go places and meet new people and see anything new.
So I went to the Mountain Aire music festival in 2002, camped with the band, ingested adult things, met the most amazing outrageously sexy, living out loud people I'd ever met, danced all night by huge fires and under the stars as horns and drums played past sunrise, and was never the same. I was shinier. I thought, even if this never happens again, I feel normal in this place, and I know I'm one of the percentage of a fraction of people that wanted this thing – and these people, their art and fire – in my heart forever.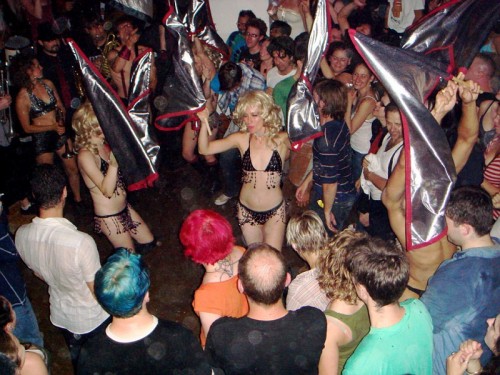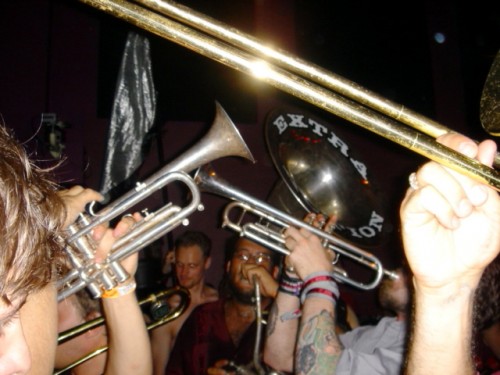 I am so lucky they took me in pretty much as family – sometimes fiercely and protectively – over the following ten years.
A lot happened in those ten years. I traveled with the band a tiny bit, and distinctly remember an after hours party in Brooklyn where I was dressed like a schoolgirl and submitted to simulated sexual attention form a flag girl after hours of dancing – only to realize we were being watched by David Byrne who was standing there laughing and dancing as he watched us. Years later, I shared wine with Mr. Byrne at another afterparty here in San Francisco, after the insane Warfield shows.
Crossover between SRL and EAMB happened, and I had the fun of getting to buddy up with a trumpet player who I worked with quite a lot at SRL. Running dangerous machines with Mr. Greg Jones – mastermind behind the band's drivable, to-scale pirate ship La Contessa – was among my favorite SRL memories. One of my favorite EAMB stunts was seeing them crash a man's North Beach apartment when he was proposing to his girlfriend; they were in bed and romancing… and then a marching band burst into in the bedroom! The couple loved it; they wrapped themselves in sheets and danced on the bed as the horns blared and everyone danced and danced.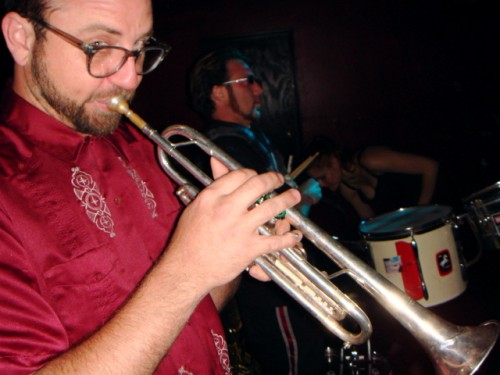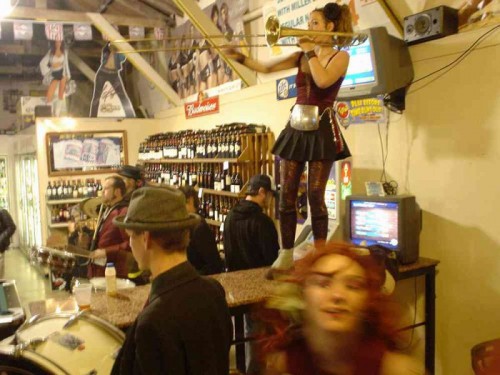 Green rooms were trashed with fake blood and lettuce. One gig would be played, and then three more would have to be invented at unsuspecting venues as – why the fuck not, everyone's already dressed up and primed… And so some places welcomed 2am invasions; others banned the band.
Shit happened. The band once flipped the finger to Exotic Erotic and played their entire set in the men's room – I climbed atop a stall divider to not get crushed. I met Modest Mouse at one gig – and yes, that one guy is an asshole. Bjork's party was crashed, many many paries were crashed, the fire station on Howard Street was crashed and the firefighters danced with the flag team, getting thrown out was just another night on the town. Four bars in four hours was normal.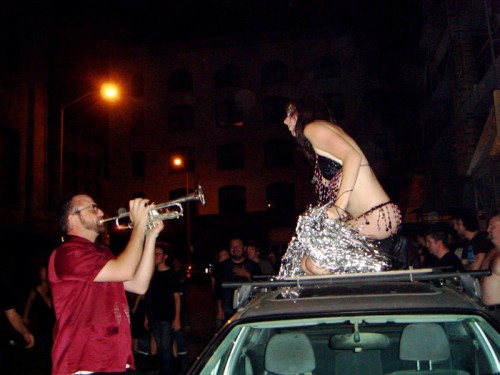 No neighborhood went unmolested: the Castro was taken over, Chinatown was raided, corner stores in the path were shown much love (or no mercy, depending on how you look at it). There were horrible bloody punching fights, there were romances and hot genderfuckery of every imagining, there were arrests and fires, incredible feats of creativity and achievement, and I got to watch and be (at least a little) part of it all. Babies were made and raised. People we loved died. Some took too many drugs and flamed out.
Through much of it all, I was doing a lot of the first and experimental mobile/live media with hardware from companies not yet on the market – and around EAMB I could shoot and share to my heart's content. They trusted me. They snuck me into everything like contraband; I impersonated everyone with consent and I got good at it. Meanwhile, I filmed and photographed the gloriously greasy fuck out of them.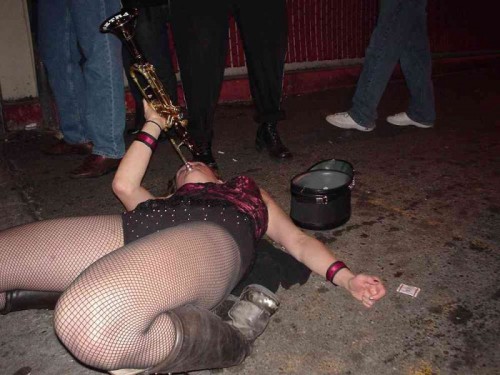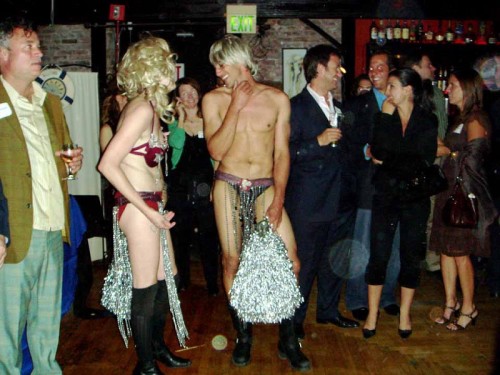 (Some photos are here, even more here, here, here, here… but that's not all.)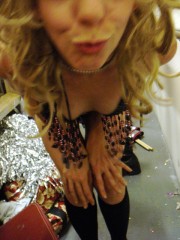 I had unrequited crushes on everyone. I danced my ass off. They always somehow managed to look out for me; they never ever let anyone hurt me.
There was nowhere I ever felt so accepted. One boyfriend tolerated my time and activities with the band; the other one hated it. I didn't care, and I know that sounds awful.
When I'd be lost, sad, heartbroken… hated by the world, viciously lied about and violently stalked, finding out the only woman I ever loved broke up with me by "unpublishing" me, I was impersonated in name and appearance, SRL grew dark and ate itself and I bailed out, and EAMB didn't care what the haters said because they knew who I really am, even when I'd show up with bruises on my knuckles, or the time I tried to end it and showed up and they just didn't judge and I felt like I maybe could handle this life because pain and beauty are indistinguishable when you're truly loved. Echoing always, one of the drummers (now gone) told me, "As long as you get up and dance with us, Violet."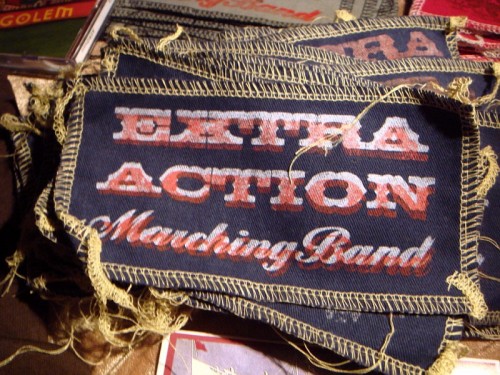 Extra Action made films, DVD's, new music, they made mayhem and side projects, built cool stuff everywhere, won Emmys and seriously innovated in the Bay Area tech scene at their day jobs, and not a single one of them has ever looked at the world like anyone I've ever known.
From last Saturday night:
It's perfectly fitting that I'm still finding new bruises after Saturday's blowout. No, I have no idea how they happened. And at the end of Saturday's gig when I was being hugged and spun around and sandwiched between sweaty hugging fools, if you saw me there last Saturday night…
I didn't cry.
I just got a little glitter in my eyes.
Long live the Extra Action Marching Band.