The clinical psychologist who performed the largest empirical study on BDSM practitioners has read Fifty Shades of Grey, and concludes that it is a problem. The doctor's op-ed just hit the pages of the Sydney Morning Herald and it's being circulated widely.
I know a lot of good people – and many educators – that are posting the fuck out of Fifty Shades of Grey giving bondage a bad name right now. This must-read is an epic smackdown explaining why 50 Shades is not only inaccurate, but that it demonstrates dangerous BDSM practices and distorted, harmful stereotypes about BDSM – and more.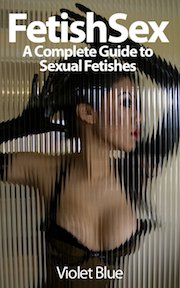 The author of this op-ed is pretty straight, which – to me – gives Dr. Pamela Stephenson Connolly's takedown extra weight. Connolly, "carried out an extensive psychological study of people in the BDSM community – the largest empirical study ever done at the time – to examine their psychological attributes and determine if there was any justification for the notion, commonly held, even within my field, that they were all psychologically disturbed." The full study was published in the Journal of Psychology and Human Sexuality in 2006. She's got some serious things to say about 50 Shades.
I have to say I agree with her 100%.
Snip from Fifty Shades of Grey giving bondage a bad name:
(…) But, most annoyingly, the story demonises BDSM – the term for the erotic style comprising bondage, domination, and sado-masochism – and those who enjoy it. The male protagonist, Christian Grey, is portrayed as a cold-hearted sexual predator with a dungeon (that word has been wisely swapped for "playroom"), full of scary sex toys. Worst of all is the implication that his particular erotic style has developed because he is psychologically "sick".

Frankly, in BDSM terms, Grey is a lightweight. He eschews many fairly standard interests, although he is an expert at the "mindf—". Even novices, however, would know that his use of cable ties is a very bad idea (…)

(…) All the work that has been done to establish that BDSM is not a pathological symptom, but one of a wide range of normative human erotic interests, is in danger of being undermined by the success of Fifty Shades. (…read more, smh.com.au, thanks John!)
There's so much responsible and hot BDSM romance out there, dear readers. Such a shame that this one was the breakthrough.