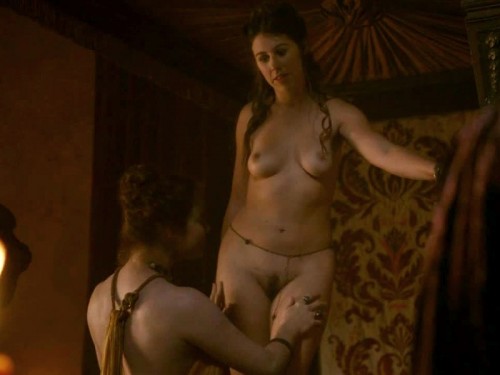 If you're not massive Game of Thrones fan like I am, then you'll have to excuse me as I spin like a gleeful loon in my office chair upon discovering Maisie Dee's My Life and Porn blog.
Clever clever spankophile girl Pandora Blake recognized Dee on the show as a fellow spanking aficionado and porn performer, and found Dee's fun, sex-positive blog. We're especially glad for this discovery, because Dee is an exhibitionist gem and she blogs about working in the sex scenes during filming of the show.
Maisie Dee plays one of Littlefinger's sex workers, one that has been servicing the Lannister castle under the despicable and corrupt Court of Joffrey. On her blog she details getting hired for the show, her impressions of the actors (spolier: they're awesome people), and what it's like to work on sex scenes for this amazing production. She's fabulous at talking about her scenes without giving away what happened to her character after the last white-knuckle sex encounter she was in.
Being a real-life porn performer has enhanced her performances and she talks about that, too. She also talks about the notorious spanking (beating) scene she did, and that she did actually take the belt a bit, rather than the prop.
Spanking fans will love Miss Maisie Dee, and so will porn-positive fans of the show. As an added hardcore bonus, Dee likes to blog still from her hardcore performances as well. Dee's blog is a treat all around.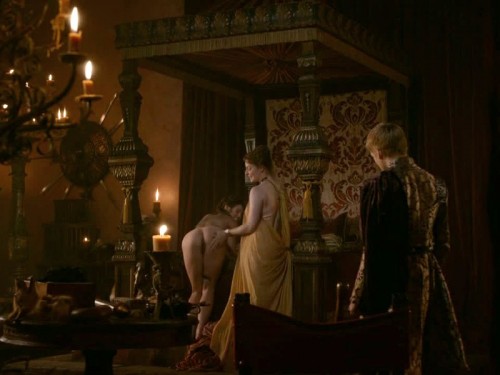 Here's a snip from her work during the beating scene:
(…) we shot the scene in order, sometimes using the full real belt sometimes having to chuck it aside for the soft props one. (…)

Once we got into the spanking scene proper I felt less like an imposture as that was the bit I was qualified to do after all! It was strange having to have that level of intensity for such a long day it was very draining trying to live it each time – get me I sound like I was trained by Stanislavski! I will add that at the time we shot this I had no idea that the actor who plays Joff was over 18. He looks so young and obviously is 14 in the books. So I spent the whole day feeling a bit weird around him as I was sure I technically shouldn't have been naked so near to him.

The best bits of the day was laying bent over the bed while the makeup lady bruised up by bum! The makeup girls were ace and I spent some time telling them how to fake cum shots for future productions as apparently it comes up more than you'd think. (… read more, masiedeehasablog.blogspot.com)