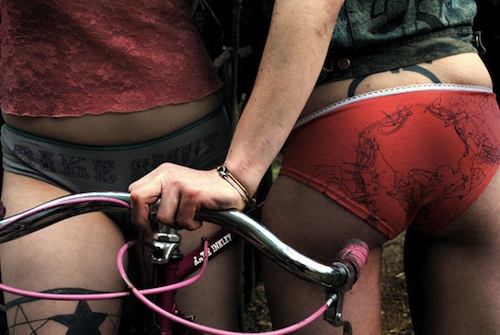 I regret that I only just discovered Bike Smut today – this is something a few of you will most certainly enjoy. Bike Smut is a randy bicycle-centric erotic film fest for indies and amateurs of all stripes, makes and models, genders and orientations. Now in its 5th year, the fest has taken its show on the road across America and completed a six-month tour of Europe last year. For updates, you can follow Bike Smut on Twitter.
Bike Smut also has a small shop, where one can purchase bike smut themed panties.
The only way to see Bike Smut is when it plays in a theater, bike shop or basement for a live audience. There are no DVDs for sale and no screeners for the media.
It's through Bike Smut that I found this Kickstarter for a fun bikesexuality project: BikeSexuality: True tales of bicycling and desire. How fun – I'd like to see that one come to actualization.
However, they do have a fun film clip page, a photo blog and a tour blog. Yay for indie porn! I found this via the NoFauXXX newsletter today with its mini feature of adorable model Poppy Cox that mentioned her work with Bike Smut – in fact, she's one half of the dynamic duo behind Bike Smut.
See also: Best Bike Rentals in the Globe (video)