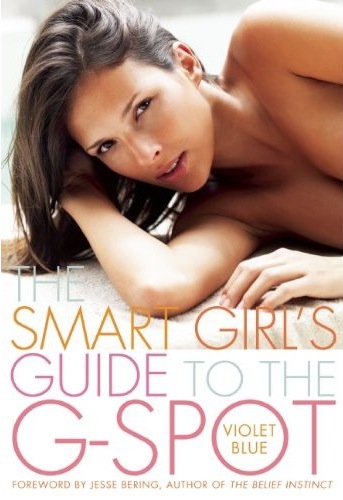 I really hope that someday soon, someone makes "G-Spot: The Musical." I imagine it could be like the Buffy: The Musical episode. In it, G-spots are magically hexed to make people sing and dance when they're stimulated, and of course few people believe they exist – except for a few clever and nerdy girls and guys that solve the mystery al la Scooby Gang. It takes several saucy musical numbers to get there, of course.
That little priestess of pleasure has turned into one helluva drama queen over the years, what with the seemingly constant now-you-see-her, now-you-don't in the press. I mean, what spot in the human body has more nerve endings than any point, anywhere? That's right: the clitoris. What spot on the human body is made of more pure drama in the media than any other? That's right: the G-spot.
When I wrote and researched and did more for the new 2nd edition of Smart Girl's Guide to the G-Spot, part of my impetus was to cut through all the bullshit: some say it exists, some say it doesn't exist; some say it can't squirt, some say it spurts liquid Kryptonite. (I also wanted to deliver a decidedly non-hippie guidebook to igniting le girlgasms.)
But no one will forget G-day – it was in January, 2010. A few years back, we had all felt fine and confident about our G-spots being right where we left them, and then some doofus with a "Dr." in front of their name said there was no such thing as a G-spot. Esteemed sources of journalism like the Daily Mail screamed holy crap, there is no G-spot, they're going to make us ration tea!!! We ladies woke up and were a bit flummoxed. It was like I'd forgotten where I parked my car, but it really felt more like the sexual identity equivalent of leaving my baby in a cafe and having News Corp. find it.
In response, I wrote I'm In UR internets Findin' UR G-Spots. Meanwhile, XKCD blamed it on solar cell researchers.

Click to read; solar cell researchers to blame for recent g-spot study, by XKCD.
Turns out it was all bullshit, as we knew it, though it was never formally debunked.
This week, we have a twist on the saga of the G-spot. A study was just published in the Journal of Sexual Medicine May 2012 in the Anatomy/Physiology section – G-Spot Anatomy: A New Discovery.
Now, a lot of people are up in arms about this. Me, I'm rather stoked.
You see, while the title is "new discovery" – the aim was to identify and document the G-spot. Look closely and you'll see that the main point, if the only point, is to say "the G-spot damn well fucking exists."
That was the doc's intention. Dr. Adam Ostrzenski, a surgeon and retired professor of gynecology, who now practices "cosmetic gynecology" in St. Petersburg, thinks that the decades of G-spot debate, "should be resolved."
Naturally, some other people with "Dr." in front of the names are saying it's "speculation."
Media is making all manner of hay while the sun(spot) is shining, and in light of the fact that some credentialed people still insist the G-spot is "on spec" I think some good-intended people are missing the point.
Yes, the study could be focused on sexual pleasure, reactiveness, be on younger tissues, etc. etc. But you have to have this study before you can do the rest. Research on sexual pleasure is hard to come by – academia focuses on only just sexual function. Well, they don't do pleasure research with adequate support and good funding and without a ginormous struggle, anyway. See how long it took to map a female orgasm in MRI? That was only last August.
At any rate, while you dismantle the electronic alarm system you put on your G-spot two years ago, check out everyone's reactions to the Journal report. Some are strangely butthurt, some are rational, some are just depressingly negative. These are just from today: