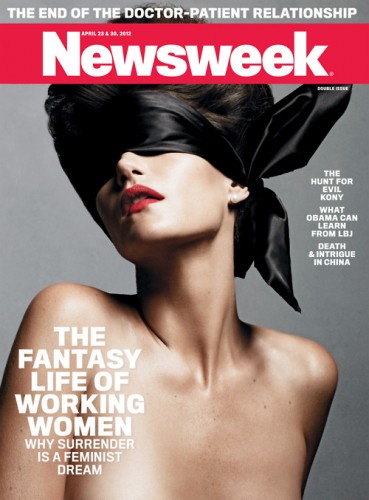 Sometimes people act like Penthouse Letters is the fucking Grapes of Wrath.
In the case of "Fifty Shades of Grey," a trashy novel just somehow gets lucky with a well-timed PR campaign and so people make it out to be way more than it is. But even then, it looks like an impostor in the context of its genre's history, and can only ever sit at the kid's table in a banquet of its current contemporaries.
Fifty Shades of Grey is the first book in an amateur pseudo-BDSM trilogy, and it is currently a mainstream media sex-trend darling. It's like Twilight meets Penthouse Letters. It will be awesome for you if you secretly wish someone would do a Halle-Berry-as-Catwoman treatment to The Story Of O.
Fifty Shades is getting a ton of attention for no actual reason anyone can figure out. I mean, other than the usual appetite for salacious and ungrounded headlines. Most of us are just watching and nibbling popcorn, and going what the huh? while waiting for any kind of actual story of interest or import to come out of the whole fiasco. So far, there's no there there.
Most articles about Fifty Shades capitalize on the fact that women are reading porn. With BDSM in it. Holy crap! I mean, I still can't believe we can vote and wear pants. Many articles make much out of the notion that these women [the majority of whom obtained the book in digital form] are most likely ashamed to be reading a porn book – because they consumed it as an easily-concealed ebook. Kindle = SHAME. Nevermind the hundreds of thousands of women that have been consuming porn as porn in ever increasing numbers since the free and open internet has cracked open distribution channels with which women can investigate their sexuality on their own terms for once.
But wait, it gets better. Newsweek's cover story this week "The Fantasy Life of Working Women" paints the Fifty Shades fanfare as a cultural signifier about independent women, feminism and power-play sex. And while I honestly think that reputations were sacrificed of writer (Katie Roiphe), of editor (Tina Brown) and especially of publication (le Newsweek), I gotta say that Newsweek did a hell of a job making linkbait while the sun shined.
Here's a roundup of reactions:
Congratulations to Newsweek for a hit and run piece that re-cast sexually empowered women as feminists that "just need a strong man." That's exactly the negative attention Newsweek needed to shore up its shaky invite to being part of any meaningful conversations these days. Especially for really culturally needed print magazines like Newsweek.
I always wonder what the carbon footprint is on bullshit like this.