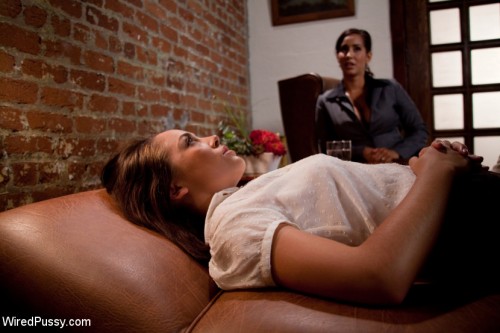 An article today on South Africa-based News 24 leads me to a fascinating piece of information I was somehow unaware of. In Europe, there is a profession called "sexual assistant" — and in Switzerland, the Netherlands, and Germany, it's a fully licensed profession with "proper legal status."
Though I've never heard this specific term, a "sex assistant" is very similar in many ways to what we in the U.S. call a "sex surrogate" or "sexual surrogate," though the professions, at least as the former is described in the News24 article, have some critical differences.
The News 24 article is called "Sexual Assistants Want Recognition," and I'm kinda blown away by how non-judgmental it is. It opens by discussing one male assistant in Zurich:
For several years now, Jacques Arnould has been giving disabled people in Switzerland the right to a little tenderness and sexual attention.

But for many, his work as a professional "sexual assistant" treads a thin line between a caring profession and prostitution.

Aged 50 and married with three children, Jacques is one of the rare Swiss assistants to openly speak out about the services he provides. Even in Switzerland, where the job of sexual assistant has had a proper legal status for more than eight years, the subject remains taboo.

A qualified physiotherapist, with a speciality in urinary and gynaecological issues, Jacques says there is "still a lot of educating to do on this subject" of sexual assistance for the handicapped, which is often misunderstood.

The job of the sexual assistant is to respond to these needs and give people who might otherwise have little chance of being sexually active due to their handicap the opportunity to feel like a normal human being.

Some sexual assistants show a disabled client how to touch and be touched, others bring the person to orgasm. There is usually a lengthy assessment of what a person's needs are and what he can actually physically achieve with his disability before anything physical takes place.

[Link.]
There are only about a dozen trained sexual assistants in Switzerland. The profession has legal status in the Netherlands, Germany and Denmark, but not yet in France, though disabled rights groups are "urging official recognition for sex assistants and, significantly, state funding for their services." In Switzerland, where prostitution is legal and regulated, the cost of such services are not covered by state insurance.
Michelle Gut, another Zurich sexual assistant interviewed in the News 24 article, specifies that she does not offer penetration, though she is more than happy to refer clients to sexual assistants who do offer that service, or to sex workers who do the same. Though the News24 article implies a disapproval on Michelle's part for such services, I don't see it at all in her actual quotes — she comes across as very sex-positive. The chief advantage for a client in seeing a sexual assistant rather than another form of sex worker is that a sexual assistant will have specific training and experience in helping people manage and cope with disabilities.
One of the interesting requirements for qualification as a sexual assistant within Switzerland is that the profession can't be someone's main business. In other words, it is intended to be performed by a trained massage therapist, physiotherapist (usually called a physical therapist in the U.S.) or other health professional.
Interestingly, German sexual assistant Nina DeVries, who also trains other sexual assistants, does not reject the label "prostitute." As in Switzerland, prostitution is legal (and regulated) in Germany, and the Wikipedia article on her reports that sexual assistance for the disabled is commonly available there. Though the article reports that DeVries favors the term sexual assistant, it also describes her as a "sex worker or sex surrogate," so the perspective in Germany is also clearly a bit different than in North America, where the term sexual assistant is (as far as I know) not used, and the term sex surrogate means something very specific.
Sex surrogacy was in the news about two months ago, in the form of a CBS News article that truly surprised me with its relative sex-positivity. That article specifically concerned itself with the rise of female clients in the surrogacy field. The sex-positivity is "surprising" only because sexual surrogacy is controversial even among sex therapists, and since the mainstream press usually dogpiles on any unusual or atypical sexual practice. I would have expected CBS News of all places to find out about surrogacy and just flat-out start screaming at the top of its lungs. They may not be Fox News or The Sun, but I sure didn't expect to see a lot of balanced information about sex therapy! I was pleasantly surprised when author Rachael Rettner mostly steered clear of judgment and gave a more or less fair hearing to the profession:
Sex therapists talk with their patients to help them confront their sexual problems and improve their sex lives. But some patients need more than talk therapy. They need practice in the bedroom, and have no spouse or partner to turn to.

For these patients, some sex therapists turn to surrogate partners — people who help patients with intimacy issues using a hands-on approach. This can include having sex with the patient.

Although use of surrogate partners is rare among patients of both genders, they are increasingly being used by women whose physical or mental health problems prevent them from enjoying a healthy sex life, experts say. In the past, such therapy was employed almost exclusively by men.

"More and more women are now claiming their birth right to either have an orgasm, or healthy relationship or have sexual satisfaction," said Shai Rotem, a surrogate partner who is based in Los Angeles but practices internationally.

In his 14 years as a surrogate partner, Rotem has worked with women who have a condition called vaginismus, which makes sex painful, women in their 40s or 50s who are virgins and women who have experienced sexual trauma.

[Link.]
I do, however, take issue with Rettner's characterization of surrogacy clients as "having no spouse or partner to turn to," since to my understanding a significant number of surrogacy clients are in fact seeking an improvement in their relationship with their existing partners.
In the U.S., the main surrogacy organization is the International Professional Surrogates Association (IPSA), which has a succinct description of the profession on its website:
IPSA's Surrogate Partner Therapy is based on the successful methods of Masters and Johnson. In this therapy, a client, a therapist and a surrogate partner form a three-person therapeutic team. The surrogate participates with the client in structured and unstructured experiences that are designed to build client self-awareness and skills in the areas of physical and emotional intimacy. These therapeutic experiences include partnerwork in relaxation, effective communication, sensual and sexual touching, and social skills training. Each program is designed to increase the client's knowledge, skills, and comfort.

[Link.]
Like sexual assistants in Europe, sex surrogates in the U.S. may offer sex-related services to people with disabilities, but with sex surrogates the main intention is to help clients to learn sexual skills.
Not all clients of sex surrogates in the U.S. are disabled, which makes the profession significantly different than that of the sexual assistant as described in the News24 article — but again, that might be reporting bias.
It's worth noting that some sex workers I've known, particularly those with broader human sexuality training and/or with experience helping the disabled in other professions, specifically market themselves as willing and eager to see and help clients with certain disabilities. However, that doesn't make a person a sexual surrogate under  the guidelines of IPSA, which specifically holds that sexual surrogates form a team with a qualified sex therapist and a client, and that surrogates have undergone specific training in sexual surrogacy, though IPSA does certify members who have undergone training by non-IPSA members. Whether that includes European sexual assistant training, I'm not sure.
Incidentally, I have not seen the 2009 documentary Private Practices: The Story of a Sex Surrogate. The weirdly naughty cover makes it look like a hot mess, but it's directed by Kirby Dick, who directed 2006's amazing This Film Is Not Yet Rated, a scathing gonzo indictment of the MPAA Ratings Board. So Private Practices might be worth a look.
Image from a Wired Pussy scene that does not represent anything even remotely like a professional sex therapy or sex surrogacy session. In case you were wondering.