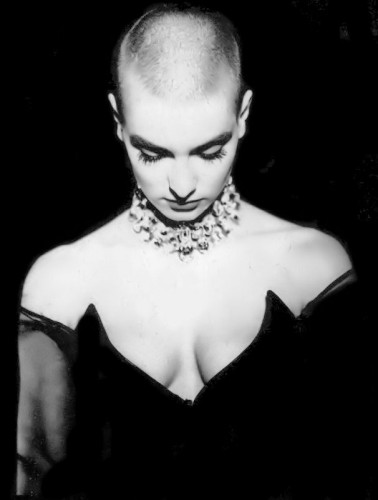 In case you've missed the frequent reposts of Sinead O'Connor's claim that she's about to have sex with a truck, well…let me catch you up. Part I: 1987. I thought Sinead O'Connor was the second-hottest bald chick in the world. (The first was this punk girl named Steph from Modesto). She was a feminist icon about as punk-rock as Bono, which I thought was just barely punk enough to make her vaguely interesting even if her first album hadn't started with a good ol' fashioned Irish ghost story. She was hot, shiny-headed and perpetually in a snit about the starving children in Africa. I wanted her big-time. Got it? Good. Curtain on Part I.
Fast-forward a quarter-century for Part II: Sinead O'Connor is horny.
Very, very horny.
O'Connor was diagnosed with bipolar disorder in 2003, so her being really, really horny is not always a good sign — but more on that later; in the meantime, in all of the reposts about O'Connor's amusing sexual rants, one thing seems to have been conveniently forgotten: this woman is a Catholic priest.
That's right! She is, in fact, none other than Mother Bernadette Mary. In 1999, O'Connor was ordained as a priest in the Latin Tridentine Irish Catholic and Apostolic Church, a group that is not "in communion with the Holy See," as they say. That means she's not recognized as a priest by the Vatican, though she claimed, upon her ordination, that she had the authority to say mass.
Her church, led by — no, I'm not making this up — Father Mike Cox, is considered heretical. Bishop Cox, in fact, faces (potential, theoretical) excommunication for ordaining her. (If the Vatican ever can be bothered to do so, that is. The church doesn't tend to excommunicate people nowadays. It makes for bad press, producing the impression that they're an outdated, archaic, cryptic, occult and "obscurantist force." Imagine that!). Father Mike Cox is also, incidentally, an anti-abortion protester.
Since I don't truck with no Popes, I'm inclined to view O'Connor as no more or less priestly or Catholic than the supposedly "real" Catholic priests, or for that matter the allegedly "fake" nuns. And when O'Connor sang backup about a month ago for reggae performer Natty Wailer, she looked like an extra in a Monty Python skit, sporting a cross the size of a billy club and a bowl haircut straight out of the early medieval period. Far as I'm concerned, she's a priest.
And, so, does the Irish Catholic and Apostolic Church permit its clergy to screw motor vehicles, get "rogered while wearing nothing but stilettos," and to be Bob Dylan's harmonica?

That latter request was made to the esteemed Mr. Dylan just yesterday, in an "open letter" on O'Connor's official website:
Can I be your harmonica? I am asking this because I really want to be your harmonica. But I promise to behave unless u don't. If I can't be good I'll be careful.

[Link.]
This was just the latest in a string of vivid sexual descriptions blogged by O'Connor (many of them non "vaginally oriented," to use her term) that have been widely reported in the press. But are her wacky rants in favor of spanking, anal sex, cunnilingus in E-sharp and serial sex with Bob Dylan's relatives a symptom of something more insidious than just a bored Irish chanteuse getting three sheets to the wind, as my Irish grandfather used to say, and sticking her tongue too far in her cheek?
The whole thing started a while back when Sinead posted the following (this is a very brief excerpt) about how horny and sexually deprived she was:
I recently read of a woman in America who married and regularly humps her truck. I don't yet own a truck but I'm beginning to understand her head space. And I am worried I too may be so desperate for sex that within days I might run up the road and hump Bray Cab's whole fleet in one hour.

[Link.]
She asked male and female readers who met her requirements to contact her, and sent promising candidates a questionnaire. O'Connor has careened across the public sexual identity spectrum over the years, coming out as a "dyke," then as bi, then "75% heterosexual," but made it clear from the posts that she was primarily interested in men. To give you a flavor of the play-by-play, a promising respondent was described on August 23 by O'Connor:
Having seen foto.. DROP FUCKING DEAD GORGEOUS!! And.. Rude, rude, FILTHY rude, rude, rude, RUDE!!!!
Question one.. "Are you an actual nice man as well as being a mindblowingly filthy freak?"
O'Connor's blog is not a "blog" per se, but a string of HTML pages, which is why there are no links to individual posts. That means if you want to check out each of these events, you'll need to skim the whole thing in all its glory.
To be fair, there have long been hints that Sinead is mildly kinky. For example, upon O'Connor's ordination in 1999, the BBC reported:
She plans to continue in the music industry as Mother Bernadette Mary, after the peasant girl whose visions of the Virgin Mary at Lourdes made the town famous. She also says she will wear a dog collar and clerical shirt daily from now on.

[Link.]
Wait a minute, dog collar? Now, that's exactly the kind of slang term that the Irish would use to refer to a Catholic priest's Roman Collar (the little white thing that goes in his shirt), but it's a little strange to see that reference used in the BBC.
What's more, Sinead in a dog collar as a sign of her ecclesiastical calling is now placed in context by the fact that immediately after asking Bob Dylan if she could be his harmonica, she writes this:
In the event my dying wish [to become Dylan's harmonica — TR] can't come true, Can u perhaps introduce me to any un-attached Zimmerman men from 44 yrs old on? …Am assuming of course that u wud never be interested in one so 'insane' as to write u a love-letter, and assuming u must be well covered with women…I promise I'm slightly prettier than in the ABC news split screen of before and after.. I was having a bad hair day.

Hugh Heffernan has now offered me a million dollars to do the cover of playboy. Every girl's dream.. This is because I am monumentally gorgeous. Contrary to popular belief based on zero recent 'sightings'.

I will implore the equally 'lurve_starved' ladies of influence at ABC news to sneakily switch photos so u can see me in my ACTUAL sexual gloriousness. So worry not. I'm well fit sir.

[Link.]
"Zimmerman," incidentally, is Bob Dylan's birth name. I believe "Heffernan" is either a cleverly dysphemistic rendering of "Hefner," or she honestly can't think of Hef's name and didn't pause to look it up. Maybe because she's manic.
As someone who's dealt with multiple loved ones suffering from bipolar disorder, I find these signs…uh…a little funny.
Don't get me wrong: Wanting lots of sex lots of the time, and then wanting more, then wanting still more, then telling the rest of us to bugger off if we don't appreciate how much sex one wants, is not in and of itself a sign of anything other than an awesome sex drive. Even blogging incessantly about filthy sex with Bob Dylan is not a sign of anything except blogging incessantly about filthy sex with Bob Dylan. Sinead's vivid metaphors and hair-raising similes are like poetry to my soul, babycakes. I dig crazy o' Sinead as much as I did when I spent all my waking hours wishing I could lick her shiny Irish pate.
But…srsly. She's been diagnosed.
The thing is, the way I see it, the key to evaluating crazed sexual delirium in the context of a diagnosed bipolar patient while maintaining a sex-positive perspective is not, "Does she want to fuck a lot? Is she horny? Does she constantly talk about sex?" It's "Are her hypersexual thoughts disordered and just plain weird, meaning, actually weird rather than just plain kinky, and are they roughly in scale with her functional behavior, say, last week or last month or last year?
The topic of the "open letter" is actually asking Bob if she can perform with Bob and singer-guitarist Mark Knopfler of Dire Straits, whom she seems to fancy as well:
Yeah and Mark's pretty delicious too.. But not as much as u obviously. But if u don't fancy a quick one would u ever ask ol' Mark what he reckons? In the dark I think he could pretend I'm gorgeous… If I put a few bags on my head…

My preference if u are unattainable would be to meet your middle – aged male relatives please.

[Link.]
But wait! It's not just Bob, Bob's relatives, and Mark Knopfler that Sinead wants to fuck. Back on August 11, she had sections of her piece for Ireland's Sunday Independent cut, apparently because of explicit references to anal sex. She wrote this:
For the confused, before we begin the article may we explain, Ryan Tubridy is an Irish tv and radio presenter upon whom Sinead has quite the little crush cus he's VERY fuckin snuggly. He hosts Ireland's largest chat show The Late Late Show. Hands off ladies. He's mine. Until either Dave Chapelle, Adam Clayton, or Robert Downey Junior come to claim me. I jest, I jest. He is far too sensible to be dealing with a crazy mudda-fukka such as myself. Enjoy. Have fun. Laugh. And above all. Contemplate anal sex now and then.

"An Open Letter To Ryan Tubridy"

Baby, I'm supposed to write a follow-up to last week's plea for a man, not a yam, but I'm so inundated with offers that I'm holed-up (sorry) in Planet Of The Apes, the only beauty parlour which will take me, and even then only round the back door in the middle of the night, but then I like a bit of that now and then don't I?

I must say, my greatest amusement this week is that on this day last week I had 3 followers on twitter. since I mentioned anal sex I have almost 2000! The funniest question I was asked this week was " arent you insane to talk about anal sex in public?" Answer? No! Rude? Yes. Bold? Yes. " inappropriate? Arguable. But insane? Why THAT'S insane!
But wait, there's more! She clarifies her desire for anal sex with this helpful statistic.
I want you to clarify for all who may be concerned that Sinead is in fact 99.999% vaginally oriented but has experienced the odd shall we say 'bark up the wrong tree' and immensely enjoyed it.

Apart from that and an as yet un expressed desire to get royally rogered while wearing nothing but stilletos, by a man wearing a regular business suit which she could clime all over, and an intense enjoyment of light to not especially painful spanking, is as "kinky" as the girl gets.

[Link.]
Numerologically, that means Sinead would have to get one anal fuck for every 100,000 vaginal fucks (assuming she only indulged in variations by doing anal). That would be one "vaginally oriented" seeing-to every night for more than 273 years. Of course, the nights are long in Ireland, so…
Anyway, a bit further on, she rambles:
…I want to 'make lurve'. Sweet and filthy LURVE. With sweet and filthy men. If u don't have both sweetness and filth don't apply. I want 'sweet lurve' with music on. Say it again Sinead .. Like u really mean it this time.. I WANT TO BE LURVED STUPID BY SWEET FILTHY MEN WITH MUSIC ON. Ok? We clear? Ahem… Good. Now I wanna know what music you'd lurve me with.

Im revising the language from ' humping' to 'lurve' because humping became misleading. Am a bawdy thing alright on twitter etc, and a joker, but in fact secretly I'm quite a good girl. Just naughty enough. And I wanna be 'lurved'

Any man wishing to make a case for himself must be between 38 and 55 (that's cus Ryan is 38) un attached, and aware that he WILL be dumped at the drop of a hat if either Ryan, Adam Clayton, or Robert Downey Juniour stake a claim.

[Link.]
It goes without saying that here at Tiny Nibbles we are highly in favor of Mother Mary Bernadette getting rogered in stilettos by whichever Irish TV presenter or aging rockstar she fancies at the moment. We're also down with her getting spanked, remaining "vaginally oriented" if she prefers that, and being as anal as all get-out; every night for 273 years? Hell! Try every HOUR for ten years, Sinead — 40-50 is your sexual prime!
But in addition to the fact that this is a Catholic priest getting down with all this dirty talk are the somewhat obvious clues to Sinead's bipolar disorder — with which O'Connor told Oprah she had been diagnosed in 2003.
O'Connor, by her own claim, also attempted suicide on her 33rd birthday. I hope some of the giggles at her manic fandango are coupled with a plan by her loved ones to catch her when she crashes.
Hypersexuality is recreationally awesome when engaged in safely as a result of being ragingly horny and deliciously uninhibited. When it occurs in a diagnosed bipolar patient, it's generally a sign of a manic episode. I'm sure there's a parade of apologists who will be more than happy to judge me for judging Sinead's behavior. But for the record, I'm not "judging" her behavior. I'm calling it what, from a distance, it appears to be — not a clear and comfortable choice to engage in the delivery of raunchy entertainment (hooray!) but the acting-out of a deep and potentially destructive chemical imbalance.