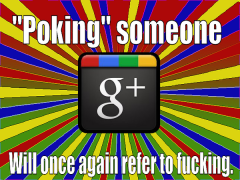 I'm being asked through various channels if I'm on Google+ – yes, indeed. You can find me at:
Currently, G+ is not very sexy – though I did terraform with a few sexy photos in my galleries. Don't get me wrong, it's fun and has some great functionality, but I haven't charged into it like my tech colleagues and counterparts because it has significant limitations. Especially for creating a free and open place to share. I don't think a lot of people realize yet that the default photo and image albums are Picassa, which has zero tolerance for nudity or borderline content, and does not offer users content rating controls (such as the ability to mark things as "moderate" or "restricted") to remain within the Picassa/G+ content guidelines. I have already seen artists (in one case, a painter) trying to creatively set content advisory warnings for their work. I also see people expressing they're glad that 'because of Circles' they won't have to worry about mom seeing their nekkid photos by accident, like on Facebook.
This worries me very, very much.
Google+ should take a page from Flickr, or better yet, Blip.tv's excellent user-administered content rating system. In my opinion, they need to address this ASAP or they will have a disaster on their hands. Having your Facebook account yanked for alleged ToS violation with no way to fight it or find out what you did wrong is one thing; losing your Google account over oblique ToS enforcement is another entirely. I don't need to recount or link to the many innocent ToS violation stories (not even my own) that have come out of Flickr, Facebook and many others over the past several years.
Meanwhile, the User Content and Conduct Policy for Google+ has already been changed by G+ since the mass joins over the past week. In this post, I outlined the restrictions people may not be aware of:
The sexually explicit rule used to include a line about nudity with artistic merit being acceptable. They removed that, which is very disappointing.

It's very streamlined and very interesting. It places between Facebook and Twitter: not as strict and impractical as Facebook, but not as open as Twitter. Because of this, wider use of Google+ will be limited until they add the ability for users to create content ratings – there is nudity in the world. On the flipside, I applaud the inclusion of sexual orientation/gender identity. Highlights of what's not allowed on Google+:

1. Illegal Activities

Do not use our products to engage in illegal activities or promote dangerous and illegal acts.

3. Hate Speech

Do not distribute content that promotes hatred or violence towards groups of people based on their race or ethnic origin, religion, disability, gender, age, veteran status, or sexual orientation/gender identity.

10. Sexually Explicit Material

Do not distribute content that contains nudity, graphic sex acts, or sexually explicit material. Do not drive traffic to commercial pornography sites. Your Profile Picture cannot include mature or offensive content. For example, do not use a photo that is a close-up of a person's buttocks or cleavage. [Link to G+ content policy.]
No nudity – yet no user controls in case we post a news item or article about art, and need to err on the side of caution? That's why I'm waiting and watching, and not putting too much into building our community – yet. Honestly: I wish I could advise companies on this stuff to keep everyone safe in their zones. Let me know if you want invites in the comments, I'll send them your way.
Image via canv.as.
* I included Illegal Activity above in my excerpt because it's almost salaciously vague. Do they mean links to BitTorrent sites, or things illegal in other countries, such as are included in Yahoo's ToS? That won't do me any good in Libya ;)