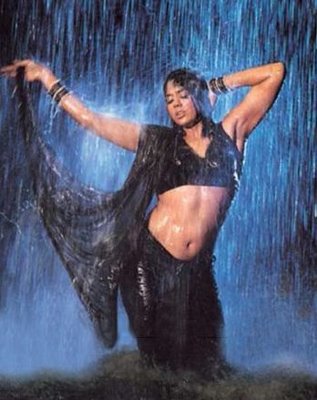 If you're familiar at all with Bollywood films, you may already know the three most important things about them. First, if someone starts singing, expect them to take an inexplicable dancing tour through world history during the upcoming number, featuring lots of guys with mustaches. Second, while you shouldn't expect sex, you should expect the Quixotic rapture of first love, even if the filmmakers have to introduce an at best distantly connected ingenue to find it. Third, and perhaps most importantly, if a hot woman is wearing a sari, it's going to get wet at some point.
The wet sari scene is a staple of Indian cinema, and has been since at least the '80s. India has a legally enforced ban on nudity in films, the wet sari — sans nipples, interestingly — is the glorious stand-in. It's developed into a fine art all its own, and for many devotees, an erotic obsession, whether you spell it "sari" or "saree." (It seems to be more commonly "saree" in English within India, but "sari" outside of it.) Wet saris are, in fact, such an overriding element of Indian culture, in fact, that the correspondent "Sunny" at the site SareeDreams.org swears up and down that he won't post wet sari photos — "Too cliche…too odd" — and then proceeds to post them.
But in Bollywood as with most things the saris may stay the same, but everything else must change. Starting in the 1980s, Bollywood began really pushing the envelope by showing a peck on the cheek at the height of steamy romance. And according to Rituparna Chatterjee at IBN Live, sex is now "no big deal" in Indian cinema, in a piece entitled Is Profanity Bollywood's New Sex?:
Kissing on screen was unimaginable in the 60s and 70s, a few brave filmmakers tried it in the 80s. The 90s set a pace for quick pecks on the lips that directors in the last few years have perfected into a drawn-out, messy affair that the censor board overlooks as demands of a 'plot.' Similarly the sex scene is now a coveted launch pad of starlets who are delightfully matter-of-fact about dropping the robe on screen if the situation so demands. It simply is no longer a big deal.

[Link.]
…which is s news to me. Having seen some recent Indian films, I can tell you that the "drawn-out, messy affair" and "dropping the robe on screen" are decidedly different in Indian cinema than in Western. Nonetheless, Chatterjee feels that Bollywood has conquered sex and is now moving into potty-mouth territory, saying "Profanity is fast filling the space that sex leaves vacant as it looks to constantly evolve in a competitive industry."
With the twentynothings of India's growing middle class living more than ever in cities away from their families in order to get those "good jobs" that Indian-Western partnerships have brought to the rapidly developing nation, they're apparently broke, messy, and influenced by the lifestyles of "Friends" (which Chatterjee calls "F.R.I.E.N.D.S. [sic] and its brilliant situational comedy."). These singles in their twenties form both a fertile demographic and a source of subject matter. And, having conquered sex, they apparently want to talk about diarrhea. And who wouldn't?
For Chatterjee and other Indian critics, B-town's latest foray into the post-sex nation is represented by the film Delhi Belly, which "tells the story of three flat mates and their dysfunctional personal lives entangled in an accidental crime." It's split Indian film critics, and cause an uproar by pro-censorship elements who call it "an offence against Indian culture" and want the high court to prosecute its producer Aamir Khan.
Written by the Los Angeles based writer Akshat Verma, Delhi Belly represents, for Americans, the generation most of us are talking to when we call almost any big corporation's customer service line. (Yes, they're real people…it's only corporate profiteering and perceived American provincialism that try to force them to act like 'bots.) The middle-class of this generation are largely English-fluent but toss in Hindi phrases, sentences and half-sentences without prejudice to form something called "Hinglish," which is not so much a language as the cant of a culture to which multiple languages are integral.
But Delhi Belly doesn't stick to satirizing Hinglish culture; it also outstrips it by evoking the urbanity and coolness inherent in India's super-multi-ethnic and mega-multi-lingual culture, in which neither Hindi nor English can be a monolithic force outside of Bollywood — because there are just too damn many languages, and therefore too many ways to say "fuck."
To that end, in a riff that seems eerily familiar to a traditional U.S. rockstar "innovation," one of the Delhi Belly soundtrack's chief songs caused a controversy by slipping in colloquial Bengali profanity — reminding me of the game American rap and hip-hop seemed to play with sex slang in the '80s and '90s. And back in the '70s, music did not not just with sex but (especially) with drugs. It's a game of seeing how much can be said within earshot of the parents. It seeks to outsmart conservatism in a way that can ba-da-bing the squares. In India, multiculturalism looks cool at least partially because it's de facto for the younger generation. Or as another critic put it, "In conclusion, it may be said that Delhi Belly caters to a section of the populace that is cool when shit happens."
But Chaterjee doesn't quite seem to agree that they're cool at all, at least when it comes to "the cussing":
The cussing, especially in the Hindi version of the film, appears contrived. Vir Das, in a wistful thought sequence bursts in to the wedding of his ex-girlfriend and demands that the ceremony be stopped. Pointing south, he exclaims "this girl has given me a blowjob!" The wedding may have been called off countless times in Hindi cinema fond of its drama, but never perhaps for so novel a reason.

For all his protestations, Aamir Khan may just have found a niche amongst India's growing Hinglish audience who enjoy the occasional cuss word to pepper their private conversations. [Delhi Belly] may even start a race in Bollywood of hallmarking the urbane profanity. What sex did to plot lines in the last decade, profanity will improve upon in the next.

Profanity, the new sex?

[Link.]
Look, my Hindi is about as rusty as my Serbo-Croatian. But I think Chatterjee's engaging in the same flavor of No-Big-Deal-izing that commentators in the United States so often do. Because sex makes them uncomfortable, they say it's "been done" or "not an issue," while provincial attitudes continue unabated. In the U.S., the person who proclaims that Anna Paquin's coming out as bisexual is "pointless" because "David Bowie did it" is, um, sort of…well, missing the point. And Chatterjee seems to have shredded the memo from Corporate, from the Wikipedia summary of Delhi Belly, which reads, in part:
Sonia is on the brink of an orgasm with Tashi when his co-journalist Menaka calls him for an important work. When he reaches the place he realizes that it is just a party and Menaka had called him just to have fun. Menaka`s husband Rajiv has an altercation with Tashi and hits him on his eyes. Tashi retaliates and knocks Rajiv on his head due to which he falls into a swimming pool. As Tashi and Menaka leave they are chased by Rajiv and his friends. Rajiv shoots wildly due to which Tashi`s new car which was gifted to him by Sonia`s dad, is damaged. In order to flee from Rajiv,Tashi and Menaka enter into a 5-star hotel and check-in into somebody else room. Sensing an old couple, to whom the room was actually booked at the hotel, entering the room, Menaka and Tashi act as if they are engaged in sex. Horrified on hearing Menaka moaning in pleasure the old couple immediately vacate the room, while Tashi is appalled to discover an erection and conceals it.

[Link.]
That sounds like an awful lot of sex in a film where "sex is no big deal." Mind you, this action all follows the chief Maguffin-mixer, in which one of the characters, suffering from "Delhi belly" (diarrhea), tries to get a stool sample to his doctor for diagnosis — but instead gets it to the local Mafioso…who was expecting diamonds. Cue rimshot; hilarity ensues.
So if Delhi Belly is "Hinglish" cinema's American Pie, is it about sex, poop or diamonds? Yes, yes, and yes, but it sounds like the saris aren't wet.
Image: Telegu actress Sameera Reddy, who has acted in Hindi, Telegu, Bengali and Tamil-language films.