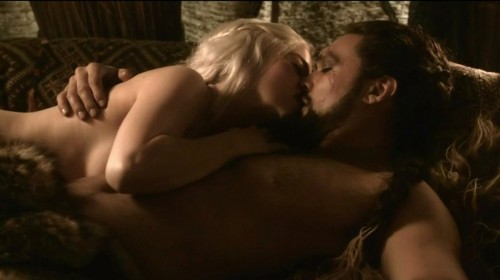 In a review of HBO's new TV series Game of Thrones, the New York Times states that lurid sex is thrown in throughout the show to attract female viewers, who would otherwise not watch the show – because, they claim, women universally hate fantasy fiction like "The Hobbit," which they say is the sole interest of men.
I thought the New York Times was *already* lost at sea, upon observing its recent decisions around paywalls and attempts at bartering readership retention through cheap social media gimmicks. Like many seasoned bloggers, and like in regard to HuffPo, I had simply planned to avoid linking to the insult and idiocy at every opportunity to do so.
Now with the NYT's recent review of HBO's Game of Thrones (A Fantasy World of Strange Feuding Kingdoms by Ginia Bellafante), I realize that the idiocy and insult – and ignorance about media and its consumers – is in the very least shockingly naive, and at a glance, totally has its head up its ass. In other words, we have another big reason to shun the NYT, besides shallow trickery and shortsighted money-grubbing.
Game of Thrones is a complex fantasy world that is based on a series of incredibly popular books with unflinching adult themes; the HBO series has huge budget and already looks like a blockbuster film. I recently was one of a lucky few who had the amazing opportunity of being sent (as a surprise) one of the amazing Maester's Path Alchemy Olfactory Kits that HBO created for some really effective (and jealousy-inducing) promo. I shot this video of the contents; my unboxing photos are here. Game of Thrones, and my interest in it, held no indication of sex and seemed so separate from TinyNibbles that I didn't bother blogging it here. That should tell you something about the NYT's uninformed generalizations regarding women, sex and fantasy right away.
But the New York Times' Bellafante describes,
The show has been elaborately made to the point that producers turned to a professional at something called the Language Creation Society to design a vocabulary for the savage Dothraki nomads who provide some of the more Playboy-TV-style plot points and who are forced to speak in subtitles. Like "The Tudors" and "The Borgias" on Showtime and the "Spartacus" series on Starz, "Game of Thrones," is a costume-drama sexual hopscotch, even if it is more sophisticated than its predecessors. It says something about current American attitudes toward sex that with the exception of the lurid and awful "Californication," nearly all eroticism on television is past tense. The imagined historical universe of "Game of Thrones" gives license for unhindered bed-jumping — here sibling intimacy is hardly confined to emotional exchange.
I'll agree that Californication is stoopid, but it seems to me this list of "Playboy-TV-style" shows is missing a few big names – that if included, would undermine the NYT's assertions about the context of sexuality presented on TV that Americans respond to. "Bullshit," Hung," "Big Love" and "True Blood" are just the first ones I thought of. (She mentions a couple of these later on, but that's to make a different argument.)
But wait: you should be really pissed off at the NYT, and here's why. NYT continues with the following graf:
The true perversion, though, is the sense you get that all of this illicitness has been tossed in as a little something for the ladies, out of a justifiable fear, perhaps, that no woman alive would watch otherwise. While I do not doubt that there are women in the world who read books like Mr. Martin's, I can honestly say that I have never met a single woman who has stood up in indignation at her book club and refused to read the latest from Lorrie Moore unless everyone agreed to "The Hobbit" first. "Game of Thrones" is boy fiction patronizingly turned out to reach the population's other half.
Are they really saying that "no woman alive" would watch "Game of Thrones" unless there was illicit sex in it? Indeed, women do love porn, and obviously enjoy sex in their entertainment – again I'll pull out "True Blood" and even the tease-and-denial sexuality of "Twilight" as examples. But – yay! Raise the flag for women finally being handed equal opportunity objectification privileges! Women don't read Playboy for the articles! Fuck yeah!
Er, wait a minute. For this to be true, we also have to buy the foundation of this statement: that women dislike fantasy and sci-fi so much, we need to be tricked into paying attention to "boy fiction" by putting sex into it.
Not just any sex, according to Bellafante and the NYT – sexuality that is "cheap," devalued:
When the network ventures away from its instincts for real-world sociology, as it has with the vampire saga "True Blood," things start to feel cheap, and we feel as though we have been placed in the hands of cheaters. "Game of Thrones" serves up a lot of confusion in the name of no larger or really relevant idea beyond sketchily fleshed-out notions that war is ugly, families are insidious and power is hot. If you are not averse to the Dungeons & Dragons aesthetic, the series might be worth the effort. If you are nearly anyone else, you will hunger for HBO to get back to the business of languages for which we already have a dictionary.
Look, if you're going to pan something, just say it's crap. The NYT has gone far out of the way to say that "Game of Thrones" is the suck because it has cheap, dirty sex in it and that the sex is in there to trick women into watching because women hate sci-fi as much as their reviewer does. Except their reviewer is in the minority whilst claiming to speak for a very VERY large audience of women who love fantasy fiction (some even write it!) and don't need to be singled out or shamed with being interested in "cheap sex" for liking it.
The true perversion is that the NTY continues to uphold values that are not just rude, but problematically out of step with the very people they, and their writers claim to speak for.
See also: Really, why would men ever want to watch "Game Of Thrones"? (io9.com, includes spoilers)
UPDATE: Awww, I love George R.R. Martin!!!! He's the Game Of Thrones author, and he has this to say about that wretched NYT article: Boy Fiction?
Thanks to Veronica and Jacqui for the heads-up and commentary.