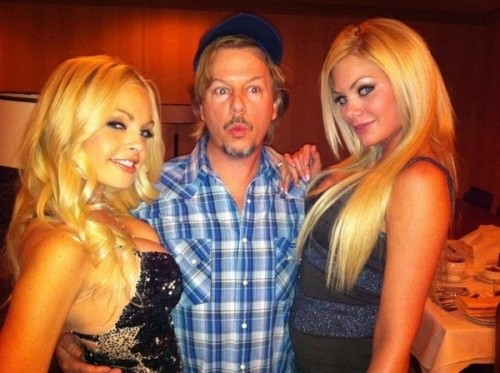 Friday night: porn stars Jesse Jane and Riley Steele; dingleberry David Spade. From Riley Steele's Twitter feed.
Two conventions in Las Vegas, Nevada are in full swing right now: CES, a convention of gadget porn and hype, and AVN – a convention branded by a porn magazine centering around an awards show that recognizes one self-tanned silicone-stuffed titty-sack's corner of the world's porn. It is not at all, as many would have you believe, the entire world of porn. I have a number of friends there, doing the usual yearly combination of being there to do the right thing and represent, while wondering what they fuck they're doing there and pounding vitamin C so they don't come home sick from well vodka, secondhand smoke, and an ulcer from having spent three sleepless days watching a few thousand careers simultaneously circle a drain called DVD.
Surprisingly, CNBC is covering it – though I send you to their coverage with the usual warning that they're writing about it in the fake OMG "coming out of the shadows" style. Which is really unnecessary these days. Regardless, it does not paint a positive financial picture for mainstream porn. In a remorseful post, the Las Vegas Weekly blog tells us that major companies Adam & Eve and Vivid are not even there this year, with the convention somehow shrunk even smaller than last year.
I'm pestering everyone for media, as I am at home working on launching my next big book (coming out sooner than expected). Porn stars can poke Twitter with their unicorn horns, but apparently the hashtag #AVN is too complicated for these delicate flowers. I chased down feeds of people I know and put together an armchair photo gallery from the more exciting tweeters – photos after the jump include porn stars such as Sasha Grey, Dave Navarro, Lexi Belle, Stoya being interviewed by G4TV, Lupe Fuentes, Riley Steele, Bobbi Starr, Fleshlight and many more. Pics are from Friday.
Before you jump, I think it's interesting to note that I was invited to go be on panels and do coverage – but I decided not to. I said that at the end of the day, I feel that the ROI for the porn convention, in its current form and iteration, is just bad for business (saying this as a businesswoman). While I think about that, I'm piqued to see that over at CES this year there are companies that would ordinarily be at the porn convention – Lelo, OhMiBod and Trojan (links via Viviane, FYI: I *love* Lelo). They're promoting their sex toys at CES – which is odd when you read the CNBC article saying that AVN is banking on recovering by focusing on sex toys… Here's a great video of a few sex toys companies *not* at the porn convention this weekend:
Compare that video of CES to this video of AVN on opening day if you want to compare and contrast:
Stoya being interviewed in the Fleshlight booth by G4TV – mysteriously, G4's Twitter feed didn't mention this…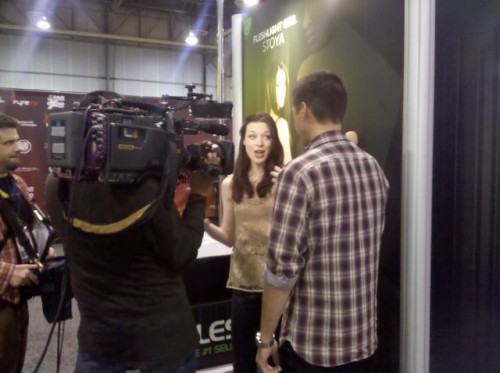 Lupe Fuentes being interviewed by a man who gets fashion tips from Michael Lohan: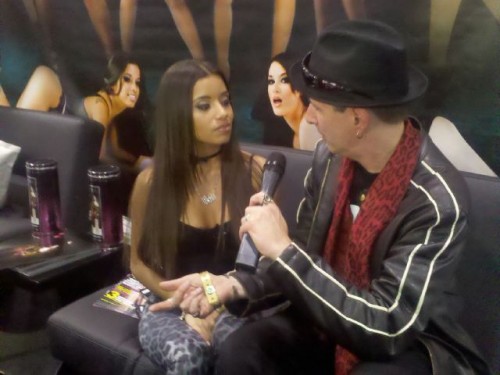 Sad panda and sad porn superfan Dave Navarro with Sasha Grey in the airport: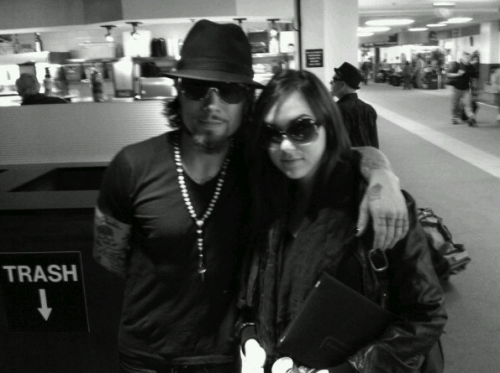 Dana DeArmond looking hot in a Betsey Johnson dress, for Girlfriend Films. Watch their picstream for cute girls. Seriously.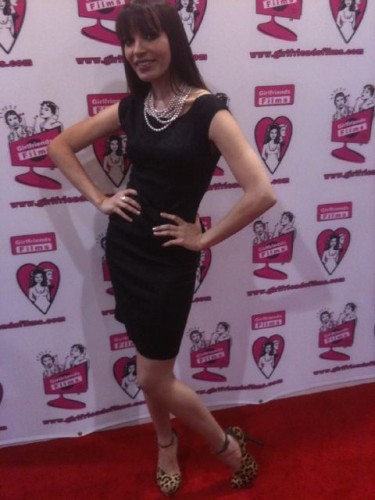 Lexi Belle looking gorgeous in those glasses. Rock! She just gets sexier all the time: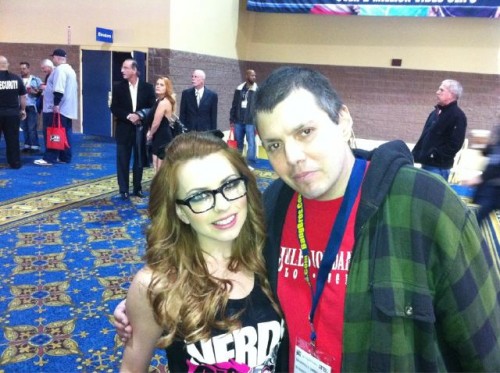 Daisy Delfina showing us her cards: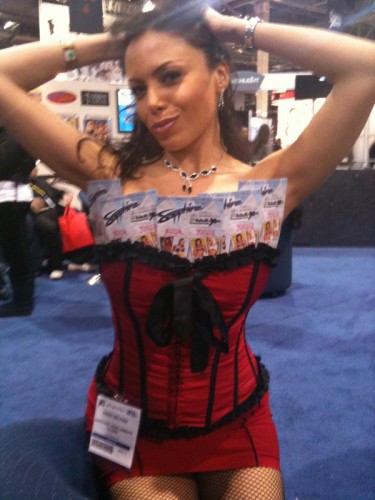 The excitement. It. Never. Starts.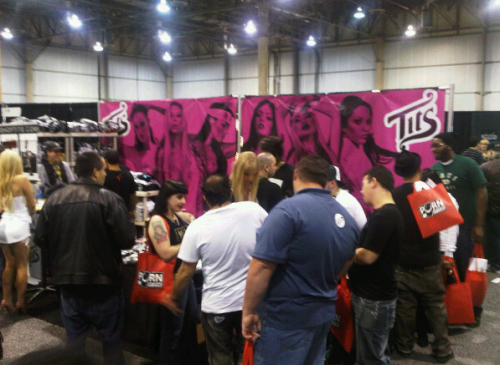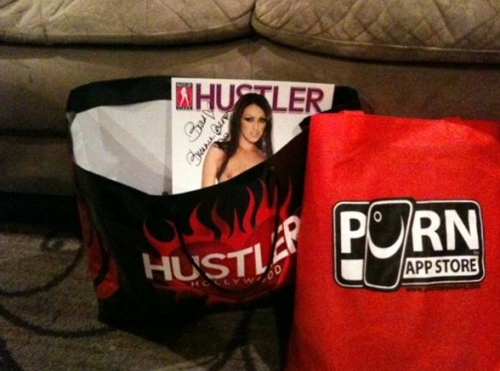 Finally, some real fucking porn. Fries from the In-N-Out Burger delivery in the Gizmodo truck at CES: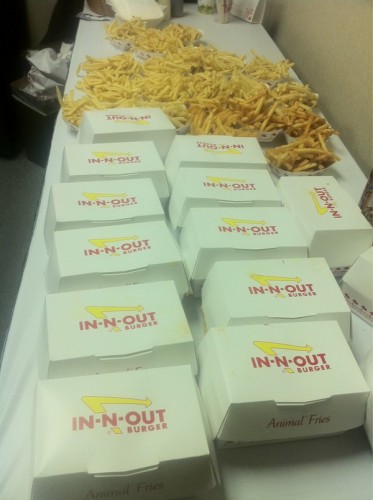 Pretty Bobbi Starr taking a lunchbreak from signing for Evil Angel. Her post about what it takes to get ready to sign and do porn appearances is interesting.
Kaine from the Ying Yang Twins at the Fleshlight booth.
The bed in the Fleshlight booth. This strikes me as unsanitary. I am kind of bummed that Ustream pulled the plug on Fleshlight's livestream – though I'm not surprised, the prudes – but I think it would have been a lot of fun to watch. Suxxors.