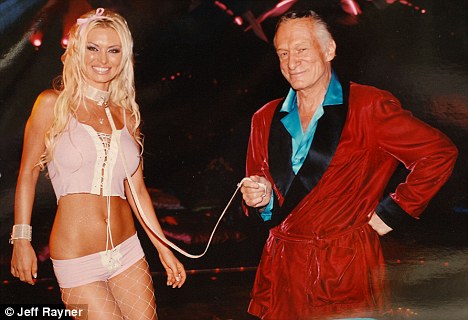 According to the book Bunny Tales by former Playboy Bunny Izabella St. James (pictured above), the Playboy Mansion is like a combination of smelly rest home and filthy home for wayward girls on the plastic surgery gravy train. If it's true, the accounts are pretty eye-opening. The book is not new, but the Daily Mail just published an in-depth look at life with Hugh Hefner in the Playboy Mansion centering on St. James' book and experiences, with added storyline from other sources to bring it up to date. I read it much in the same way you eat a bag of greasy potato chips. Can't stop once you start, even though you know it's not good (it's also sex-negative in parts)… The curfews, the sex party etiquette, all worth a glance. Here's a snip:
(…) For Izabella, the Playboy Mansion was far from the glamorous pleasure palace she had imagined. 'Each ­bedroom had mismatched, random pieces of furniture,' she recalls in her autobiography Bunny Tales. 'It was as if someone had gone to a charity shop and bought the basics for each room.

'Although we all did our best to decorate our rooms and make them homely, the mattresses on our beds were ­disgusting — old, worn and stained. The sheets were past their best, too. (…) She adds: 'But then Hef was used to dirty carpets. The one in his bedroom had not been changed for years, and things became significantly worse when Holly Madison moved into his room with him as Girlfriend No. 1 soon after I moved in, bringing her two dogs.

'They weren't house-trained and would just do their business on the bedroom carpet. Late at night, or in the early hours of the morning — if any of us visited Hef's bedroom — we'd almost always end up standing in dog mess.

'Everything in the Mansion felt old and stale, and Archie the house dog would regularly relieve himself on the hallway curtains, adding a powerful whiff of urine to the general scent of decay.' (…read more, dailymail.co.uk)
I don't know about you, but this kind of pisses me off. I mean, all the money in the world to make the ultimate castle fuck pad, and this is what you do? This is the limits of your imagination? If I could make my own Adult Disneyland, it would be a revolution and a work of art, forever.
So this is the desired end result of the Playboy lifestyle? This is the sum total of the male ideal Playboy sold us? Go on, Hefner. LIVE THE DREAM.
(Derp.)