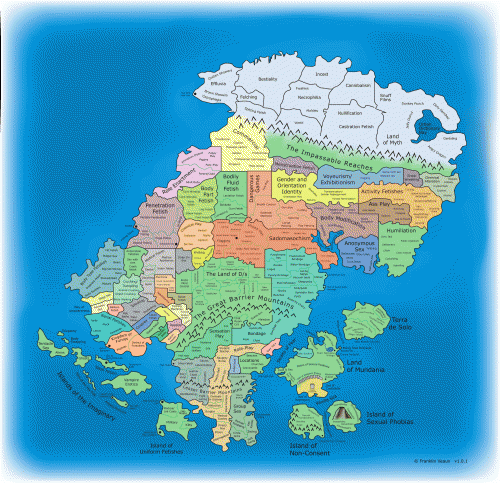 Sex maps have come a long way — and I think the potential for the interactive Human Sexmap for couples and individuals is… awesome. The Fetish Map created by Katharine Gates (whose website Deviant Desires has expired) was passed around the internet around 2002, and it was a fine start because it showed how sexual fetishes overlap in various ways; yet it sadly confused violent sexual crime with healthy adult fetish sex, so it left a bit to be desired.
Later in 2008 we got the the map of human sexuality by Franklin Veaux (so awesome), and 2009 gave us the UK Sexmap.
I knew the Sex Map by Franklin Veaux could be purchased as a poster, but I didn't know he made it interactive and user-personalized. has an update: on Human Sexmap (humansexmap.com) you can now click on the map to place pins, a bit like Google's My Maps. (I love G's My Maps, and make wishlist itineraries when I travel for work). Pin delineations include Tried and Liked (green pin), Tried, Didn't Like (red pin), Things I'd Like to Try (purple pin) and Strictly Fantasy Only (black pin). If you make a mistake, click on the pin to remove it. Then you can save the map — and couples can save, share and compare for learning about eact other, to look for me ideas, or if you're just the kind of individual who wants data porn on their sex life. To save your map and see a link that you can use to show other people, or embed the map in your blog, hit the Save button.
The map is from the map's maker Franklin Veaux who has an interesting site of online sex games called SymToys. Cool stuff.
It's Folsom weekend here in SF, so we're all a little high on rubber and leather. Expect a weekend of BDSM and fetish posts :) Fetish Sex (An Erotic Guide for Couples) is a book I wrote with erotica writer Thomas Roche to explain the wild, fun, sometimes scary but always fascinating world of fetishes — what they are, what having a fetish means, when your lover has one, and how to enjoy them safely whether alone or in a couple. Just updated and revised: read more in my information-packed Fetish Sex article.
* Listen to a free bonus Fetish Sex erotic story to get in the mood.
* Listen to my lecture about fetishes and dressing for fetish play (fetish dressing) I give twice a year at UCSF Annex for sexuality students.