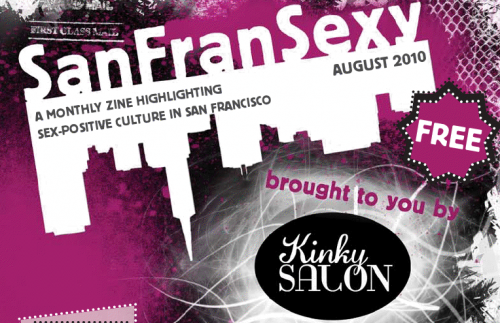 Big congratulations to the hardworking sex-positive pundits, activists and educators behind San Francisco's new free arts, info and events magazine: SanFranSexy Zine! Finally, a hip, warm and welcoming monthly magazine about sex in SF. Sleaze free, sophisticated, and more fun than a barrel full of sex kittens!
Get your free copy online, or offline the old fashioned way. The first issue says August (hey, they've been busting their corsets trying to make this happen with nothing but love), yet it's still a must-have for SF September events. Great articles by Dr. Charlie Glickman, a piece about sex in the age of the iPhone 4 and much more… Hooray! Here's the PR:
Brought to you by Polly Superstar (of Kinky Salon, Mission Control, Kiss and Openly), SanFranSexy has a glorious roster of local experts and luminaries contributing their awesomeness to this orgy of good times. San Francisco legend Carol Queen will be kickstarting the proceedings with her unique perspective on our place in the sexual revolution. Marcia Baczynski (of Cuddle Party fame) will be on hand to help with her unconventional relationship advice. Dixie De La Tour from the infamous 'Bawdy Storytelling' events will be entertaining us with some downright filthy stories. Mason Cornelius will be teaching us some less commonly available safer sex tips for our unusual sex lives. Barron Scott Levkoff will focus on advice for men in this modern world. Dr Melanie Rose will go deep, looking at the culture and spirit of sexuality. Round it all out with a calendar of upcoming events and you'll be so satisfied you'll be reaching for a cigarette when you're done.

Call us old-fashioned, but as well as being available online, this zine will actually be printed on paper, and distributed around town to select retail outlets, nightclubs and sexy hot-spots!