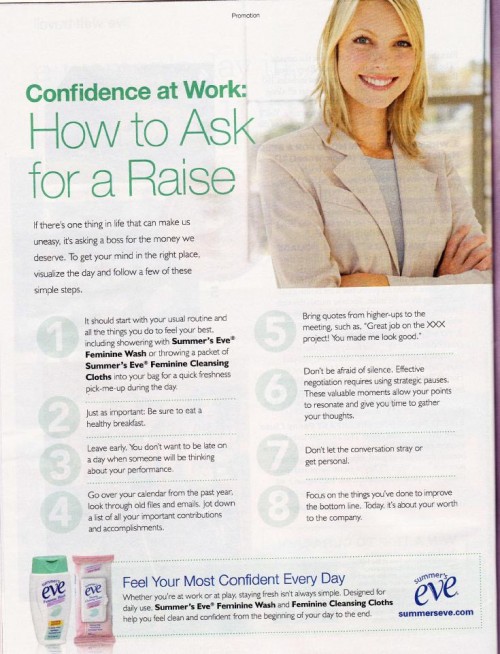 Yes, you read that title correctly, and no it's not The Onion spoofing anyone: via the Meeting Boy Tumblr, I found Want a raise? Wash your vagina (dailykos.com). In a post today, Daily Kos's dhonig points out that one of the nation's top-read conservative women's magazines Woman's Day is running a large ad from Summer's Eve that combines advertising and editorial, telling women "how to ask for a raise" with the first and top suggestion being that women should thoroughly clean their vaginas the morning they plan to assert their worth in the workplace and ask for higher wages. Yes: we now know the *real* reason women are paid less.
Summer's Eve is a company that primarily sells vaginal douches.
This is so many all kinds of wrong, it's difficult to know where to start. The suggestion here is that by the very nature of the main thing that makes a woman a woman — her vagina — is so dirty (smelly, shameful) that it must be cleaned or else she cannot feel confident about her worth. And therefore risks her value, risks her chance at an equal stake in the workplace, and risks success due to the way her dirty vagina will surely make her feel when she asks for what she would otherwise deserve if she were a man.
But let's look at Summer's Eve's core product. The douche. Aside from the "wash your vagina" equaling self-worth message, for me the ongoing problem under all this is douching itself; an inherently unhealthy practice for the vagina. Summer's Eve makes a product that traffics on shame, and is problematic for vaginal health. When a woman douches, the rinse actually does more harm than good by stripping out all the helpful bacteria that keeps the vaginal ecosystem healthy and robust. Douching weakens the vaginal immune system and creates imbalance that takes a few days for the vagina to recover from and get the chemicals back in order. The vagina is in a constant state of aqueous flux, like a crystal clear tidepool, truly a self-maintaining ecosystem. Think of Summer's Eve (and its ilk) as a BP-like entity, and you get why this is so acutely disturbing for sex educators like myself who have a vested stake in promoting accurate sexual health information.
I don't understand how a magazine "for women" such as Woman's Day could allow this, all the way through approval and edits, and by printing it, are endorsing the message. Shows how far behind the lives of real women these entities have gotten. Worse, some women are going to be affected by this. Shame on the editors of this magazine, and on Summer's Eve. I hope this becomes a PR disaster that wakes them the hell up.
Here's Daily Kos, where you can see more of the ad and read the post:
(…) What is the very first thing you should consider if you want a raise? What is the most important thing of all?

Yup, wash that vagina, and wash it good. Remember the sandalwood-scented balls. You don't want any, ahem, untoward odors to interfere with your chances, do you? What's that you say? You don't have an odor problem? You're clean, you bathe regularly, and you don't really need advice to use a product that "cleanses away odor-causing bacteria from the external vaginal area?" What are you, a barbarian? This is a raise you're talking about. (…read more, dailykos.com)