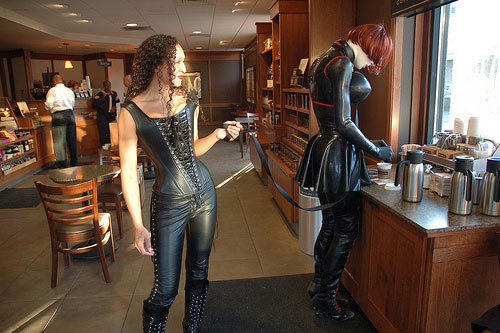 Image of Steffy the Rubberdoll by Sarah Leander.
This week's SF Chronicle column is The Kinkiest Coffeehouse in the West — Violet Blue: The literal mix of coffee and fetish at Wicked Grounds. The piece a great interview with the proprietrix of Wicked Grounds, soon to be an 18-and-over only coffeehouse in the SOMA district of SF. Sounds like it's going to be *very* fun, snip:
Like our sex culture here in San Francisco, our coffee culture has become so refined, so fetishized, and so obsessive that it makes even the most debauched, moneyed, extreme fetishist seem ordinary. Just take a trip to delicious Bluebottle at the Mint to watch the connoisseurs ogle and squirm over the coffee machines that cost the same as a car. Our coffee culture has its BDSM parallels in check: don't even try to be nice to the jerks behind the counter at Four Barrel who openly treat you lower than a pathetic worm who could never possibly be good enough to drink their holy lattes.

Yes, we've got some of the best cafes and coffee in the world; but for the attitude at some places, you might as well visit a dominatrix and get your money's worth. (And you'll want thank the Mistress for her "17-foot Ceiling" rather than pour your $5 Four Barrel down the drain.)

This hot caffeination might have been the inspiration for Wicked Grounds, opening in SOMA within the next two weeks. Combining San Francisco's notorious BDSM culture — and the embarrassment of riches we have in kinky people, places and things — with coffee fetishism and cafe culture, it will be a don't-miss experience for anyone over 18 who'd love to mix cafe culture, great coffee, and decadent fantasy.

Bring a tip for your sexy barista, a leash for your human kitten, and according to Rose White at Wicked Grounds, they'll provide kitty's latte in a bowl so you may enjoy the atmosphere with your pet well cared for. (…read more, sfgate.com)
Also, it looks like there's a sister establishment in the UK: Coffee, Cake and Kink — I hope to visit them when I go to London this December!
Image by Muscles UK.