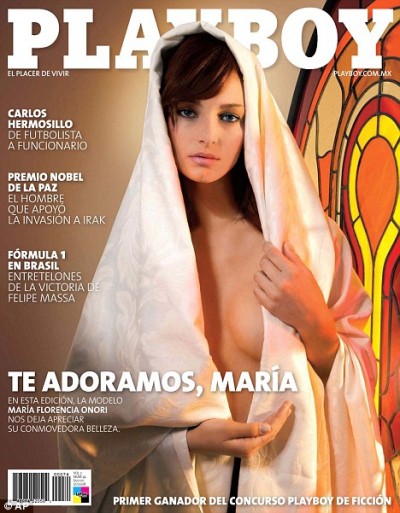 For its December issue, Playboy: Mexico decided to honor the season by featuring a nude photo shoot of a model as the Virgin Mary (portrayed by Maria Florencia Onori). Which, not surprisingly, made a lot of devout Catholic Mexican citizens really pissed off, forcing a retraction of the issue and an apology from Playboy (reuters.com). They're backing away weakly:
In a statement, Chicago-based Playboy Enterprises Inc said the Mexican edition of the magazine is published by a licensee, and the company did not approve or endorse the cover.

"While Playboy Mexico never meant for the cover or images to offend anyone, we recognize that it has created offense, and we as well as Playboy Mexico offer our sincerest apologies," the statement said. (reuters.com)
Only 100,000 copies of the issue were printed, it's known that 80,000 were sold — and they're going to be pricey collector's items, for sure. It's a pretty sexy shoot. But you know someone's *totally* been fired at Playboy.