Facts and techniques from the Ultimate Guide to Cunnilingus.
Yes, it's true that I wrote The Ultimate Guide to Cunnilingus, which has gone on to be a much-praised bestseller (the second edition is out, with a foreword by Margaret Cho!) But this page is to inform you, not to sell you anything. If you find cunnilingus erotically interesting, read on to learn more in articles or excite and inspire yourself with erotica by various authors.
Cunnilingus might be her preferred form of stimulation because the lips and tongue of a lover are softer and more sensitive than fingers, a toy, a penis, or dildo. It can be part of your lovemaking buffet, foreplay or the main event that culminates in orgasm. For women who don't usually get off this way, it might be a fun pleasure experiment to see what works, and what doesn't. You can make the experience into anything you want.
Learning to go down on a woman means understanding her pleasure anatomy — but it also requires trust, lust, and communication between both partners, no matter if it's a one night stand or a ten-year relationship. With a little trust and a dose of horniness, the possibilities for orgasmic cunnilingus are endless.

* Taste of a Woman. What do girls taste like? Sugar and spice and everything nice? Well, almost. The way a woman tastes depends on several factors, but when you're getting ready to go down on a woman, it's nice to have an idea of what's in store.
* Female Pleasure-Based Anatomy. Get to know your way around, and how she responds to stimulation. Once you know what things are — and the surprising extent of the clitoris — you'll have a better handle on finding out what she likes.
* I get a lot of questions about using flavored lubricants — about their taste, how they are on genital health, and creative ways to use them. I responded with this article exploring the joys and pitfalls of edible sex toys, Flavored Lubes and Other Tasty Cunnilingus Treats.
* As for guides and products all in one spot, I highly recommend Babeland's Cunnilingus Expert Kit, complete with book, flavored lube, lickable oil, a dam for safer sex and a superb and versatile vibrator — suitable for external teasing and pleasing while you lick, or penetration (it's especially good for G-spot stimulation if she likes that, too).
* Enjoy this his-and-hers explicit how-to: Hot Oral Sex, His and Hers.
* There are a growing number of little clit pumps manufactured purely for pleasure. The adult toy industry has been cranking them out lately, attesting to the surge in popularity for women who want to add suction to their sex-toy arsenal of pleasure. In Clit Suckers, I try these little devices out, and with the help of a sexy assistant, I see what all the excitement is about.
* Femmes are damn sexy — that's the point of all the lipstick, the lacy undergarments, and yes, even the engineer boots and skinned knees. When a girl goes down on another girl, how does she avoid turning her lipstick into clown makeup? Keeping your lipstick perfect during oral sex is one of the femme's ultimate challenges — and triumphs. Read how in Put Your Lips Together and Blow.
* Self-Pleasuring for Women. Masturbation is the golden key to women's sexuality, and you can use it to have better, stronger and more reliable orgasms. Or if you've never had one, exploring masturbation will help you. You can even use masturbation to learn how to come when receiving cunnilingus.
* Need a shave? I bet you do. But what's this… you want to shave your pulsing pudenda? Your'e not alone — shaving increases skin-to-skin contact and can make oral sex outta this world. Read A Close Shave on Tender Parts and learn the basics on shaving your most tender bits, with practical advice for those of us who are especially sensitive to razor burn.
* Cunnilingus and Safer Sex. When you engage in unprotected cunnilingus, are you at risk? Find out what you can and can't catch, and what the known limits of safety are. Also, learn how to keep yourself safe, and what safer sex gear to use when going down.
* Look up what you want to do, or what you've already done, and see what you're at risk for. Learn even more in my free downloadable e-book, The Modern Safer Sex Guide.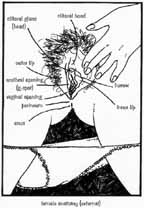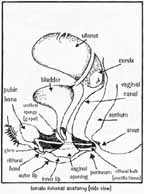 Multimedia audio and podcasts about cunnilingus and female anatomy:
* In my audio book, open source sex :: pleasure zone basics ($5), there are multiple MP3 chapters on cunnilingus, female anatomy, the G-spot and the taste of a woman (and how to change her flavor).
* In my free MP3 podcast open source sex 46 listen to my lecture on female genital anatomy — not for reproduction, as in every other treatment of the topic, but instead *purely* for sexual pleasure. Includes plenty of oral techniques; the transcript is here and the direct MP3 link is here.
* In my free MP3 podcast open source sex 33 listen to my lecture all about the tastes and scents to be found between the thighs of all genders, and how to make yourself (or your lover) taste yummier.
Multimedia sex ed videos about female anatomy and cunnilingus:
This excellent educational video about female anatomy is from Sexperience.
This terrific educational video about female orgasm is from Sexperience.
Here's my pal respected sex educator Ducky Doolittle with a fabulous video for Cherry TV about female orgasms.
This is a roundtable discussion among a select group of women about receiving cunnilingus techniques on Cherry TV. Remember that not all women will agree!
Here's the Midwest Teen Sex Show on oral sex, and it's fun but I don't want you to take her seriously when she calls the viewer "sicko!" for wanting to know what come tastes like. It's still a helpful video, full of humor.

* Amore by Lucy Artell. In these dreamy, lyrical moments between two lesbian lovers, a woman completes her Italian vacation with many trips between the thighs of a gorgeous Italian waitress.
* In Jack and Ginger by Thomas Roche, a man's girlfriend drives him crazy when they're out clubbing — she's just too damn sexy to resist. But to his surprise, he can't resist her at all, and what ensues is a dirty game of "how far will they go."
* He's a gay man. But he can't stop thinking about trying a big taboo — cunnilingus. What does that make him? He really doesn't care, and neither will you when you read In Town For Business by Zach Addams. This is a gripping tale of first-time male on female cunnilingus, where a straight couple picks up a gay man.
* Slamdance by Thomas Roche. A night in a punk club turns into an unforgettable, heated tryst in a bathroom stall for two punk girls that discover lust at first sight.
* All Day Sucker by Jacqueline Pinchot. She loves to eat candy, she looks like a treat, and she even smells yummy, but how does Emma taste? Find out when this sweet little morsel meets her match in the new gal at the office.
* Bella's Secret Garden by Antonia Paris. Staying in a hotel will never be the same when you see what happens between a restless lesbian and room service.
* Door to Door by Jessica Dondershein. A roving cosmetics saleswoman wanders into a wealthy neighborhood and gets something better than a sale when she encounters a randy maid.
* Number One Fan by Gabriella Wise. Ever want to make your fantasy sexual encounter with a celebrity come true? This butch lesbian tries, and with surprising results.
Recommended reading for cunning linguists: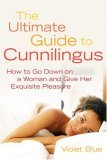 I did extensive research and worked hard to write The Ultimate Guide to Cunnilingus, but I strongly feel that to truly learn about a sex act, you should read *everything* you can about the subject — not just what's in the book I wrote. There is no one right way to perform a particular sex act, and to make your lover squeak with pleasure you should seek out as much information as possible, and from a diverse variety of sources. That's why I put such a huge resource list and recommended reading/viewing lists in the book. I hope you'll make my book part of your pleasure library.
"Yes, this book covers the basics, the intermediaries and the quite advanced details of giving head to women. But the author has included a great deal more. She explores why people enjoy both giving and receiving cunnilingus, and provides insight about the issues that this particular act raises (body image issues, intimacy issues, smell and taste issues). Anatomy and health considerations (including in-depth information about transmission of STDs during cunnilingus and how to prevent it) are covered as well. The minutiae isn't overlooked: What to do when you get a tongue cramp, positions for the disabled or injured, combining cunnilingus with other forms of play… The book finishes with a nice list of resources, including contact information for a variety of sex information providers and retailers of sex toys and supplies. … it's a great resource book that gives detailed information about eating pussy, along with a lot of good general information about pleasure, intimacy and communication."
—Blowfish.com
Cunnilingus has always been one of those things that sex books shy away from, or talk about in New Age or sports/car mechanics terms. Not here! In The Ultimate Guide to Cunnilingus, women's anatomy transforms from the usual dry physiology lesson to a map of pleasure zones, and details how the different parts of the vulva, clitoris, anus and more, all like to be stimulated. If you think it's all about the clitoris (which is covered in detail), think again as the book delves into everything under the sun that cunnilingus can be combined with: penetration, rimming, sex toys, how to use your hands, anal play, S/M and more. The book also includes many things you won't find in other books. For instance, what do you do when a woman ejaculates in your face? The illustrations by Molly Kiely (Diary of a Dominatrix) are retro-adorable; explicit short stories by Alison Tyler get you in the mood.
New to cunnilingus, or want your lover to try it? I provide practical advice for the real world. Learn "the truth about smell and taste," and find out in a sweetly succinct mini-biology lesson that pH has everything to do with the way a woman smells and tastes, why it's variable, and what to expect. In the same chapter, the topic of hair and shaving is explored in depth and you can find out how to shave, all about waxing, and even how to decorate the vulva once it's bare.
But my book also has the facts you need — lots of them, and stated simply — about cunnilingus. The mouth is approached as a sex organ, and you'll find out what the many types of licks, sucks, etc. that can be employed, and why each of these techniques has an important place in your personal cunnilingus bag of tricks. Strokes and their applications, how to tell the early stages of arousal to the moment of orgasm, are all explained in easily-understood — though not oversimplified — language. Unlike many other sex guides that cover cunnilingus, there is no judgment about the reader within the text, or asinine sense of humor that so many guides seem to think they need to impart.
Offsite guide: Check out the *fantastic* How to Go Down on a Woman: Become a Cunnilingus Expert by Rachel Venning. "Cunnilingus — oral sex performed on women — is the holy grail of satisfying most women. So if you haven't honed your oral sex technique, you're most likely going to suffer some cunnilingus performance anxiety. Cultural myths about nasty vaginas just add to the pressure. But cunnilingus performed well will endear you to a partner like nothing else can. So whether you're a seasoned muffdiver or are a late bloomer just getting started, here are a few oral sex tips to improve your technique."