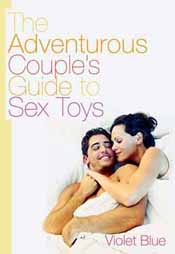 You know I got my copy early, but now it's out! The Adventurous Couple's Guide to Sex Toys here! People can buy it! A friend from Good Vibes called and told me it looks lovely on the shelves! Listen to a podcast (audio) exerpt and read the text on my podcast, Open Source Sex. Even more incredible, read what the esteemed Library Journal Review (!!!) says about it:
"Blue, Violet. The Adventurous Couple's Guide to Sex Toys.
Sex toys have been associated with masturbation and alternative sexual lifestyles-i.e., gay, lesbian, or otherwise gender-kinky. This how-to presents toys as safe and fun options for heterosexual couples. Blue, author of numerous excellent sex guides from Cleis Press, concisely covers all the usual suspects: vibrators, dildos, plugs, 'toys for boys,' BDSM (bondage & discipline/sadomasochism) gear, how to talk about toys with your partner, and how to use them. What's new: sex machines, online sex for two, exotic and luxury toys (some mind-bending notions here), and 'sex furniture.' It's a short book, but she surveys the wide variety of products very well, with ample safe-sex and safety reminders. Small black-and-white drawings show toys only, perhaps an advantage for many libraries, although more numerous and colorful drawings of the toys, and the toys in use, could be quite attractive and helpful. A competent resource section gives where-to-buy web addresses, other web sites of interest, and books. Recommended for public libraries."
Also just for couples: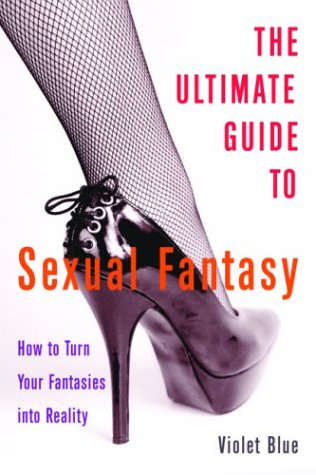 The Ultimate Guide to Sexual Fantasy is a book that I'm extremely proud of. Sexual fantasy is an essential tool for hot sex, and here I explain how to use fantasies to help you achieve orgasm, how to use fantasies in partner sex, how to role-play, asking for a spanking (or anything else you want to ask for sexually), what to do in dominant or submissive sex roles, how to talk dirty, strip and give a lapdance, and what to do with someone who's tied up; I suggest oodles of sexual fantasies and tell you how to make them come true… like my Sweet Life: Erotic Fantasies for Couples, but "hands on". Note the huge chapter on threesomes, multiple partner sex and voyeurism, and another whole chapter devoted to sexual fetishes.
Great how-to sex articles for couples, check 'em out:
Read Teledildonics Now. Cybersex, virtual reality suits, and sci-fi dreams about sex with a computer interface seemed like they were just within reach during the dot-com boom. What happened? I dug deep into sex and technology to find more than a few skeletons in the virtual closet. Teledidonics has come a long way, baby — from failed VR suits to sex toys that might electrocute you — to emerge into a bright new future of toys and computer-controlled sex machines that might really work.
Public Sex details how to safely have sex in public.
Get the basics on making fantasy reality in Fuck Me With the Handcuffs On, Please.
I get a lot of questions about using flavored lubricants — about their taste, how they are on genital health, and creative ways to use them. I responded with this article exploring the joys and pitfalls of edible sex toys, Flavored Lubes and Other Tasty Sex Treats.
In Fetish Sex, I go beyond the stereotypes to explore fetish and fetish fashion, answering many questions about who and why, and give solid advice on what to do (and how to make sex hot) when you or your lover has a fetish.
In The Art of Dirty Talk, learn all about getting started with saying naughty things to your lover — and much more. This article tells you how to move past those first nervous moments, how to come up with things to say (without sounding like a porn bimbo), and ways you can use hot talk as a sex toy.
Want tips and tricks to make a bachelorette party fun, for real? I get so nauseated by the lame prepackaged bachelorette BS that novelty companies try to sell — so much that I came up with my own Bachelorette Party Guide.
Sometimes there's a fantasy — an idea, sex act like anal sex, or urge to try something new public sex — that we just have to share. In Introducing New Sexual Fantasies to a Lover, learn how to bring it up and get started down the road to making your fantasy a reality.
The idea is to make the man into the machine — a living vibrator — but do these rings really work? I put a test boy through scrupulous ordeals and found out which ones work like a charm in Vibrating Cock Rings.
When you travel with sex toys, or are lesbian, gay or trans, ill-advised and insensitive airport security staff can make a sexy vacation into an airport nightmare. In Travel Advisory read how to keep travel as safe as possible, and what to do if you think you might be "singled out" by security staff.
Can you use a double dildo with a guy, or are they just for porn stars to make fake lesbian videos with? Find out in A Girl, A Boy, and Their Double Dildos.
A while back a reader wrote me and asked which lubes are best for people whose genitals are sensitive to harsh chemicals — and whose aren't? I responded with A Slippery Situation: Lubes, all about the most natural lubes you can buy, and how they rate in my in-the-field-tests.
I keep putting together the kind of erotica collections for couples I've always wanted to read for myself — you might like them too:

Sweet Life: Erotic Fantasies for Couples is the explicit anthology that I always wanted to read myself. My goal was to create a world of sexy, lusty, in-love couples who wanted to try out their fantasies together, realistically told, from authors whose skill at storytelling could really take you there. So Sweet Life was created — and it sold out of its first print run in less than three months! "Sweet Life is the perfect title for this very sweet collection of erotic stories, all about couples trying out fantasies for the first time. First spankings and first sex parties, first three-ways and first strap-ons, all make their way into this charming anthology, along with many other ventures into new sexual territory. Not just fun smut (although it's certainly that), it's excellent inspiration for your own fantasy explorations."
—Blowfish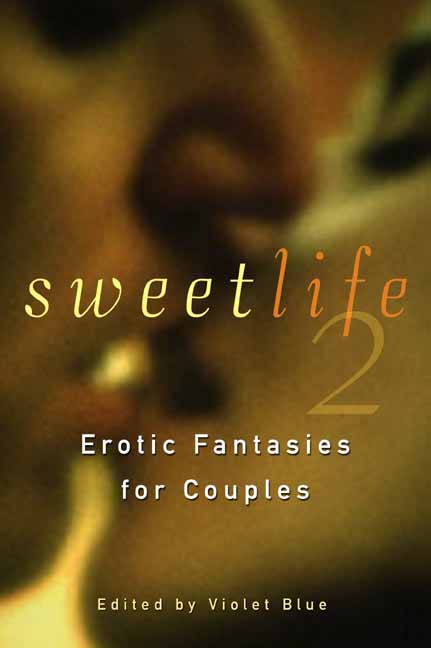 Sweet Life 2 is the perfect continuation of the original. There are threesomes of every kind, edgy public sex encounters, instances where a wife wears the pants in every way, women who become naughty girls for their "daddy," and much more. The stories are really love stories, and it crystallizes in moments when they add a third partner, such as a high-class call girl, or the cute video store clerk. Some of the stories go into some taboo realms, including dominance and submission, like when a woman becomes her boyfriend's puppy, or when a man is overwhelmed by three "schoolgirls" and forced to perform a forbidden sex act. I loved putting this very explicit and very charming collection together.
Taboo: Forbidden Fantasies for Couples takes literary erotica as far as it will dare to go — intense, edgy fantasies for couples. And following the tradition of Sweet Life, the stories feature couples trying out their number-one, dirtiest fantasies for the very first time. "Taboo: Forbidden Fantasies for Couples is a truly spellbinding collection. The twenty-two stories skate skillfully along the borders of our darkest desires and always offer the promise that the fantasy could become a reality." Read the outstanding review at The Erotica Reader's and Writer's Association!