This edition of Kink Your Kindle features some absolute showstoppers in the world of new erotic fiction — and the fiction genre, period. I'm not sure what changed in the past few months, but something certainly has in the world of erotica. The newest crop of hot, lit smut is deep, and I highly recommend each and every one of them. Best of all, most of these are indies, and self-published works, so we're supporting the writers directly! YAY!
With the exception of any nonfiction titles, every selection in this post contains explicit sex, ranging from romantic trysts with hardcore sex to character-driven, thoughtful – but very nasty – porn. Expect unusual and rich stories, characters with complexity, riveting realistic sex, and skilled storytelling.
Searching for erotic Kindle books is a nightmare of poorly written (auto generated? plagiarized?) free books, most exploiting dated (and often offensive) stereotypes that are a turn-off. But they all rank high on Amazon's search, page after page – making it impossible to find quality erotic titles. I hope that Kink Your Kindle helps to hack a path through the rip-offs and Kindle spammers, and that through this you discover new authors you grow to love.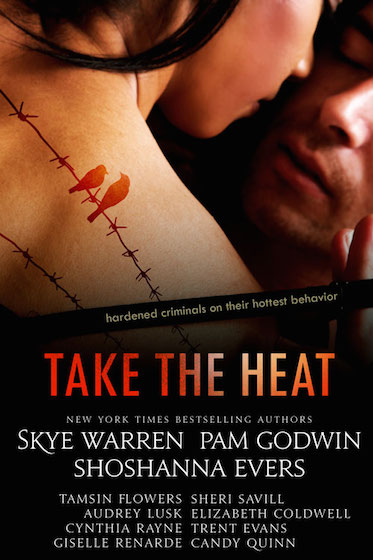 Take the Heat: A Criminal Romance Anthology ($3.99) multiple authors, including favorites Giselle Renarde, Tamsin Flowers (@GiselleRenarde, @TamsinFlowers)
"Crack. That would be the one word to describe this awesome anthology. I could not put it down. Not for deadlines of my own, bedtimes if I had better sense or any other reason. I crawled back to my e-reader on breaks and hugged it during morning coffee. Each story is different but holds the same sweet edge of sex and danger that always keeps me coming back for more. Hot!!! 5/5 for sheer panty soaking heat. I loved it!!" (Amazon review)
Haunted ($1.99) by Sommer Marsden (@sommer_marsden)
"Hang on folks, you're going on a wild and scary ride with some romantic delight tossed in here and there to us anchored. The characters were well done. The story line unfolded in vivid detail. The author's words created such imagery that I could see the haunted amusement park: the defunct rides, dilapidated buildings, even the faded clowns. Not only see but hear the screeching roller coaster grind on the tracks with sparks flying, hear the shrill screams and the laughter of long ago. No spoilers but there are a lot of memorable scenes you don't want to miss. This is a must read that will keep the romance lovers and the paranormal lovers content." (Amazon review) See also: The Accidental Cougar ($2.99)
The Eyes of Bast ($3.50) by Lisabet Sarai
"When instinct tells Shaina to visit the feral cat trap she's set in Central Park, she listens to that inner voice. She discovers she's caged a magnificent black tom, but the cat inexplicably vanishes after she tends to his wounds. Seeking the errant feline, Shaina encounters instead a handsome stranger whose slightest touch sets her body on fire. As the day dawns after a night of ferocious passion, her mysterious lover is forced back into his true shape – the tomcat she rescued. Born a cat, Tom was transformed into an unwilling shape shifter by a sorceress who craved a human plaything to satisfy her perverse lusts. Centuries old and irresistibly powerful, Delphine Montserrat will stop at nothing to find her runaway familiar. Shaina vows to do whatever is necessary to defeat the vicious but seductive witch and save the man she believes is her soulmate." See also: The Witches of Gloucester ($2.99)
The Incubus and the Angel: Magic University Book Three ($6.99) by Cecilia Tan (@ceciliatan)
"The Incubus and the Angel is an entertaining read that has a similar magical world structure as the Harry Potter books, though these tales of magic definitely aren't for children. Kyle is a strong hero but with a touch of femininity which helps him relate to Lindy in ways an alpha male type couldn't. He's been hurt emotionally, but willing to keep searching for his soul mate." (You Gotta Read Reviews)
Hot for Her: Dirty Boys Get Everything They Lust For: Four Adult Short Sex Stories ($2.99) by Lana Fox, J.T. Louder, Angela Tavares (@foxlana, @jtlouder, @herebookybooky)
Women writing porn from the male point of view… is it hot? Hell yes! "From a taxi-cab customer with lusciously bounceable breasts to a college coach whose wife knows the meaning of share time, the women in HOT FOR HER know how to take their pleasure, and the men who crave them can't get enough. Taking the male point of view, these four pleasure-focused stories build quickly and erupt with force. Everyone's having the orgasms they've dreamed of, in settings far away from home."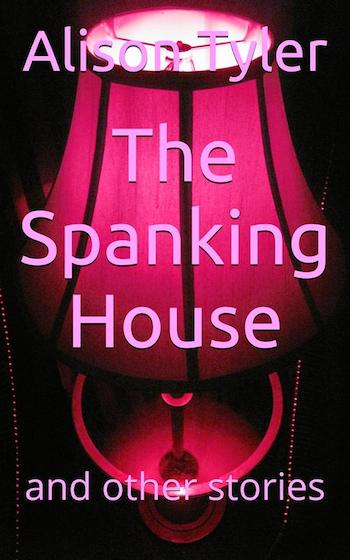 The Spanking House: And other stories ($3.89) by Alison Tyler (@AlisonTyler)
Eight exquisite short stories about spanking – and the thrilling erotic friction that leads to the moment of contact – make Tyler's newest collection of her favorite filthy pastime a must-read. Highly recommended. "In the backseat of a shiny black limo and over the end of a classic cherry-colored convertible. I've been punished while bent over a motorcycle. Smacked with a wooden ruler while duct-taped to a desk. But over-the-knee is my favorite position, my favorite place to be."
Spyder's Trouble (A BDSM Space Opera) ($5.99) by Korin I. Dushayl (@eroticawriter)
"As the shadow of a repressive piety movement spreads across the system's free worlds, the Lady Cassandra and her slaves must flee home. The Dominatrix persuades her loyal clients to smuggle her out of the city where she lives. When he rushes to her aid, Spyder's troubles follow him. Pursued both by the law and the lawless, Spyder and his navigator exploit every evasive maneuver and smuggler's trick they know…"
The Companion Contract ($3.99) by Solace Ames (@solacewrites)
"The Companion Contract is such a gem — while Amy may (sometimes) enjoy playing the submissive, there's never a question that she's a capable and strong woman, in total control of her life. Watching her act as a friend to Miles, as he grapples with addiction and rebuilding his life, is just as satisfying as seeing her fall for Emanuel. And brava to Solace Ames for writing Xiomara, a spirited heroine who deserves her own story. As a trans woman of color, Xiomara isn't the kind of character readers see all that often in romance, and Ames brings her to life with both vibrancy and humanity. More, please." (RT February 2015 Seal of Excellence)
Indecent Desires ($2.99) by Sophia Valenti (@sophiavalenti)
"Angela has always admired her neighbor, Nate, but her interest is piqued even more when she spies him delivering an over-the-knee spanking to a pretty lady. Her curiosity doesn't go unnoticed, however, and the following day, Nate invites her over for a better look–and some well-deserved punishment of her own. She soon realizes the price of peeping on your neighbor, especially when he's a Dom."
Silent Shadows Come: Erotic Tales of Ninjas ($3.99) edited by Jennifer Levine (@jlevine3), multiple authors
"We know that ninjas were historically spies, assassins, and saboteurs, trained to blend in using disguises and stealth, but beyond that… well, it's up to our imaginations to decide (…) In one story, Nina Parker shows us the cunning mind of the shinobi in "A Job To Be Done." A ninja knows that a single problem may have many solutions and that some obstacles can be overcome in ways that are… well, mutually beneficial. But what if a ninja underestimates just how distracting that solution may be?"
Cream: An Erotic Romance ($2.99) by Lana Fox (@foxlana)
"Sultry jazz singer Caroline Spence has a penchant for smokier numbers—and, as it turns out, men of a similar temperament. So when the darkly dominant Marcus takes her on as his submissive, she surprises him by sharing his love of double cream, both in a bowl and on her body, as well as a passion for kink that could lose him his job. Still, it turns out Marcus isn't the only one who wants Caroline. Two men. One siren. And a challenge that changes her life."
Lips Like Ice ($6.99) by Peggy Barnett (@scifrey)
"Lips Like Ice is the best kind of erotica. Barnett's world is creative and alive while at the same time being fantastical and bizarre, her characters feel hyper-realm and the sex is hot! But at the same time, the book is also the best kind of fantasy, working as a masterful allegory for the gender challenges that face men, women, and beyond in our own culture. Barnett pens a roadmap to the mistakes real people so often make, and creates a sympathetic story of error and correction; of frustration and kindness. And the sex is HOT! This is a must-read for fans of genre-bending fantasy; steamy, envelope-pushing erotica; and as a dude, I feel like every guy should read it for a greater understanding of the forces we're subjected to, and the mistakes we can avoid through greater understanding." (Amazon review)
Paperback only, but too good to leave out: Dog Men ($15) by Alana Noel Voth (@alananoel)
"The action here is deep and meaningful — characters make difficult choices, and endure the consequences. Not many writers would have you feel genuine, wrenching pity for the plight of a brain-eating zombie, or the most beautiful man in the world (…) The stories are sex-soaked — hustlers, porn shops, trysts that are messy and hot and explicit. People risk everything for sex ("love was holy") — their reputations, their bodies, their lives. And the sex is not straightforward. This is as about as far from vanilla as I can imagine. Sex with an edge. Failed sex, masochistic sex, salty, painful, difficult and real." (Trigger Warnings, The Lit Pub)
NEW FROM ME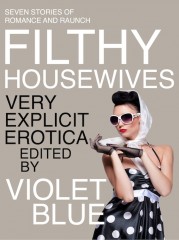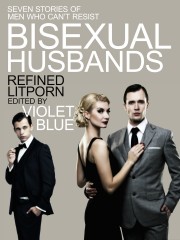 "What you need to know about Filthy Housewives is that it offers literary pornography at its finest. What's masterful about this collection is the sheer erotic creativity it displays. Every single story might start off sounding like something you've read someplace, some time, but no—Filthy Housewives offers seven arousing, inventive sexual fantasies, and each one will provide you with at least one moment, one image or scent, that will stay with you long after you've finished reading." (Amazon review)

"Anyone thinking Mad Men? I know I am. And yet, when you open Bisexual Husbands, and begin your journey, it's nothing like anything you've ever read before. Between the covers are seven hot and kinky tales of husbands gone wild – pushed and prodded into it by their wild and kinky wives. Before they realize what's going on, they're caught up in something they never knew they wanted. In between stories, cleanse your palette with bits and bites from Violet herself – tips on how to kink up your bar, or the proper way to lube up. All tips feel like they should be published in Good Housekeeping, but it keeps with the feel of the collection. Old fashioned on the outside, but thoroughly modern and shiny new on the inside." (Amazon review)
Previous Kink Your Kindle book lists: