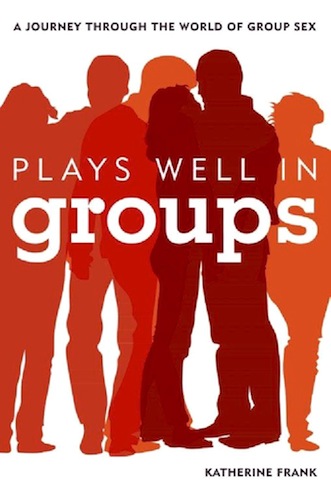 This Black Friday/Cyber Monday Kink Your Kindle post features a well-endowed selection of high quality dirty ebooks, new sex nonfiction, and enough literate smut by hot writers to distract you (in the best way) from holiday shopping stresses.
With the exception of the nonfiction titles, every selection in this post contains explicit sex, ranging from romantic trysts with hardcore sex to character-driven, thoughtful – but very nasty – porn. Expect unusual and rich stories, characters with complexity, riveting realistic sex, and skilled storytelling.
NONFICTION
Plays Well in Groups: A Journey Through the World of Group Sex ($18.35) by Katherine Frank
"From tribal religious rituals to the Playboy mansion, and from ancient Rome to Burning Man, Plays Well in Groups explores the phenomenon of group sex. Author Katherine Frank draws on surveys, ethnographic research, participant interviews, and more to provide explanations for both participation in group sex and our complex reactions to it, from fascination to fear."
Sex and the Citadel ($11.99) by Shereen El Feki
"Journalist El Feki, with familial roots deep in Egypt, delves into a sensitive, rarely addressed topic in this tour de force on Arab life. …From women meeting behind closed doors to discuss spousal disappointment and abuse to doctors all too familiar with surprising sexual practices, El Feki peels back every layer. Her research is wide-ranging and relentless."
The Adventurous Couple's Guide to Sex Toys ($9.99) by Violet Blue
"Which toy offers the turn on we're looking for? to Should it be made of silicone or jelly rubber? Multi-speed or multi-functional? These, and all sorts of other questions you might be too embarrassed to ask in a shop, are answered—and even the most experienced lovers will find Blue's advice invaluable." —Tamsin's Superotica
FICTION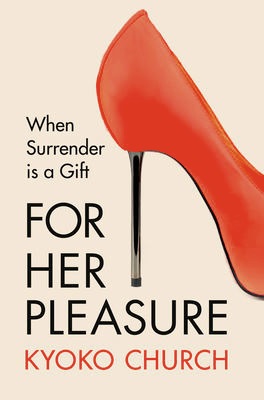 Here's a grab bag of indie erotic publisher Mischief's hotter titles; some of the authors I've published in Best Women's Erotica:
REVIEWED FICTION
Taking Over Me ($9.79) by Sara Brookes
"Allison may be a geek, a technology buff who loves her video games and comic books, but she's still one cool chick. My kind of girl, even if I don't pull all-nighters playing Halo (now, all-nighters with a good book – that's me). Unfortunately for Al – as her friends call her – she's just one of the guys. Her guy pals don't see her the way she wants to be seen: as a woman. That all changes when Allison rescues the barista at her local coffeehouse when his register quits working."
The Big Book of Orgasms ($9.99) by Rachel Kramer Bussel
Rachel has put together a great compendium of short, lusty orgasms; 69 stories with a range of kinks, tastes and orientations. "This book certainly lives up to its title. …If you're looking for a light-hearted erotica romp anthology, this may be the collection for you." —Reading by Pub Light
Take Your Partner and The Intimate Stranger ($1.99 each, free with Amazon Prime) by LoveHoney
Earlier this year, LoveHoney ran an erotic story competition, and published the results in two collections. The winners are featured alongside stories by well-established authors – a few of which I've included in different editions of Best Women's Erotica – including Justine Elyot, Kay Jaybee and Lily Harlem.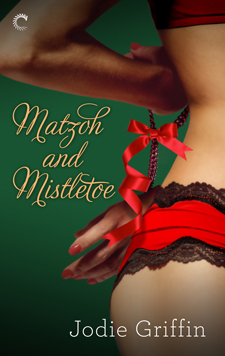 Matzoh and Mistletoe ($2.51) by Jodie Griffin
"Every December twenty-fifth, Rebeccah Rickman volunteers through her synagogue so that others can celebrate Christmas. Her usual mitzvah, or good deed, is assisting police officer Jeremy Kohler. But this year is different: this year, Becca is free to act on the attraction that has long simmered between her and the sexy, dominant cop." (Read a mini-review here.)
Breeder ($6.15) by Cara Bristol
"Dak is an alpha man in a world where women are a commodity. They are breeders only and used for sexual gratification, no attachments allowed. Yet when Dak gets a breeder named Omra he is taken aback and begins to feel things he should not. This author has built a world with characters that grab your attention and pull you right in from the start, making this not only a hot read but one full of depth and romance."
Room 2201: A Femdom Story of Bisexual Male Anal Submission ($2.99, free with Amazon Prime) by N.T. Morley
"Caroline has decided her slave, Marshall, needs to learn more about submission than she can teach him alone. By her decree, he must serve dick as well as pussy. Booking a hotel suite, she introduces her plaything to a handsome and dominant Italian man named Armand. The heterosexual Marshall is reluctant to experience cock for the first time…but he can't say "no" to his Mistress. Eager to please her, he has no choice but to surrender to Armand… "
Banging Rebecca ($2.99) by Alison Tyler
"Banging Rebecca is a dirty rock and roll story about a girl, a band, and a wicked desire. The 6K-word novella is filled with the type of kink that Alison Tyler fans love best: bondage, spanking, exhibitionism, and hardcore sex." Read a steamy excerpt here.
King of Bitcoin ($3.99) by Kayleen Knight
"LOL! I know so many people like Atlas its unreal. The sex scenes in this book are just ridiculous and I was crying my eyes out in laughter. If you know anything about bitcoins you'll LOVE THIS BOOK!" –Amazon review
Best Women's Erotica 2014 ($10.89) Edited by Violet Blue
"Best Women's Erotica 2014 delivers risky, romantic, and heart-pounding thrills. Joyful, daring, and authentic, these steamy stories revel in erotic adventure, from the sparks between strangers to the knowing caresses of long-time lovers. These stories are not merely erotic, but filled with strong characters and clever narratives showing how sexual experience is different for everyone. This anthology is a a glorious celebration of the finest and friskiest female erotic fiction today."
PRE-ORDER THIS HOT FICTION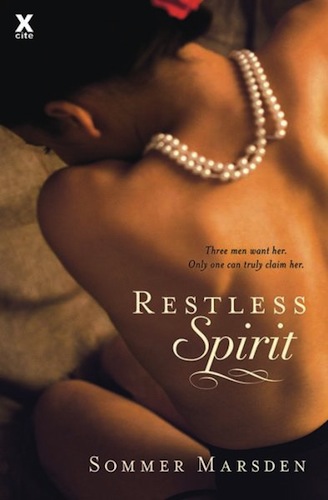 Restless Spirit ($3.03, December 4) by Sommer Marsden
"Three men want her, only one can truly claim her." From a pre-review: "One of the best adult/erotica books I have ever read. The characters are real and believable, the sex scenes are absolutely scorching hot." (Marsden is one of my favorite erotic authors; right now her husband is beating cancer, and you can join the erotic writing community in helping her out here.)
Want more books to choose from? Find more in some of my previous Kink Your Kindle lists: