Online porn powerhouse and BDSM trailblazers Kink.com have just announced a scriptwriting contest with a pirate booty prize to the tune of $2000 USD (£1257.54 GBP). Kink will make the script into a Featured Kink Shoot, a private tour of the Armory (travel to SF not included), screen credit, an autographed photo from the shoot, and a year's subscription to any Kink website the winner chooses.
Terms of the submission process require that writers surrender rights to their story ideas, so it's a thing you'll only want to do if you don't want to own the work after you send it in. However, Kink is planning on selecting runners-up – as many as they get that they think are great ideas – and the runners-up will see their story made into a shoot, receive script credit, and a year's subscription to the Kink site of their choice.
So if you just want to see your sexual scenario fetish fantasy made to Kink standards, that's kind of cool. I mean, I could comment about Terms that take ownership of writers' work (I have had to make decisions about owning my work versus letting it go in order to achieve a specific goal). And I could snark about contests – or "hackathons" – run by large companies that are little more than Mechanical Turkathons. But then I think about all the times I've oh so badly wished to see a certain sex scenario made with good quality production standards and hot actors… So I gotta hope Kink gets a lot of good stuff, because… that.
How To Enter Kink's Scriptwriting Contest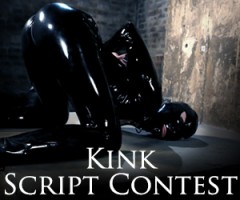 Read and review the official rules for this contest here
Download and fill out this form and release
Send an email to scriptcontest at kink dot com that includes the filled out entry form, your script in .doc or .pdf format, and a summary of your script in the body of the e-mail that is no longer than 300 words.
Script must be able to be shot within the studios at the Armory in San Francisco
Script must be original and not contain characters copyrighted by other entities (e.g. no Star Trek BDSM scripts)
All scripts must be received no later than 11/30/2012
Scripts will be judged by a panel of Kink directors; winners will be announced Januray 15th, 2013