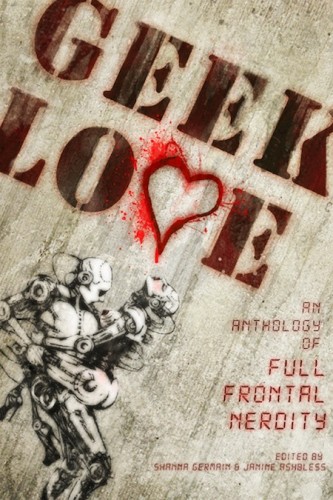 Squee!
I got an email alerting me to Geek Love: An Anthology of Full Frontal Nerdity from the fabulous Shanna Germain – and I'm delighted to see it's also being put together by one of my all-time favorite erotic authors Janine Ashbless (seriously: Cruel Enchantment, love it). Here's what they're up to:
Geek Love. It's nerdy, wordy and a little bit dirty. It's 200 pages of geek-themed erotic stories, accompanied by full-color art and comics, all from some of the finest authors and artists in the industry.

Think of it as the comma sutra. As full-frontal nerdity at its finest. As the bestiary of geek sexuality, proving once and for all that there's nothing hotter than geeks in their natural habitats.

Electrifying play with Tesla? We've got it. Hot gamers tapping that? Check. Making passes at girls – and boys – with glasses? That's just the beginning. We've got sexy librarians, raid nights, geek boys in leather and lace, tentacles, sexbots, superheroes and high-tech toys galore.
Geek amour is an eternally worthy cause (and aspiration!), and I want to help spread the word on their call for funds. I think they should get extra props for having the most entertaining sexy-nerd-flavored Kickstarter categories. Like, $5 gets you Nerd Crush status, $20 gets you Chainmail Leia, and $150 gets you FILL MY KRACKEN. I'm so in.