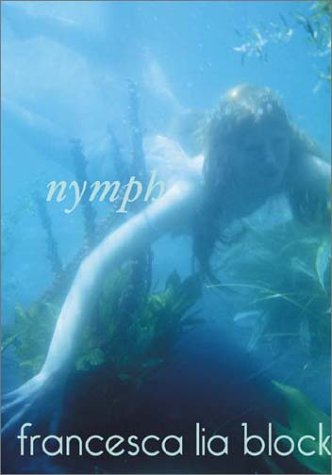 Boston indie publisher Circlet Press has been publishing erotic science fiction and fantasy since the early 1990s. One of my very favorite books they ever published was Nymph, a little hardbound collection of linked erotic stories by Francesca Lia Block.
Cooked up in a gumbo pot from equal parts ultra-hotness and ultra-gothness, Nymph is an amazingly sexy exploration of a Southern California fantasyland in which a scorchingly erotic love affair with a lost mermaid can be a Venice Beach surfer's 6 a.m. — before he even gets coffee. Packed with melancholy eroticism and urban loneliness, Nymph pirouettes across the sexual spectrum in unpredictable ways. It shows the full range of Block's "sensual, dream-like" approach to fiction, but in Nymph, it's soaked in explicitly romantic sexual description that can be as beautifully heartbreaking as it is erotic.
In case you're missing my point: Nymph is one of my favorite erotic books ever. And it just came out in a new ebook edition, available at the Circlet Books website for just $4.99, in PDF, mobi and epub formats. Here's how Circlet describes this brilliant collection:
As in her other works, Block weaves together themes of subtle magic, youthful hopes, modern urban decay, and deep emotion, told with lyrical storybook language.The stories in NYMPH bear all the hallmarks of classic Francesca Lia Block — punk-spirited characters who celebrate love, life, and art–with one important difference: this time the author carries her vision through the full range of emotion and erotic interaction that her mature audience appreciates.

An interconnected series of stories, NYMPH is a special journey through the lives and loves of characters like Plum, a Crayon-haired girl who has a gift: if she makes love with a person, that person will then meet their true love, or Tom, a burned out surfer whose luck changes when he is rescued by a mysterious, wheelchair-bound woman, or Sylvie, a chronically depressed poet who finds beauty in unexpected places. Block's erotic explorations of these smoky, kaleidoscopic fables are anything but conventional; these are stories of love, loss, and life, about the healing power of sex and bonding.

[Link.]
When it came out a decade or so ago, this book raised more than a few eyebrows. That's because Block is primarily known as the creator of the Weetzie Bat books, a six-book series for young adults.
Weetzie Bat is every bit as interesting as Nymph, and far more important in the history of sexuality, for completely different reasons. Despite its young adult audience, the Weetzie Bat series shamelessly portrayed sexual orientation, attraction and choice as mutable across a range of options. Its main character chooses to be a single mother, and invites her two gay best friends into a Beatles-fueled threesome so that the child will belong to all of them. With its celebratory pro-queer view, the Weetzie Bat series radicalized the sexual politics of adults writing young adult fiction, without including a single explicit sex scene or the faintest whisper of exploitation. Wrapped up in magic and sexuality and set in the dreamland known as "Shangri-L.A.," the series revolutionized queer representation in young adult fiction, portraying a wonderfully wholesome exploration of alternative lifestyles, chosen families, and even true love.
Plus, it's just a damned lot of fun to read. Unfortunately, Block's prominence within young adult fiction meant that booksellers and libraries didn't know what to do with Nymph, and in my opinion it's never gotten the recognition it deserves. When it comes to urban erotic fantasy, Block's Nymph is sui generis and, more importantly, mind-bendingly sexy.
It may be short, but it's lingered longer in my consciousness than many a one-night stand. Like so many of Block's erotic love affairs, the book's brevity only makes that last kiss sweeter and saltier as you turn the final page. Because every kiss in this beautiful book is laced with Venice Beach salt spray…and tears.