FROM THE EDITOR: Erotica author Alison Tyler and I are launching the Fast and Easy Book Club! Alison will post 2-3 new book club picks every two weeks. One Club selection is chosen for discussion each month. To win a copy of May's selection Beauty's Punishment, be one of the first five people to comment on this post and ask for the book. Now, please welcome Alison Tyler to TinyNibbles! –Violet
The Fast and Easy Book Club:
Beauty's Punishment (May selection), Surrender: Erotic Tales of Female Pleasure and Submission, Coupling: Filthy Erotica for Couples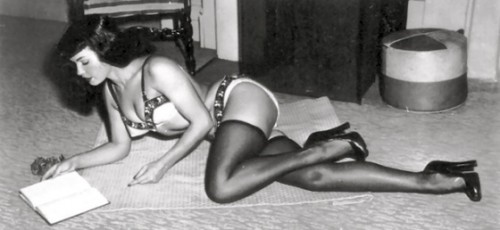 The last book club I joined was actually a drinking club. I just didn't know it. The hollow-legged women in the club put back the Kettle One Martinis as they eviscerated each other's selections. I can't recall a single meeting in which anyone agreed. At some point, Sam pointed out to me—I think I was kissing the cool tiled floor in our bathroom at the time—that I didn't have to try to keep up with the ladies alcohol-wise or snark wise. I was allowed to like the books I liked no matter what any drunk said.
But now I can do more than like books—Violet Blue has given me the authority to help select the titles for her "Fast and Easy Book Club." And we're starting off with a bang. Actually, we're starting off with three bangs: Beauty's Punishment by Anne Rice writing as A. N. Roquelaure, Surrender edited by Rachel Kramer Bussel, and Coupling edited by Sommer Marsden.
*****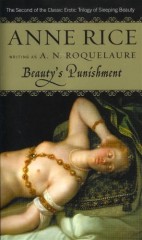 I have something to confess about our main selection. Beauty's Punishment is one of my all-time favorite erotic titles. My own personal copy is two decades old. The pages are beyond dog-eared. In fact, I can easily open to the selections I like best. The book practically opens itself like any submissive book should. (I know all the wonders of Kindles and handheld reading devices, but I do love that a book will part its leaves for me.)
Beauty's Punishment is the second in the Sleeping Beauty trilogy—in between The Claiming of Sleeping Beauty and Beauty's Release. In this story, Beauty has been sent down from the palace to the village, where she is forced to work at the local tavern. You could really insert any plot notes here, because in my opinion all that's important is that Beauty and her friends are constantly and creatively punished. Anne Rice entertained herself by switching voices in the book—sometimes you are watching Beauty, sometimes you are in Tristan's head—but none of that truly matters. You can open to nearly any page in the book and be instantly aroused. At least, if you are me.
He debated with himself: Should he stop this illicit intimacy? It would be simple enough to pull Beauty out of the group and spread her legs as he bent her over the railing of the cart, spanking with his belt her plump disobedient little sex for its impudence. Maybe Tristan and Beauty, both, should be set down on the road and whipped behind the cart to teach them a good lesson.

But in truth the Commander felt just a little bit sorry for the condemned slaves, spoilt as they were, even the willful Beauty and Tristan. By noon they would all have been sold from the block, and during the long summer months of village service they would learn plenty.

The Commander rode alongside the cart now, catching another succulent little Princess with his belt, punishing the rosy pubic lips that peeped through a nest of glossy black curls, and he plied the strap all the harder when a long limbed Prince sought gallantly to shield her.
I've always loved this sort of situation—one sub trying to take the pain for another. Anne Rice is a black-belt at describing erotic encounters, constantly one-upping her own wickedly sexy adventures.
*****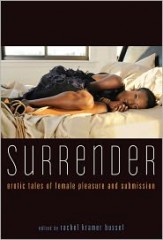 Surrender: Erotic Tales of Female Pleasure and Submission, is a vibrant new "best of" selection by editor Rachel Kramer Bussel. Writers including Donna George Storey, Teresa Noelle Roberts, Shanna Germain, Thomas S. Roche, Emerald, and more, brought their tales of sub females to the page. The stories of Surrender explore the lives of women who crave the ultimate release of being blindfolded, bound, and used for a lover's pleasure.
Teresa Noelle Roberts is one who knows exactly what erotica readers love. Her story, Daddy's Girl, hits all the right notes:
Daddy strides into the living room, between me and the TV, and switches off the "Buffy" rerun I'm half-heartedly watching.

Then he holds up a pack of cigarettes and a romance novel. "I found these in your room, Cherise. What do you have to say for yourself?"

Heart pounding like a techno track, palms wet and mouth dry, I plaster on a brassy, totally fake smile. "You always tell me I should read more?"

I squeak at the end.

Damn it. He's caught me by surprise, and it's making me nervous.

"Smut isn't what I had in mind."
As editor, Rachel Kramer Bussel explains, "With Daddy's Girl, Teresa Noelle Roberts takes the topic of Daddy/girl play and turns it into a kinky role-playing tale that stays hot throughout while also explaining the Daddy dynamic."
Dr. Gloria Brame says, "This literate and beautifully edited collection of femsub fiction delivers the mesmerizing mental foreplay that erotica readers love."
*****
Coupling: Filthy Erotica for Couples is the latest collection edited by the passionately prolific Sommer Marsden. Featuring stories by erotic luminaries such as Craig J. Sorensen, Jeremy Edwards, (and me!), as well as the editor herself, Coupling is the ideal title to share with a partner—old or new. This baker's dozen of erotic stories highlight role playing, power playing, fantasy, and more. What a perfect under-the- covers Kindle collection!
In my story, Blackout, a Dom woman experiences submission for the first time:
We'd used handcuffs before, of course. But when I say we, I mean me. I'd cuffed Jay to the bed and taunted him with my mouth, not bringing him to climax until I was good and ready. He's right when he says that I like control. I do. I like everything to work according to plan. My plan. When things go astray, I get jumpy, restless. Maybe that's why Jay was also binding my ankles. He'd spread my legs wide apart, and used silken scarves to tie them to the bottoms both of our love seats. Hell, he was serious about this.

But I was okay with the situation. At least, I was at first. What was he going to do? Tie me up and fuck me? That didn't sound bad at all. In fact, I was just beginning to enjoy myself when he surprised me yet again, dangling a third scarf in front of my eyes. I knew what he was going to do with that, and I started to fight. Who knew a blindfold
could make me beg?
As Ms. Marsden says, "In the world of long-time commitment, the hotter the fire, the longer it burns." Coupling also features the talents of William Patrick Tandy, Alison Seay, Emilie Paris, and others.
*****
With these three erotic selections, we welcome you to the Fast and Easy Book Club. No vodka martinis required for this club, although you just might want a vibrator.
To win a copy of May's selection Beauty's Punishment be one of the first five people to comment below on this post and ask for the book. In your comment, let us know if you prefer Kindle or paper. You will be contacted via email (we will use the address you enter into the comment form) to have your book sent – please do not leave your address in the comments. Welcome to the Club! Start reading! We'll be asking questions and discussing Beauty's Punishment in two weeks' time.