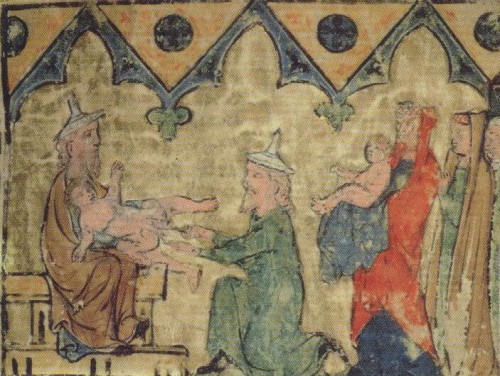 From guerrilla gay marriages on the steps of City Hall to being the first city to ban plastic shopping bags and happy meals, my beloved San Francisco loves to push the envelope when it comes to progressive ordinances (including, by the way, banning ordnance).
But not all San Franciscans are so cheery about living in the lower-48's leftmost city. In today's SF Weekly, Joe Eskenazi rails against the attempt to gather signatures for an initiative banning infant circumcisions in San Francisco. This is all, of course, fantastically premature, since the initiative requires 7,000 signatures and nobody knows how many it has so far. But that hasn't stopped Eskenazi from making fun of it.
The effort to put the circumcision ban on the November, 2011 ballot in San Francisco is the brainchild of a man named Lloyd Schofeld, who feels circumcision is medically unnecessary, cruel, and traumatizing to young male-bodied persons. The campaign  recently got some national press, though far less than it got when it first broke nationally last November.
Eskenazi's article is entitled "S.F. Circumcision Ban Is a Bad Idea But It Could Still Become Law," and it's sufficiently dismissive of the arguments against circumcision that it doesn't even discuss them. The only thing Eskenazi is interested in, at least in this article, is whether the law potentially abridges individual rights under the Constitution:
"Would it be constitutional? Almost certainly," says Ashutosh Bhagwat of UC Hastings. Adds Jesse Choper of UC Berkeley's Boalt Hall School of Law, "Under the federal Constitution, unless you could show that the purpose of this was to disadvantage Jews generally, and since it's a neutral law and applies to everyone, it's not a violation of the free exercise clause."
Occasionally, foreskin-phobes invent cultural or faux-medical reasons for circumcision that aren't related to religion. But if this measure acquires the necessary signatures, makes it to the ballot, and passes, then it will sure as hell get tied up in the courts, and religious circumcision will be the defining legal issue. Bhagwat's and Choper's quotes above are just two legal opinions, from two law professors, and they're newspaper quotes, not formal legal opinions.
If the law passes and is challenged all the way to the Supremes, there are going to be a hell of a lot more than two lawyers weighing in. In fact, maybe one of them could even be the law professor Eskenazi himself quoted in the Weekly in November,  giving exactly the opposite opinion, which Eskenazi now re-quotes in today's article. In the November piece, Eskenazi quotes a part of the measure's text:
No account shall be taken of the effect on the person on whom the operation is to be performed of any belief on the part of that or any other person that the operation is required as a matter of custom or ritual.
I'm just a caveman, but it looks to me like that kinda spells out that the proposal is intentionally designed to abridge religious freedom, which looks like a first-amendment problem no matter what you think of circumcision from a medical or humanist standpoint. So that's the text. But when it comes to sexuality, especially the sexuality of young people, there's always a subtext. What's the subtext here?
The answer, of course, is contained in Eskenazi's underlying tone of ridicule toward the very debate. It's a little hard to take Eskenazi seriously — and a little hard not to take it personally — when he says stuff like:
This means the ban's proponents would have to argue a compelling "state interest" to outlaw circumcision, an ancient practice exacted upon the penises of an estimated 79 percent of American men — many of whom, we're told, live productive lives.
Hell, yes, circumcized men live productive lives. So do the Lost Boys of Sudan. Does that mean the government can legally slaughter my family and make me walk to Las Vegas barefoot? Do those two things have anything to do with each other? Yeah, about as much as whether men who are circumcised "live productive lives" and whether it was right, wrong, or a matter of perspective to have circumcised them in the first place. They are irrelevant to each other.
What the hell does it matter if (presumably) Eskenazi and (presumably) most of his biologically male friends managed to make it to adulthood as princes among men "even though" they were circumcised? Why does that engender the ridicule of someone objecting to the procedure as a procedure? Is Eskenazi terrified that someone will hand him his foreskin back?
Don't worry, Joe, your foreskin and mine were long ago sold to some shady Burroughsian flesh-lab where they've been grown into face cream, movie stars' lips, skin grafts for burn victims, and more, to the tune of a couple hundred grand between us — profits, of course, going to a mysterious investor (probably) not named Dr. Benway. If they handed mine back to me, I probably wouldn't recognize it.
Eskenazi's sarcasm strikes me as a pretty obvious dick-shaming technique. "Concerned about your genitals? Well, buddy. I think you're a little too concerned about your genitals, if you know what I mean."
It's dickphobia, like tagging an article about infant circumcision with a sarcastic 14-year-old Beavis & Butthead gross-out tag like "Foreskin McNugget."
You wanna have a gross-out contest, Joe? You haven't got the foggiest idea who you're messing with.
What's more embarrassing, having to talk about dicks — or being so terrified of talking about dicks that you can't stop giggling?