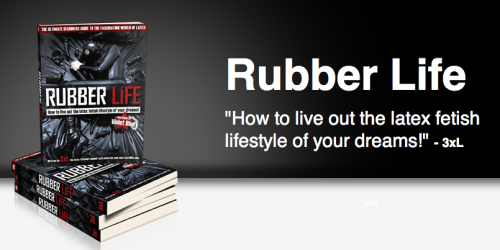 I had planned on doing a post to promote the new ebook Rubber Life the minute it came out because I was one of the people who got to read the book while it was in production – and then I had the honor of being asked to write the foreword. I did, and it was a very personal piece – an important piece of writing for me.
But besides that, I had planned on telling you what an invaluable resource it is for people interested in rubber and latex from the just-a-little to very much. It was hard to wait.
I wanted to tell you that it covers shopping, care, how to wear, and what to wear depending on what you like and want to get out of the experience. How Rubber Life explains the attraction to wearing rubber without judgment and with warm, happy welcoming encouragement. It gives solid advice on rubber hookups, dating, relationships and meeting people with similar interests. And that what really lit me up when I read it was that throughout, Rubber Life is a romance and a love story about one person who hid his kinky side until he was so sad and lonely he had no choice but to break through, and face scary risks and painful losses – but after he did, he came out the other side to connect with a dreamy woman and fall adorable in love. And it works.
* Here is the About Page – here are the Chapters
I'll still tell you all that about Rubber Life. But I've just been seriously impressed on a whole other level: as a writer and author who is deeper and better versed in the electronic book space than most contemporary publishers and other authors, I have to say that the website for Rubber Life is an utter masterpiece. I wanted to do a whole separate post on the site itself; it's really brilliantly mapped out. I want my books to have a site like that.
I'm am so impressed with this endeavor in so many ways, I'm just not going to hold back. Yes the book is pricey, but it is also totally self-published by a sex blogger who has been in the space with us lifers for many years (well worth supporting and the money goes to the author), and the quality of the finished book is outstanding. There is also a money-back guarantee. I think mainstream publishing could learn a lot from the model Rubber Life is using. The bar is set.
* On this page you can buy Rubber Life now, or check out samples from the ebook.
Rubber Life is the one book on latex and rubber to read. It goes on my permanent recommendation list.