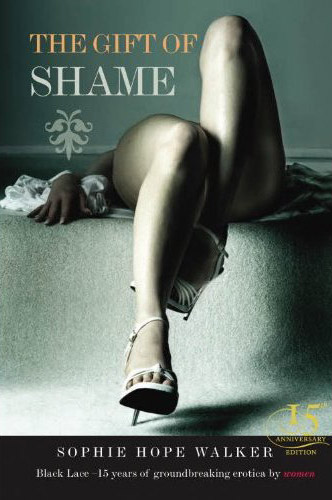 As much as I devour Jon Krakauer books and period noir, I'll confess that I love explicit erotic novels: I know that statement reeks of "Harlequin romance" but hear me out. There is something really engrossing and arousing about sinking into a book that makes your attention compete between an interesting story, and the powerful 'reveal' of explicit sex that's possible in long-form storytelling. I got hooked on this when I discovered the skillfully erotic, yet depraved, Black Lace novels. I also discovered a lot of female authors whose new work I publish in my own "best of" erotica collections.
These are real stories with great sex. Some will remind you of Anne Rice when she wrote as A. N. Roquelaure.
Anyway, I personally picked these in hopes of kinking your Kindle:
The Gift of Shame by Sarah Hope-Walker
"The Gift of Shame has a perfect blend of insatiable erotica, unconventional romance and smoldering BDSM. Helen had devoted six months of her life mourning her husband's death when Jeffrey comes along. No sooner does she get acquainted with the handsome stranger than he introduces her to dark, lurid games of domination and submission. And the exploits that occur in a London apartment and during a Parisian excapade lead to some staggering and erotic twists…"
A Private View by Crystalle Valentisn
"The heroine, Jemma, is gorgeous, sexy and free spirited. She makes the shift from runway modeling to posing for a world famous erotic photographer who brings her to the South of France to work with him. The setting is lush and exotic. The characters are well crafted, the dialog stimulating. And the sex, abundant and joyful, makes you want to be in her shoes!"
Unhallowed Rites by Martine Marquand
"This book has remained one of my favorites. I find it to be a great example of period erotica. Set in Spain, it explores the journey of a young woman who went from a luxurious pampered life to a cold sadistic, sexually deviant convent."
Menage by Emma Holly
"Kate Winthrop lives with two young men, Joe and Sean who are in a relationship. Kate comes home to find them having sex in her bedroom and when Sean teasingly invites her, she jumps at the chance and the three of them begin a relationship. I can't say that I've really sought out a book with homoerotica in it, this book changed my perspective and although I've since read other books with gay (male) scenes, none of them have been as sexy as the ones Holly wrote in Menage."
Dark Obsession by Fredrica Alleyn
""Dark Obsession" has several highly memorable set-pieces, and all are adorned with pitch-perfect examples of nasty, BDSM dialogue, helping to create a wonderful frisson of erotic submission. Our heroine Annabel is equally fetching as a relatively innocent ingenue and as a sophisticated lady getting into the swing of things. Races through many hot scenes to a gloriously developed climax, one of the longest and hottest such in print– one where every little development is blisteringly erotic."
Undercover Secrets by Zoe Le Verdier
Anna is a researcher working on an investigative current affairs programme. When her boss asks her to infiltrate a secret medical research laboratory, she does not realize the dangers she will face. "The erotic scenes in this book are sumptuous, they alone are worth five stars. Coupled with a brillant plot this book is worth any price."
A Rude Awakening by Pamela Kyle
"Stripped of their privileges and deprived of the luxury they are used to, they deal with their captivity in surprising and creative ways. For Alison, it is the catalyst to a whole new way of life."
The Hand of Amun by Juliet Hastings
"Don't think that this is a story of a poor little girl that finds out she was born to wealth and brings her parents to live happily ever after since Naunakthe get entagled in the scheming of her enemies and soon finds herself alone again having to use her wits and wiles just to keep alive. As in any great book of the genre the eroticism is totally a part of the story and integral to the development of the characters, the plot and the scene of ancient Egypt. It is so masterfully written that the reader feels he/she is there in the temple with the followers of Amun and one can practically smell the soft scented oils, balms and perfumes used during their exquisite rituals. Part of its success is the tight writing. Sex is the premise of the whole thing, so there's no characterization or dialogue irrelevent to our purpose."
The Transformation by Natasha Rostova
"The three novellas in this book are all contemporary versions of classic fairy tales, which makes for a great twist on traditional themes. The stories are all intertwined through the friendship of three women — Lydia, Molly, and Cassie — who are all experimenting with their sexuality. The best story is the first one, Lydia's Transformation, based on the tale of the Frog Prince and involving a sexually-confident woman and a cute but nerdy bookstore owner. I especially liked the friendship among all the women, and the pan-sexual nature of the stories — the writing is excellent, the characters interesting, and (as usual for N. Rostova), the sex is hot, varied, and satisfying."
VB note: The Kindle is down to $139 – you have no excuse not to dirty up Amazon's little moneymaker.