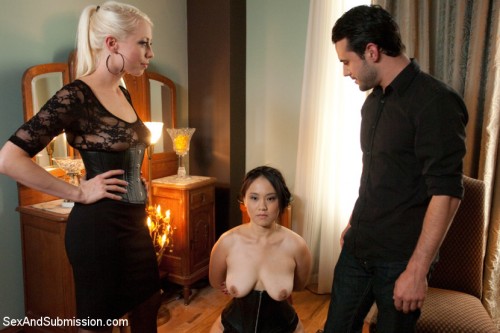 There's a hell of a conversation on Reddit: Sex right now over a request for advice from a woman who is in a boy-girl couple, and is faced with the all-too-common quandary of threesome and sexual fantasy fairness. He wants a girl-girl-boy threesome, and she's okay with that because she's bisexual. She wants a boy-boy-girl threesome, and he's not okay with it — at all.
Is this fair?
She asks,
as the title says: my boyfriend and I are down for having a threesome… but it has to be another girl. (which I'm bisexual so that's cool) but I also wanted to experience a threesome with another man. I feel that since it's ok for my boyfriend to fuck another chick, he should be ok for me to fuck another man. but it isn't. only one dick per fantasy.
He feels that since he is straight and isn't going to do anything sexual with another man, that it's ok to bar that experience and get very emotional when I mention attraction to another man while I'm sitting here while he flirts with another woman.
I feel that I am in the wrong here seeing as he is right that he isn't going to be fucking another girl without me being included. but I still feel a little gypped that he's allowed to show attraction to other women while I'm not allowed to show attraction to other men.
I was riveted to the responses. This is when advice from crowdsourcing about your relationship can be helpful and open you up to new ideas, and give you answers that can help you put together an answer that is right for you and your situation: I never think there can be a one-size-fits-all answer to relationship questions like this. Still, it's a common issue that begs for a solution. On the other hand, I don't recommend crowds for sex ed questions, when you need to know you're getting accurate sex information about STDs, STIs, birth control, physiology, response, etc.
It gets pretty heated. One guy says she needs to deal with it because as a guy, he explains, it's perfectly reasonable behavior because "biology makes guys this way." Others call bullshit on the biology excuse. Another says that while boundaries are boundaries, the guy is being unfair and immature. Some people just plain said it's unfair, and he's being a douchebag — albeit a very common flavor of douche. Others are saying outright that the couple is simply not sexually compatible, period.
I keep coming across this issue, more frequently of late, and it seems that fairness ends up in a horrible three-way collision between logic and feeling. Is there a way for this to work? What do you think?
Photo from this Sex and Submission gallery.