Today Apple launched their new music social network Ping (basically a clone of Last.fm), and in Apple's promotional image for the new feature, they very obviously removed a thread of Tweets from Lady Gaga's timeline where she clearly spoke out celebrating being pro-gay, about California's anti-gay marriage legislation, Prop 8.
Seriously.
Apple, we see you.
::pause for the scream of WTF on loop in my head thinking about my gay friends who work at Apple.
Those of us who live in the SF Bay Area know that when Lady Gaga was in town for her San Jose shows, she paid a visit to Apple Headquarters and got a tour. Everyone around here wondered why. This was likely when it was discussed, pre-launch, that they would use her for the Ping page example. She shot a video there for them, it was in the Apple keynote. So either she knew her messages of tolerance (which sell quite well, by the way) were going to be censored, or Apple did not tell her. I wonder which it was.
Here's the Daily Swarm with the story (thedailyswarm.com).
BUT — I screencapped her timeline just now so you can see what Apple removed. Apple's version for Ping launch: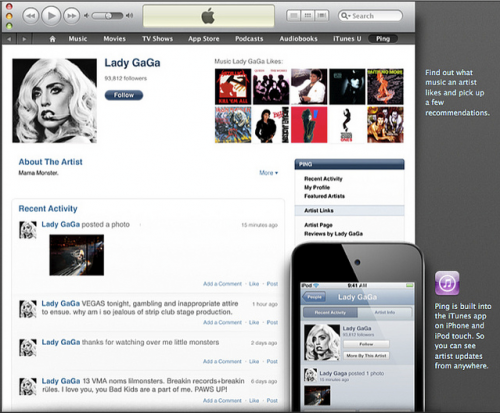 Her *actual* timeline: