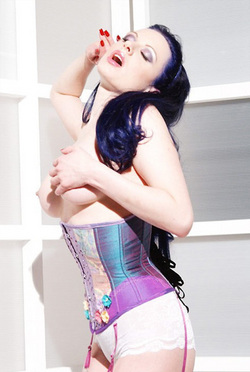 * Dave Naz Spreads The Lust Dave sent me some very nasty preview pics of his new film, LA Lust. He sent me a trailer too, but it was too big to post :(
* Sell Your Sex Tape (But Not To Us, OK?) Amateur cuties, even a good looking guy or two.
* Andy San Dimas Puts A Smile On Our Face When I get off this crazy Fleshbot hamster wheel, I'll find some of her galleries in the Kink.com archives if you're interested. I like finding fresh smiley faces like hers.
* CYK Girls Look Healthy To Us Pretty gritty amateur stuff, actually. (Okay, now I have "pretty gritty kitty litter" in my head. Anyone remember that?)
* Exquisite Restraint Makes Everything Feel Too Snug I'm ready for my corset budget now. Yeah, right… (image via)
* And you can't tell, but I'm doing tons of "quicklinks" too, which don't show me as the author. Like:
* The hot girl who celebrates her double masectomy with a topless pinup shoot
* This Saturday's 7th Annual No Pants! Subway Ride in New York
* Possibly the world's scariest dildo
* And don't miss Johnny Homicide's superb reviews at Eros Zine about Triple Ecstasy, Creamplosions (no, sadly it's not food porn) and more.